LATEST SKY EVENTS
Updated February 22nd 2017
Storm Doris To Impact UK & Ireland Wed & Thurs -
NEWS
Areas affected in detail:
Scotland, N. Ireland, N England, N Wales, N Midlands, Lincs & Norfolk
Weather type:
Severe Gales & Snow
Alert risk period:
23/02/17 00:00 until 24/02/17 00:00
Alert details:
A depression, named 'Storm Doris' by the Met Office today, will rapidly deepen as it crosses east across N. Ireland and northern England during Thursday morning. Strong winds are indicated by model guidance on the southern flank of the depression, with 60-80mph gusts forecast across a central swathe of the UK. In addition, heavy rain accompanying Doris's passage will turn to snow across Scotland and higher parts of northern England, as the low clears into the North Sea and colder air undercuts as winds turn northerly.

Winds:
Storm Doris is forecast to bring 60-80mph wind gusts across north Wales, northern England, the North Midlands, Lincolnshire across to Norfolk on Thursday. Gusts of 50-60mph likely elsewhere across England, Wales and SE Scotland. Winds this strong could potentially cause disruption to travel and power supplies, flying debris that could cause injury, bring down trees and cause damage to property.

Snow & Rain:
Rain accompanying the passage of Doris is likely to turn to snow during the morning across Scotland and northern England as Doris clears eastwards into the North Sea and the winds turn northerly - bringing in colder arctic air turning rain to snow. Greatest accumulations over the hills but perhaps to lower levels too across Scotland for a time. The heaviest and most persistent snow forecast to coincide with the Thursday morning rush hour too. Snow accumulations of 5 to 10cm are possible over hills, perhaps 10-20cm over the highest parts of the Pennines and southern Uplands. Lower elevations from central lowlands northwards could expect to see 2 to 5cm for a time in the morning before melting.

The combination of 50-60mph wind gusts and snow across southern uplands and northern Pennines may allow for blizzard conditions and drifting of snow to develop during Thursday morning before conditions ease into the afternoon. The strong winds and wet snow could bring down powerlines causing power disruptions and create hazard driving conditions, particularly over higher routes. In addition, heavy rain will sweep across many areas as Storm Doris tracks across northern Britain, which could cause some difficult driving conditions combined with the strong winds, along with localised flooding. Confidence:
80%Issued by Nick F for Netweather.tv
---
*

Met Office

Yellow Warning

For N. Ireland

Issued at:
10:49 on Tue 21 Feb 2017

Valid from:
22:00 on Wed 22 Feb 2017

Valid to:
14:00 on Thu 23 Feb 2017

A spell of heavy rain will develop across Northern Ireland during Wednesday evening and Thursday morning. Periods of snowfall are expected in amongst this, predominantly over higher ground but with a risk to lower levels for a time. Finally, later on Thursday morning, gale force winds are expected as the system clears to the east. Please be aware of the potential for some travel disruption, localised flooding and surface spray. Rainfall totals of 20-30 mm could bring some localised flooding and surface water issues, with any temporary snowfall bringing some difficult travel conditions. Then later on Thursday morning gusts of 55 mph could bring some minor travel disruption.

http://www.metoffice.gov.uk/public/weather/warnings/#?tab=warnings&regionName=ni&fcTime=1487750400

County Antrim, County Armagh, County Down, County Fermanagh, County Londonderry, County Tyrone.
---
The NI Weather & Flood Advisory Service has issued the following weather warning.
A Yellow warning of Wind and Rain has been issued for Northern Ireland - Storm Doris (The 4th named storm) is expected to bring Heavy Rain & strong winds later tomorrow and into Thursday, up to 30mm is expected widely, possibly more locally. There is also a risk of some snow for a time, especially over the hills which may lead to temporary accumulations in places.As the rain clears during Thursday morning, winds are expected to increase with gusts of 50 to 60mph possible
https://www.facebook.com/northernirelandweather/
The public are advised to take extra care and be aware of possible disruption to travel, difficult driving conditions and risk of localised flooding. This warning is valid from: 20:00 22/02/2017
Drone Footage Of Bulk Carrier Ship Zina With Vlog -
NEW
Drone Flight 361. Chasing bulk carrier Zina crossing Lough Foyle with a destination for the Netherlands on February 17th 2017. The footage is a combination of drone footage and DSLR video with my 100-400mm lens and vlog recorded with Go Pro Hero 4 Silver. My first chase to get this vessel was on February 11th however when she arrived she remained anchored at the buoys off shore and never came in, also winds suddenly picked up and reached 30 knots despite arriving on location early before sunrise. Made a second attempt mid week but she never left port but finally got her six days later after taking five days to off load. Ship details...
Name: Zina
IMO: 9486465
Flag: Malta
Gross Tonnage: 23322
Size: 181.1 m x 30m
Built: 2012
Despite some wind concerns the day of the flight went perfect with very rare blue skies and sunshine, even warm enough to take the jacket off, 13 C. Wind was slack as an off-shore 5 knot SWly which increased to 7 knots before filming. Perfect flight, great signal, drone within visual line of sight. I used my gold antenna booster for added signal strength, you can also see my Mum and Dog Rhua in the footage. This video is a combination of three drone flights, two from the beach (one test flight) and one for the ship. Total flight time 10 min's 25 sec's for the full ship footage on it's own. Thanks for watching.
Storm Chasing Memories - A Visual History From 2005 To 2016 -
WATCH
I've been in a retrospective mood lately so I compiled this new video presentation feature a selection of my storm photography from 2005 to 2016 covering countless storm chases across the country in Ireland and N. Ireland featuring imagery taken with my old Fujifilm bridge cameras to modern day Canon DSLRs. There are a lot of memories for me in here, many hundreds of hours, miles on the road, driving and hiking, solo and with friends or family with the greater bulk of the imagery centered on storm cloud structure and rotation hence nearly all the images on here are of thunderstorms, convective cells, rotating lowerings, funnel clouds and even one likely tornado. My storm photography actually goes back to 2000, perhaps even 1999, however many of my earlier images are still on disks which need to be sought out so this is why I began with 2005 since these images were easier to find. The video is fairly long however I hope you enjoy it and I also hope it gets you in the mood for what might lay ahead this Spring and Summer. Best watched at 1080p HD, music is by Vangelis 'Conquest Of Paradise' album, thanks very much for watching.
Giant's Causeway Cliff Moonlit Star Trails, Planets & Sunrise -
Feb 8th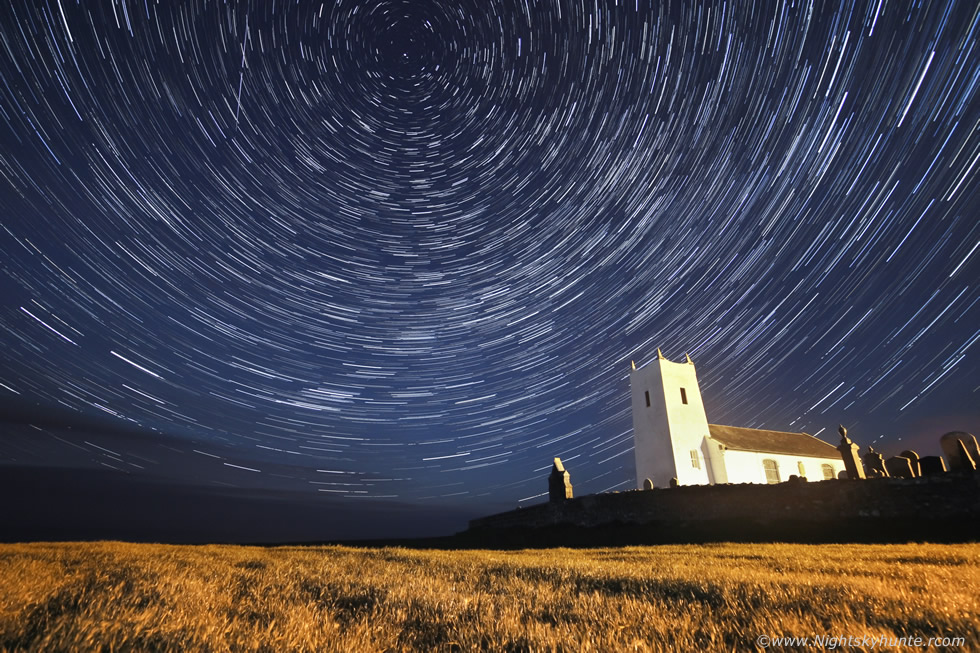 On Feb 7th/8th I had a fantastic and memorable photo shoot at the Co. Antrim coast with John Fagan. This was the first night of clear skies for quite some time and with the moon high in the sky and at waxing gibbous phase it would be the perfect time to shoot moonlit landscapes so our intentions were to shoot star trails and time lapse video. John and I had already planned this location for quite some time and were just waiting on an ideal clear night with correct moon phase and angle to make it work, we wanted to try the Giant's Causeway, not the famous pyramid location where we have shot many times before but on the tops of these huge cliffs. Altogether we spent 1 hour hiking and 3 hours shooting, which equated to 3 locations on the cliffs with 3 star trails/time lapse sequences completed. The above was half way through the hike, each of these are approx 1 hour of shooting at 20 sec, ISO800 at 10mm wide stopped down. The moonlit waves waxing and waning on shore were simply stunning to watch.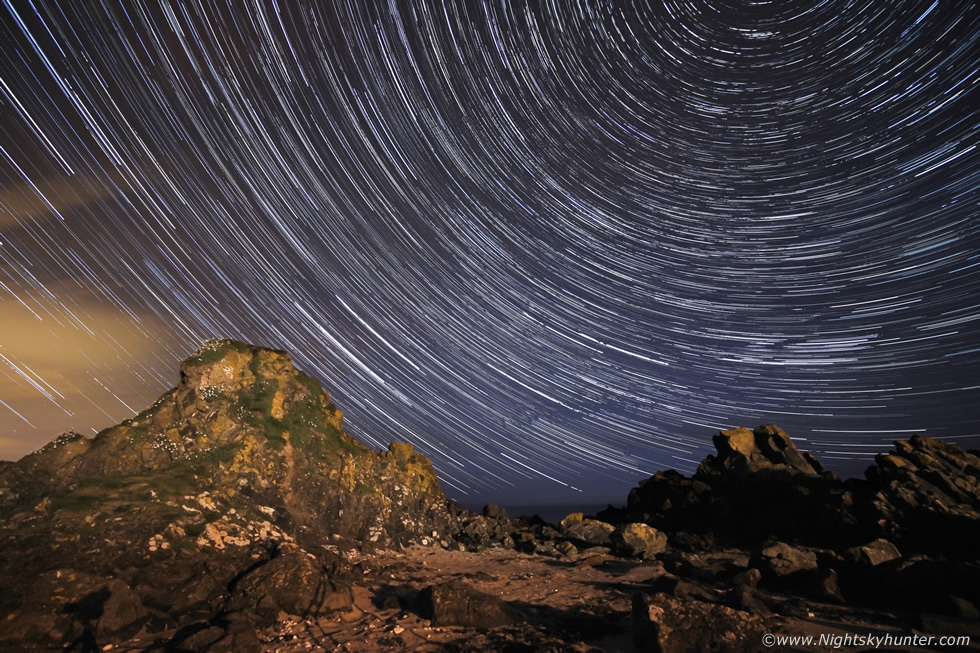 The climax of the night was here, I can tell you it was surreal, majestic, beautiful, dramatic, tranquil and frightening all in one. This is on top of the Causeway cliffs looking down on the stacks below. The landscape had to dominate the frame composition here, it was simply begging for it. Why was this place frightening?, because in order to get a good view we had to set up our cameras close to the edge of the cliff, believe me when I say it, this image doesn't do justice to how close I was here. I had to crawl and test the ground out first with my legs to make sure it was strong enough to support me and the camera, the view below was unreal, my stomach was turning and head spinning just thinking of looking over, I would say with complete honesty that this is probably the most dangerous night exposure I have ever taken in my life. This is why we choose our night carefully, there was a gentle breeze to stop our lenses misting over yet it was calm enough so we could stand here without risk of being blown off, if its windy at all, especially from the land, I would suggest never coming up here unless you seriously know what you are doing, it's extremely dangerous, take all the precautions you can. Once the cameras were shooting we backed off to safer ground and absorbed the wonderful view. Star trail from this epic view point, the time lapse of this should be nice.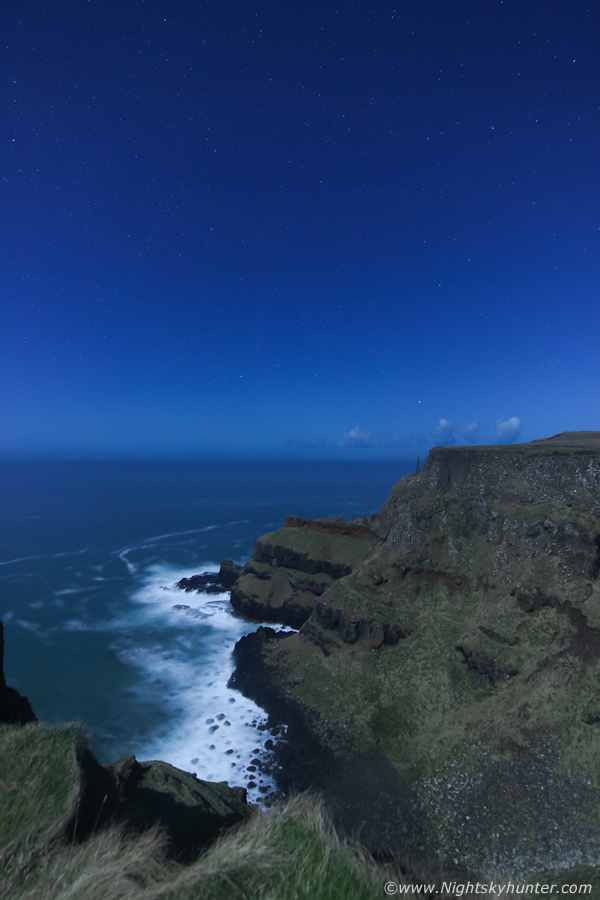 Single exposure on portrait mode. John and I stood here taking it all in, this was heaven, tourists come here from all over the world to take in this view in daylight. For us to be able to stand here at night was an awesome experience, the legendary moonlit sea and cliffs with clear sky and stars with Venus and Mars setting over the horizon, cameras clicking away while we chatted about the view. When I look back on this why did I not do a portrait star trail of this scene?
Facing W, Orion and Sirius above the lights of Portrush. We would have loved to have done more star trails at different locations here however after 3 hours we were frozen from the exposure and were glad to get moving again with thoughts turning to hot tea waiting in the vans. What a fantastic shoot this was, I have a few more images to upload and a time lapse to make, I might even do a report on this night to get the 2017 section off to a good start.
The Sunday before was also clear and frosty. I was visiting Roisin's family and decided to pop out for an hour of local shooting. This is Cargin Chapel on the Staffordstown road outside Toome where I we got married. Single exposure using the 18mm with Venus and Mars conjunction within the gorgeous moonlit blue sky. I shot a time lapse here however the frost and mist was too harsh so I ended up sticking with several still exposures instead.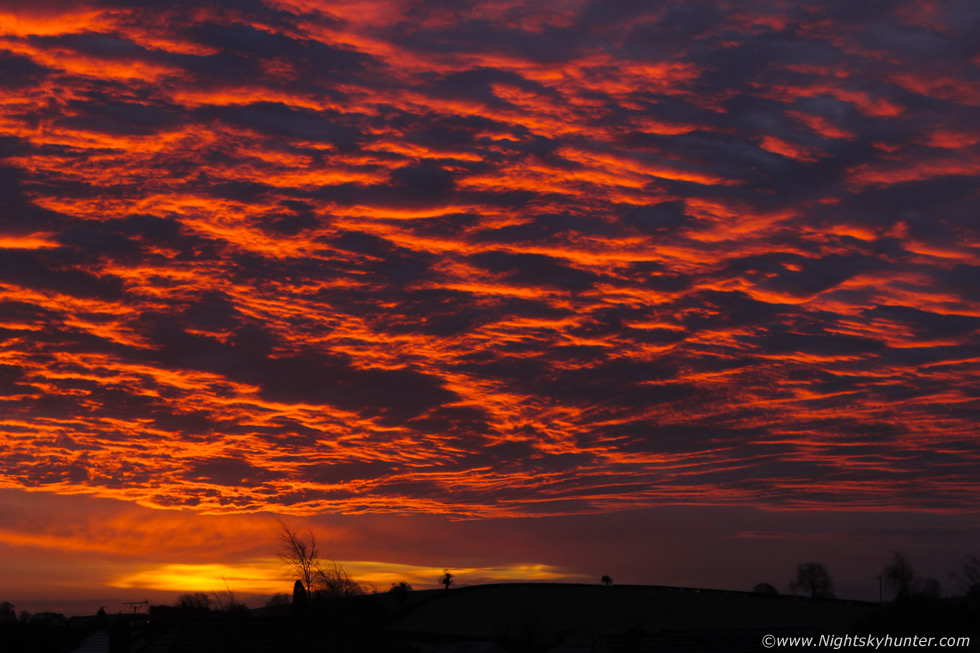 Monday morning produced this epic sunrise, I was actually asleep at the time however Roisin woke me up early as she knew it was the kind of sunrise I like and that I wouldn't want to miss it (she is great isn't she!). I grabbed the DSLR, opened the skylight window and took a few images with the 24-70mm. The entire E sky over Cookstown was covered in orange and red complex mid level cloud all lit from below before the sun appeared over the horizon. The day soon turned stormy after this (remember the old adage), there was a gust of 77mph recorded at Magilligan Point that same afternoon.
Triple Planet Conjunction & Aurora Hunting -
Jan 31st
On January 31st I did a daylight and night time photo shoot at the north coast. For once it looked to be sunny with blue skies and calm winds which has been a rare commodity in recent times so I did some drone filming at White Rocks Beach, the sea was beautiful with that gorgeous green colour and small white breakers rolling in with body boarders having a good time. I observed my first storm cell of the season which crossed from land to sea on a SWly flow in an environment with low-end instability. Despite this lack of good CAPE the convective cell put on an impressive show with solid dark clouds, it then developed a black swollen base which looked pregnant as it lowered close to the ocean, it appeared threatening as if it was about to do something and for 15 min's during it's peak I thought there was a chance of a funnel cloud or waterspout until precip broke out along the base chocking any inflow it had been feeding on. It was a nice sight regardless and got my blood going, good to see storm clouds so early in the season, this was the view from the drone at 60m altitude. Check out the ship on the horizon, that's the 'Granuaile' buoy laying vessel which looked dwarfed by the belly of the cell aloft. From Portrush, using the drone, I filmed the Granuaile ship when it was closer to shore which was a beautiful sight (video is further down this page). - see Youtube Channel.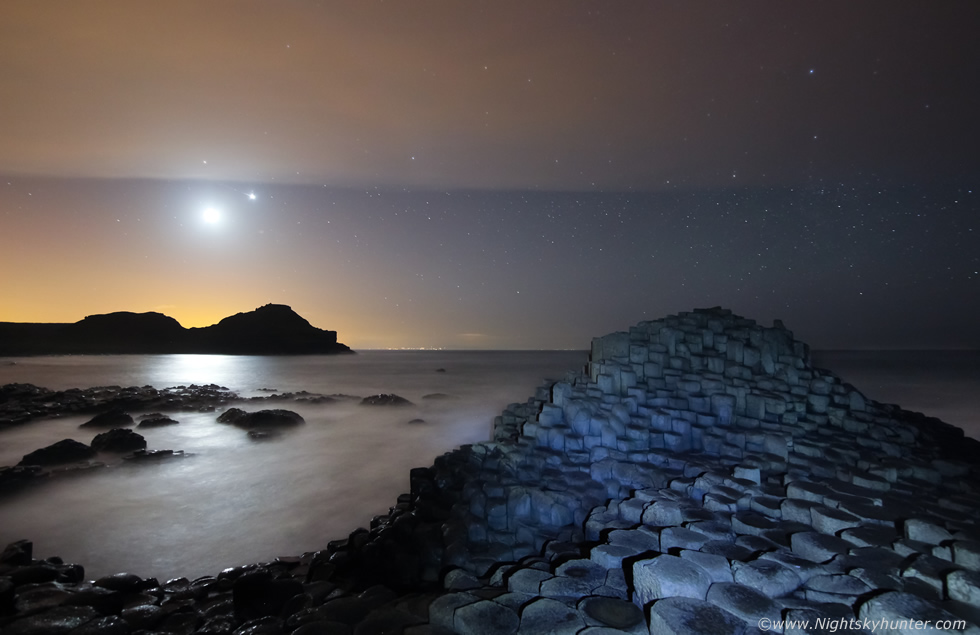 I drove back to Maghera to take care of a few things, had dinner, then headed back to the north coast once more. The reason was that a high speed solar wind stream (700km/sec) was expected to produce minor G1 storms and before I left the oval looked good so I suspected there would be a weak aurora on show and with clear dark skies forecast it was the excuse I needed to do a little night sky photography. I arrived at the Giant's Causeway where I would spend the rest of the early night, luckily I had the entire place to myself. There was a lot of moisture in the air and developing fog with high level cloud however a clear sector was visible to the NW slowly moving in. The SW sky was a spectacle which simply couldn't be ignored, a triple conjunction between the crescent Moon, planet Venus and planet Mars all arranged in a beautiful celestial triangle. I used my head torch to illuminate the famous rock formation, I'm not a fan of using lights (I like to use moonlight) however it was so dark I had to try something, this is the result, 50 million year old volcanic rocks with 4.5 billion year old moon and planets, and 39 year old me. The wind was blowing spray into the lens so I had to wipe it after every exposure, also there were big white thunderous waves crashing against the rocks close by which was quite intimidating in the darkness, however their presence only added to the atmosphere, in the long exposure the waves created this smooth effect which hides their true ferocity.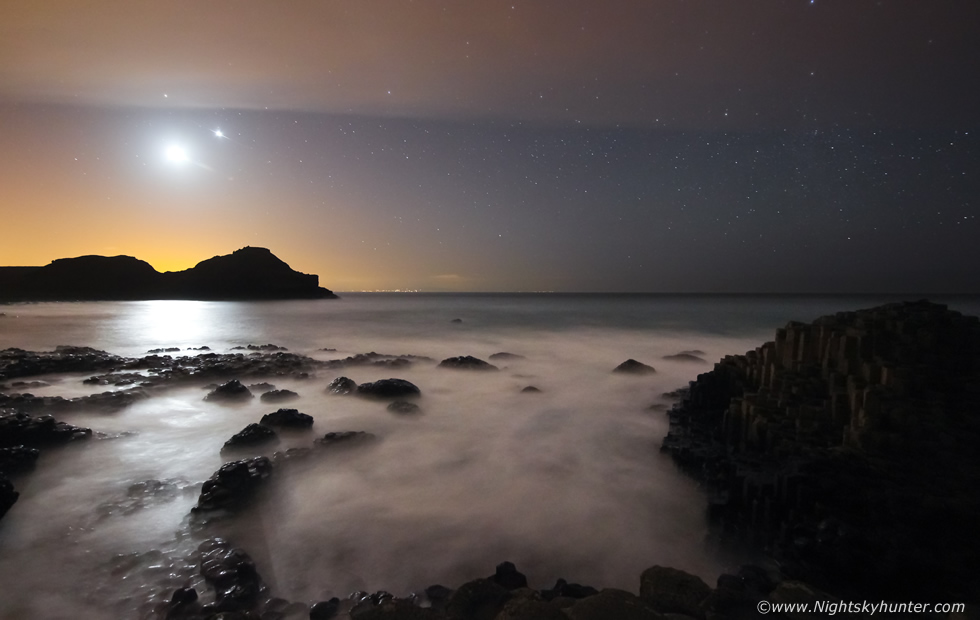 My personal favourite from this area, Mars can be seen through the veil of cloud above the Moon and Venus. To the right Cygnus within the Milky Way was setting in the W.
The smooth effect of the sea actually does look like it was seething with hot lava underneath generating its own steam, maybe this is what it looked like 50 million years ago as the lava cooled in the ocean. Check out those two stacks in the distance, they are much bigger than they look in this image, that was where I was going next because the waves where too close here and I didn't want to chance my luck any longer.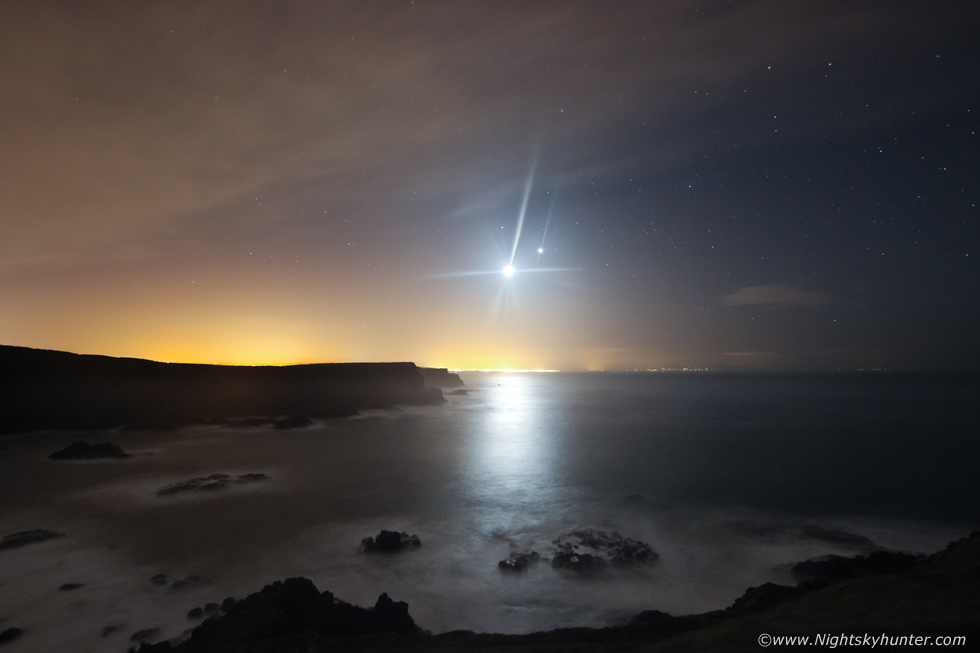 On top of the stacks, it was a tough climb (four times) while carrying the gear with a strong wind blowing and slippery rocks and grass, I had to keep my centre of gravity forward and use my hands to purchase anything to aid my ascent. This is the conjunction with glitter path reflecting on the sea, the wind was buffeting the tripod and fog over Portrush enhanced the orange and yellow LP colours in the exposure, however the colour contrasts may have helped the image. The fog in the air also created these dramatic diffraction spikes radiating from Venus and the Moon. I left the tripod up here alone shooting this scene for over an hour in the hope of getting a decent time lapse however with the wind I'm not sure how it will turn out. I waited in the van the entire time, had a brew and snacks, rested, then when the conjunction was close to setting I climbed back up the stacks to get my camera.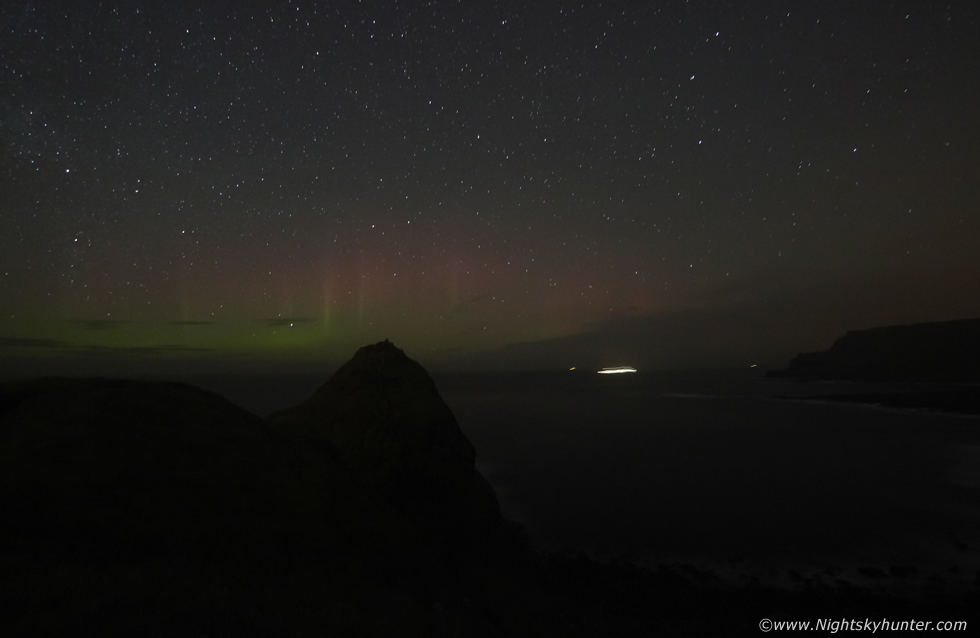 When I reached the top I instantly saw the aurora, it was shinning through the moisture and was very evident to the naked eye as a strong green glow in the N some 7 degrees high, and as I watched a selection of ghostly rays appeared. However that was not all, my old friend 'Granuaile' which I had filmed earlier in daylight had returned and made a very close pass near the Causeway. At night time is was a remarkable sight, like some kind of silent apparition, it was lit up with orange and yellow lights like a Christmas tree and as it sailed past heading E it was surrounded by darkness with a scattering of stars while above the ship the auroral glow with beams danced aloft, all of this was set against the dark outline of the Causeway cliffs, while this was happening the triple conjunction was setting on the ocean horizon to the SW at the same time, visually this entire scene was amazing. The camera could never do the visual appearance justice, so here's a single exposure.
I did another long star trail on the bottom however a single car drove along the road and ruined it all so I stayed and watched the aurora with the naked eye for two hours in complete solitude. The aurora never reached G1 status, however it was still nice to witness it in the way I had which made the event more personal for me, that's my first aurora catch of 2017 with solar minimum looming, it will be interesting to see what will happen over the next couple of months and if the NLC season will be affected during the Summer. Thanks for reading.
Elemental Photography From Maghera & Surrounding Countryside -
NEW ARTICLE
A brand new Nightskyhunter article called 'Elemental Photography From Maghera & Surrounding Countryside'. During 2016 I was invited to write an article about my photography on behalf of the Maghera Historical Society which was published in the Maghera Times that season complete with colour photographs. I decided to share that article here, this is the full version with more images which I hope you will enjoy. The article is straight forward and is aimed at the beginner or amateur observer and photographer which includes a little bit of history about how I got into the subject of astronomy and storms complimented by sample imagery taken from Maghera and it's vicinity. I hope you enjoy it, thanks very more reading. - ARTICLE.
N. Ireland Storm Chasing Image Reports
Astronomy is not the only subject I'm interested in. One other such area is severe weather which will be playing a major role on nightskyhunter from now on in conjunction with my other astronomical pursuits. Check out my new N. Ireland Storm Chasing section and view the chase reports and images which detail not only storms but other phenomena such as a moonbows, noctilucent clouds and aurora displays.
Martin McKenna