LATEST SKY EVENTS
May 31st 2023
Fantastic Weather! -
UPDATE
What an amazing period of weather across N. Ireland we have been having for the last couple of weeks. It's been dry for the most part with hardly any rain and with HP locked in place it looks like it could be some time before the pattern changes, as a result drought type conditions will be affecting the country if this keeps up. In recent times we have been getting continuous days of blazing sunshine, blue skies, and clear nights with temps already exceeding 24.5 degrees C in Co. Tyrone. The presence of cirrus clouds earlier in the week brought two days in a row of spectacular atmospheric optics displays across the E and SE of N. Ireland where the most complex halo displays have ever been captured on camera in modern times, so much so that the home page of the popular Spaceweather.com website was dominated by featured imagery for two days in a row from this country.
I never seen those halo displays from here however I did get treated to a spectacular sunpillar in the western sky at sunset on May 29th, in fact, it was the best sunpillar I've ever seen, like a tall searchlight beam which commanded attention in that sky sector. I got the drone up for images and footage, when I zoomed in a rare 'cross' pattern appeared within the pillar, this is something I had never experienced in 25 years or more of sky watching so it was a very special event for me. I have a few images to edit so I will likely do a website report on that soon. In the meantime I'm still waiting to see if this weather pattern produces any more surprises. The above image is of a recent sunrise at the north coast with 6 sunspot groups on the solar disk.
Noctilucent Cloud Time Lapse Compilation -
NEW
To get in the mood for the 2023 Noctilucent Cloud season I've made this brand new NLC compilation video featuring a selection of time lapse sequences captured over the last five years. The footage shows that no two NLC displays are ever the same, each night is unique with a vast range of structures and brightness intensities on display. These where filmed from Maghera, Ballintoy, Mussenden Temple and several locations in Co. Tyrone including Beaghmore, comet NEOWISE also makes an appearance. I hope you enjoy the footage, best watched at 1080p HD or watch it directly on youtube via your favourite device or smart TV for the best experience.
Damaging Multicell Thunderstorm Near Ballymena -
NEW REPORT
With CAPE values in excess of 1000j/kg and -50c cloud tops with Cz zones overlapped by 20 knots DLS this looked to be the best chase day of the season. The day began warm and humid, capping looked to be an issue but not wanting to give up my friends and I relocated to a convergence zone outside Ballymena in Co. Antrim. After a very long wait the cap suddenly broke during the evening hours thanks to an approaching cold front. We got treated to a mean dark blue multicell storm line which rumbled menacingly over scenic fields and an isolated farm house. The storm produced dangerous positive c-g bolts which were the closest strikes we have experienced for many years, this lightning also damaged property in the area. A thrilling storm and a real emotional roller coaster ride of a day, this single chase made the month of May. One page report with 13 images and 1 video clip. - REPORT.
Noctilucent Cloud Season 2023 -
WATCH
The 2023 Noctilucent Cloud season is now underway!, the typical NLC season begins from mid to late May, peaks during the weeks either side of Summer Solstice, then wanes during early August. These night shinning clouds are a top favourite sky phenomena among sky watchers and photographers every Spring and Summer thanks to their impressive forms and their unpredictability. NLCs can manifest in the twilight sky with little warning, their forms are varied and rich, their magnitudes can be subtle or jaw dropping and often dominating the midnight sky with their alien structures and electric blue colours.
NLCs are the highest clouds on Earth, they reside within the region of the atmosphere called the Mesosphere some 82km high far above weather clouds which reign far below within the Troposphere. It's due to their great height that these clouds are often seen glowing above the horizon even though the sun has set, it's this fact alone which makes NLCs stand out as unusual. Their composition connects the worlds of Meteorology with Astronomy due to the fact that these clouds are seeded by ancient meteoritic material (mostly cometary) encased in ice crystals.
NLCs are also intimately related to the solar cycle with the most prolific seasons coinciding with solar minimum. In 2023 we are currently in a very active period of solar activity with solar maximum expected over the next couple of years so there's a chance NLC frequency could be reduced this season, however in truth no one knows what to expect and surprise complex displays can still happen on any given night.
To increase your chances of success get in the habit of scanning the twilight sky with the naked eye every clear night, in particular to the NW and N after dusk then again before dawn to the N and NE, especially low across the horizon where they may lurk unseen behind obstructions. During peak Summer NLCs can be visible all night long and can often be seen in proximity to the yellow naked eye star Capella within Auriga. I wish you all a great season, be sure to check out my NLC ARTICLE HERE and the NLC GALLERY.
Thanks For Attending Storm Talk! -
May 13th
I would like to take this opportunity to thank those who attended my talk on convection and storm clouds at OM Dark Sky Park & Observatory on Saturday May 13th. I really enjoyed the more intimate setting inside the observatory dome in proximity to the mighty 14" S.Cass telescope. We covered a lot of ground - ingredients for storms, convective cloud growth, wind shear and storm modes, outflow and inflow storm structure and a few famous cases of tornadoes in Ireland. I enjoyed the ambience of the room and the nice atmosphere from those who attended which I very much appreciated. There's a possibility that this talk may be on again during the Summer for those who missed it. Thanks to Colleen Webb for the image with me and the Lough Foyle supercell.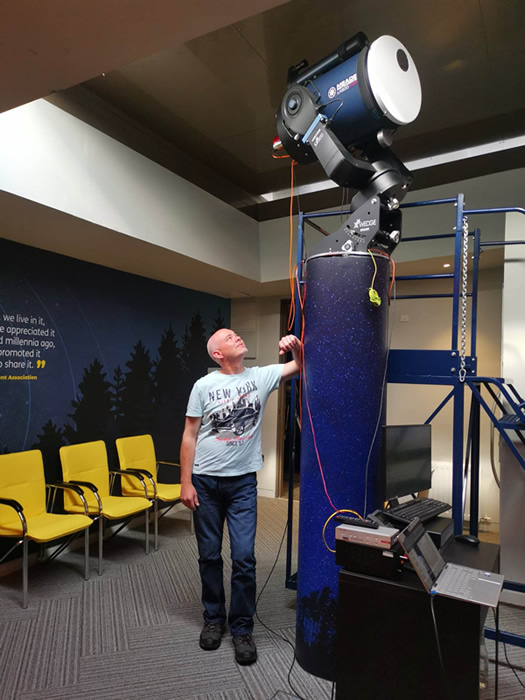 I also had a great storm chase last week when my friends and I intercepted a strong multicell thunderstorm outside Ballymena which done damage to property, this storm produced the most deadly close range c-gs we have experienced for some time. I will get to work on the image report for this chase day during the week (see above). (Image above by Roisin McKenna)
Spring Chasing & Ballyronan Marina Thunderstorm Gust Front -
NEW REPORT
The Spring 2023 convective season is well underway with statistics showing a marked increase in activity in comparison to recent years. This report documents several local chases hunting for funnel clouds, busts, and the quest to find storm structure. The highlight was April 30th with the greatest instability of the year yielding + 1000j/kg of CAPE and a MO yellow warning. My Wife and I spent the day chasing and after having doubts about messy clouds and lack of shear the tables turned when several thunderstorms fired in the vicinity of Lough Neagh. The main storm of the day surged over Ballyronan Marina with torrential rainfall, thunder/lightning, and sported a mean chunky gust front which I captured by drone making this the first structure day of the season. One page report with 12 images and 1 video clip. - REPORT.
Planet Conjunction & G3 Geomagnetic Storm At Swatragh Wind Turbines -
NEW REPORT
I never would have thought that February 2023 would produce the best planet conjunction since 2012 and best aurora since 2014 all within the same week. This report covers a beautiful triple conjunction between Venus, Moon and Jupiter from Beaghmore on the 22nd followed by a stunning G3 geomagnetic storm on the 26th when two CMEs impacted Earth's magnetic field with solar wind speeds over 700km/sec and a Bz of -17. I chased to Ballintoy on the north coast then back inland to experience a beautiful outburst with friends at the wind farm near Swatragh. On show was a twin tiered arc and red beams 50 degrees high which made for the best aurora experience in nine years. One page report with 13 images and 2 time lapse videos. - REPORT.
A Great Comet In Our Skies Next Autumn? -
ASTRO NEWS
I'm delighted to update with very exciting news regarding a new comet discovery this month. This long period comet has been designated C/2023 A3 (Tsuchinshan-ATLAS) and just discovered by two NEO survey telescopes from the southern hemisphere. Quite a few observations have come in and a preliminary orbit and light curve has been generated, the results make for a potential great comet in our skies during late September and October 2024. The comet is currently measured to be above the survival limit so we hope it will be large enough to remain intact as it approaches the Sun.
Perihelion is on September 28th 2024 when the comet will approach within 0.39 AU of the Sun, that's as close as the orbit of planet Mercury. During perihelion passage the comet will be directly between Earth and the Sun, as a result this phase angle could cause a forward scattering event which may cause the comet to surge in brightness by one or more magnitudes. Current predictions place the comet at magnitude 0.7 at perihelion and perhaps brighter with forward scattering effects.
The comet will be visible from both hemispheres and will be a morning then evening object close to the Sun in twilight. As it recedes from the Sun the northern hemisphere is favoured for a front row seat, most bright comets are at their finest after perihelion so this may be our chance to witness a great comet with an impressive tail. Keep in mind all this information is preliminary and will be refined closer to the time when more observations come in.
Comets are unpredictable and a lot can happen between now and perihelion so we need to temper our expectations until more intel presents itself. The comet needs to be fairly large (unconfirmed reports of a 5km to 30km nucleus), active, and producing large amounts of dust, also if its a returning comet then the chances are good we could be in for an impressive show. However time will tell, if you are a comet fanatic like myself then you can't help but get excited at the prospect of what may come in 2024. This could produce the greatest media hype in modern times, however for once wouldn't it be nice that the hype is justified. I will keep you updated on this new discovery on the weeks and months ahead.
N. Ireland Storm Chasing Image Reports -
ARCHIVE
Astronomy is not the only subject I'm interested in, check out my N. Ireland Storm Chasing section and view the chase reports and images which detail not only storms but other phenomena such as a moonbows, noctilucent clouds, aurora displays and exciting nature related photo shoots.
Martin McKenna