LATEST SKY EVENTS
Updated January 27th 2015
Arctic Blast For UK & Ireland! -
Jan 28th & 29th
There's a possibility of a severe Winter weather event which could affect both Ireland and UK between Wednesday Jan 28th and Thursday Jan 29th. A cold front will arrive during Wednesday morning introducing a freezing and very unstable NWly airmass with origins in Greenland in it's wake. This airmass with upper temps (high in the Troposphere) of minus 37 degrees C will generate numerous showers of hail, sleet and snow across portions of Ireland, N. Ireland, Scotland, Wales and W. England. Hill and mountain regions of the N and W will see the greatest snow accumulations however snow will not only be exclusive to these higher elevations. Below is the latest GFS snow risk chart from Netweather.tv, these latest model runs (which are supported by other models) have produced the finest Winter charts I have seen this season so far with widespread snow potential across a larger section of the country and a much greater risk of laying snow to lower levels, in fact, these charts even show snow at sea level and a greater risk of snow showers affecting more E and SE locations.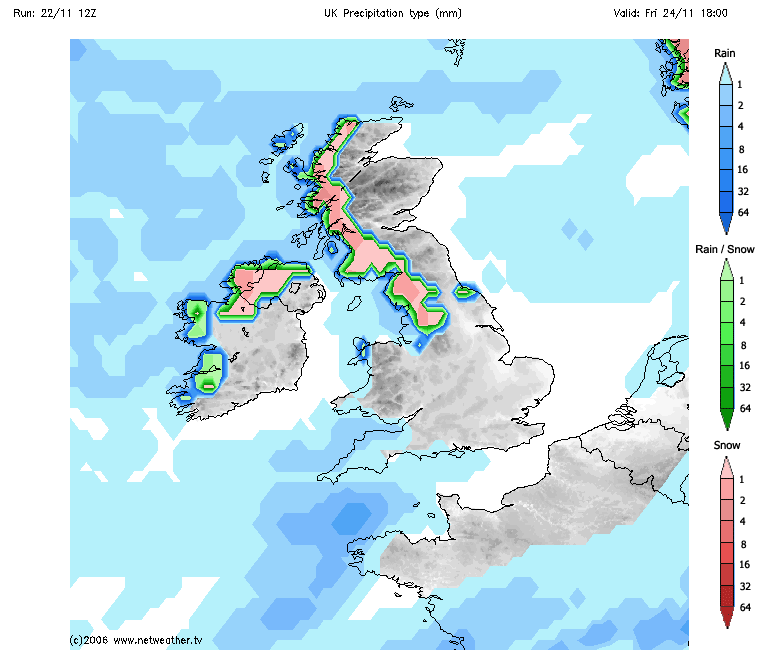 Strong winds accompanying snow showers with snow squalls on high ground may produce blizzard-like conditions with white-outs and perhaps even drifting snow on exposed locations. Keep in mind that this set-up is of a showery nature so snow will only occur in areas where showers form so some parts of the country will miss out completely - this is the nature of the set-up in comparison with a frontal snow event. Precip charts also indicate significant snow shower trains to the W and N of Ireland over the ocean and inland coastal areas. This unstable air with 100-400 CAPE with freezing air aloft will be ideal conditions for the formation of convective cells and hence thunderstorms or snow accompanied by lightning/thunder (thundersnow!). Thundersnow could happen anywhere during Wednesday inland however coastal areas will sport the greatest chance to the N and W so night time lightning is a real possibility. Ice will also be a hazard with any laying snow so be prepared for travel disruption. Latest models show a light increase in temps by Friday then a return to freezing polar air over the weekend with severe frosts and scattered snow showers with another risk of snow the following week as we head into February. Take care on the roads and enjoy the snow if you get the chance and make sure you have your camera at the ready!.
---
Met Office Yellow Warning For Snow & Ice - N. Ireland
Issued at:
1036 on Mon 26 Jan 2015
Valid from:
0900 on Wed 28 Jan 2015
Valid to:
2355 on Thu 29 Jan 2015
County Antrim, County Armagh, County Down, County Fermanagh, County Londonderry, County Tyrone. Full UK warnings here.
Warning
A cold and increasingly showery northwesterly flow is expected to develop during Wednesday and last through Thursday. Accumulating snow is likely away from windward coastal districts, especially overnight. Across Northern England 3-6 cm could accumulate especially over high ground. Over Scotland and Northern Ireland 5-10 cm is likely even at low levels, with more than 10 cm over high ground. Strong and gusty winds will likely accompany snow showers, and lead to significantly reduced visibility at times, difficult driving conditions and temporary blizzards over high ground. The public should be aware of the potential for disruption to travel.
Chief Forecaster's assessment
An active cold front is expected to push southeast across the UK during Wednesday, introducing an increasingly cold and unstable air mass. Showers will become frequent and heavy, falling as snow and driven well inland by strong to gale force northwesterly winds. Source: Met Office
Early Winter, Snow BBQ, Sunset & Snow Deer Report -
NEW
Final image report of 2014 documenting early Winter snow adventures and photography across the Sperrins on December 27th and 28th. Highlights include a freezing mountain BBQ in the snow half way up Slieve Gallion at night, a hike to the summit of Benbradagh where we witnessed a stunning sunset and paraglider jump then climaxing with a wonderful scene on the back of the Sperrins outside Cookstown when we encountered a field full of Deer and Stags grazing in the snow in perfect light on the coldest day of the year. One page report with 17 images and 1 video clip. - REPORT.
Benbradagh Solo Climb -
Jan 21st
Day 9 of the current cold spell (or is it 10?) and although there has been somewhat of a thaw at lower levels there was still plenty of ice and snow on the hills and mountains so I decided to make the most of the white gold by spending another day devoted entirely to nature, health and photography. I had already climbed up this mountain (Benbradagh) three times in the snow within the last week with Roisin and my Dad so I decided that a fourth climb was calling and this time I would be on my own. I bought sandwiches, chocolate bars (for energy) and a bottle of water then began my slow climb up this very steep mountain over ice and a dusting of snow, I can tell you this is a challenging climb which is very unforgiving, it takes the breath from your lungs and you can feel your legs and back working overtime, however doing this while hiking through snow carrying my camera bag and heavy 100-400mm lens was not easy, I had to take regular breaks to catch my breath before forcing myself on.
Every footstep forward however was a blessing because I ascended into colder air and more stunning views, soon I was in 8" snow pack then encountered numerous sculptured snow drifts 1.5ft deep, these zapped every bit of remaining energy I had however I pushed myself on until I made to the top at the gate, climbed over the style then advanced further to the west into new territory, I made it to the tower making a new personal record and I was chuffed with myself. The sky was overcast and grey so the light was not great for photography however despite this 'light handicap' the mountains still looked stunning and majestic so I took many images and several video clips, I just wished I had brought my tripod so I could have included myself in several of the images for a sense of scale. Everywhere I looked there was snow across the country, now that I think about it this was quite a cold spell to see snow here for this long.
I stayed at this perfect viewing angle and ate my lunch and waited for the light to change, here's another image of the peak, I just needed a person standing on top for a sense of scale, however those trees to the lower right do help somewhat. I was the only person here and the only other tracks in the snow were from Hares and Sheep, no other human prints were visible this far up, that felt pretty good.
Before sunset the temperature suddenly dropped like a stone and I was really feeling it, both hands were red and in pain and I moaned out loud with the discomfort, handling the camera and swapping metal lenses in this freezing air was quite an experience and I suddenly felt the urge to leave because my hands could no longer stick the pain so I began the descent back down. Just as I rounded the corner below the first peak the sun appeared from behind a bank of cloud and for the first time all day I had some contrasting light to work with, so here's the sunset from the snow-covered mountain taken with my shivering red hands. I had spent four hours up here all alone and I absolutely loved the experience and can't wait to have another go when the light is excellent with blue skies, only thing is if the snow is any deeper I don't know how I would even make it up this far again. One thing is for certain, I feel fitter, stronger and more 'pure' thanks to these four walks in the snow.
Video clip of some of the scenes during my hike with time lapse segments. This video is meant to be peaceful and quiet because that's how I felt when I was up there. Milder air is now on the way in so the current cold spell should end within the next 24 hours however Winter is far from done with us yet, recent model runs have been hinting at an Ely or Nly plunge by late January or early February (this can change of course) and I have a feeling there will be alot more action to come over the next two months so stay tuned for updates.
(Video Update) More Winter Weather Action -
Update
At the time of writing this will be our 8th day of snow and ice across parts of N. Ireland and I have been out documenting the scenes both day and night during this busy period. For the last three days I have hiked to near the summit of Benbradagh mountain near Dungiven and got treated to many visual wonders. I have taken hundreds of images and dozens of video clips over the last 8 days so I have a lot of computer work to do, I intend of doing a long image report covering this wonderful period. However before I begin that report I have one more report to write covering the Deer in the snow at the end of 2014. Above was from Jan 13th while hunting thundersnow storms over the ocean, I waited in non stop sideways snow storms and bad road conditions this night with heardly any clearance, during a brief respite I got this image of Downhill Estate which looked very moody - even haunting - it seemed to be thriving in the snow. It's rare enough to get laying snow at the coast and even more so at night and even though there was little in the way of stars in this image it still is a nice tick off the list.
Friday afternoon, I had a fabulous day out with my Dad in the Sperrins, together we hiked up Benbradagh in very harsh weather conditions in blowing snow with a bone chilling wind, there were white out conditions at times and the climb took the breath from our lungs, it was serously hard work however worth every puff of breath to take in this view. On the way back a big snow storm passed through and on the back edge we were treated to these dramatic curtains of snow falling over the mountain just before dark, the light was incredible, this scene alone made the day for me, you had to have been there to appreciate how impressive this scene was.
Sunday - the second day Roisin and I hiked up Benbradagh in the snow and my own third day hiking up this majestic mountain, I love this place in the snow, it seemed like another country, what a different world up here!. We hiked up under grey clouds then suddenly the sky cleared and the sun lit up the snow into a white heaven of purity, brilliance and sparking ice crystals. The pristine blue polar air over the snow made for superb photography conditions.
We got a serious work out here, walking up a mountain in itself is hard work however doing so while crunching through snow really works every muscle in the body, I actually feel fitter and stronger from all my recent adventures up this mountain.
Video of the Benbradagh day with Dad, check out the time lapse of the approaching convective snow shower and those wonderful snow curtains.
Video of Benbradagh once again with time lapse scenes, distant sunset anvils over snow and Rabbits on the mountain, I have one more video to make and that's me up to date.

(3 Videos)

Heavy Snow, Thundersnow & Icicles -

Jan 13th & 14th

Winter has arrived, went chasing on Jan 13th across Glenshane Pass, Benbradagh then outside Derry and intercepted massive convective snow showers barging in from the west one after the other without a break, heavy snow fell all day in western parts then continued into the night, long story and I have barely slept so please excuse my brief update for now, check out the videos below for visual highlights. This was rapidly dumped by the afternoon heavy snow showers, there was just a dusting on the car, I had a quick coffee in a shop then came out to this, it happened very fast.

Full video footage of the falling snow showers outside Derry, the approaching snow curtains and Benbradagh snow footage.
This is what I wrote on facebook when I got home on the Jan 13th/14th shoot - Well that was an interesting night at the north coast, went looking for lightning over the ocean as I didn't expect snow to lay there - how wrong I was - after dark it snowed like crazy for hours, in Castlerock the snow was blowing sideways in mini blizzard style and I experienced several white out events and couldn't tell if I was on the road, temps -1C and snowing all the time, full on snow squalls with hardly any breaks, it was surreal to park on Benone Beach covered in hard snow with blowing snow for company for hours. Later I met Tyler Collins when it stopped, we did some photography at Downhill Estate however there was more cloud than stars then before midnight Tyler left and I relocated to Castlerock again and sat in the Berlingo watching snow wondering why I was there and what I was doing and nervous about the drive home inland which would be even worse.
At 01.00 I saw a distant flash so I went back to Downhill Estate and from there I watched 20 flashes of lightning from distant thundersnow cells to the W and NW beyond Donegal, bright blue flashes and at one stage three in-cloud flashes from two cells at the same time, I got a few not so hot images of the cells lit up from within with the 50mm lens. I took shelter behind the ruins of the estate and took more patrol images for lightning, while doing this - while standing in the snow with bone - chilling wind and in the darkness, I could see impressive vertical columns of snow blowing past me at high speed, all of them as high as a two story house, it was unreal, I am sure some of them where snow devils as I could see rotation. The drive back from coast to Maghera was mental with snow and solid ice all the way back, I could feel the wheels sliding all the time so I kept between 30-40mph battling with the roads until I finally made it home!!!, that turned into quite a day and night of snow/winter action, 12 hours of snow driving completed, the event turned much more severe than I had expected so it was a great fun to experience. I have images taken but nothing special however I do have some video of the blowing snow at night, however the visual scenes and memory of that lone chase in the elements was priceless and the Berlingo never let me down once!.
This was three lightning bolts in a row..flash, flash, flash...which lit up the anvil of the lead cell with mamamtus and also sparks from another cell in its wake, moving L to R with Donegal in the distance, the lights belong to Magillgan. Mental conditions while I was trying to catch this lightning with huge towers of blowing snow dancing past me in the darkness.
Video footage of the blowing night snow at Downhill and Benone Beach.
Another day of winter action on January 14th when my Dad and I chased all over the Glenshane Pass and the surrounding countryside. On the back roads there was 6" of snow with 2ft drifts and some very interesting icicle displays.
This was a thatch cottage on a house we found on the hills outside Dungiven which sported a stunning display of icicles hanging from the arched rooftop, there where dozens of them, I had to get out for a few images with the telephoto.
Passing gritter during last light on Glenshane Pass. For a time during the afternoon my Dad and I encountered impressive blowing snow scenes here and outside Dungiven and in places there was a full force blizzard with amazing sideways snow.
Video of the blowing snow, howling winds and traffic scenes. Almost 24 hours of straight winter photography done with very little sleep!
Christmas Eve Aurora Engagement Report -
NEW
December 23rd/24th 2014 was the best Christmas Eve of my life when I proposed to my partner Roisin Laverty at the 60 million year old Giant's Causeway in the company of the stars and Milky Way while a bright aurora display bathed us in it's surreal light. After a year of planning and against all odds an aurora appeared which was not forecast sporting green, red and pink colours on the very night I had planned my proposal, this all took place during the early morning hours of Christmas Eve exactly when Roisin wanted to get engaged which made for a truly magical night which we will never forget. One page report with 5 images. - REPORT.
N. Ireland Storm Chasing Image Reports
Astronomy is not the only subject I'm interested in. One other such area is severe weather which will be playing a major role on nightskyhunter from now on in conjunction with my other astronomical pursuits. Check out my new N. Ireland Storm Chasing section and view the chase reports and images which detail not only storms but other phenomena such as a moonbows, noctilucent clouds and aurora displays.
Martin McKenna