LATEST SKY EVENTS
Updated April 1st 2015
Spring Storm Chasing -
March 31st
What a lively day of weather, Spring turned back to Winter within min's when this cold unstable air mass moved across UK and Ireland during Tuesday. I had planned to chase this day in advance, there was no big CAPE at all however with cold air aloft in a Wly veering to NWly flow with shallow instability and high shear it was worthy of watching. The strong shear and turning was the tipping point for me because any strong cells would be capable of funnels and weak tornadoes and a rotating updraught wasn't out of the question either. The thunder risk was low however the set-up was good enough for the formation of convective showers of hail and snow which could become severe in conjunction with the already strong wind field. I decided that I needed the practice and with the thought of cool clouds and exciting weather happening I had woke earlier to study the charts then went chasing during the late morning, in fact, throughout the day I did three or four local chases, this was simply an excuse for me to get some shooting done and put my Go Pro Hero 4 Silver to the test in the process.
I ended up rather shocked and pleased by just how active this day turned out with gales all day long - some of the strongest inland gusts here for some time - and on several occasions I thought my front door was going to blow in, nature was just raging outside. These gusts were accompanied by many showers and cells which moved inland at a fast speed which made chasing very difficult so I simply watched these approach then let them pass over me, on several occasions I chased back after them and got back into the core briefly before the cell out ran me. I really enjoyed the day, plenty of intense hail showers and even brief snow blowing at low levels, the above cell was the first really big one of the day which dumped hail stones and big wet snow flakes across Maghera, I intercepted it on the Crewe Road, chased it across minor country roads to Gulladuff then onto the Glenshane Road, the above image was taken at that junction at 10mm wide angle, moving L to R showing that big cell with anvil and mammatus, it looked great against the clean blue sky it left in it's wake.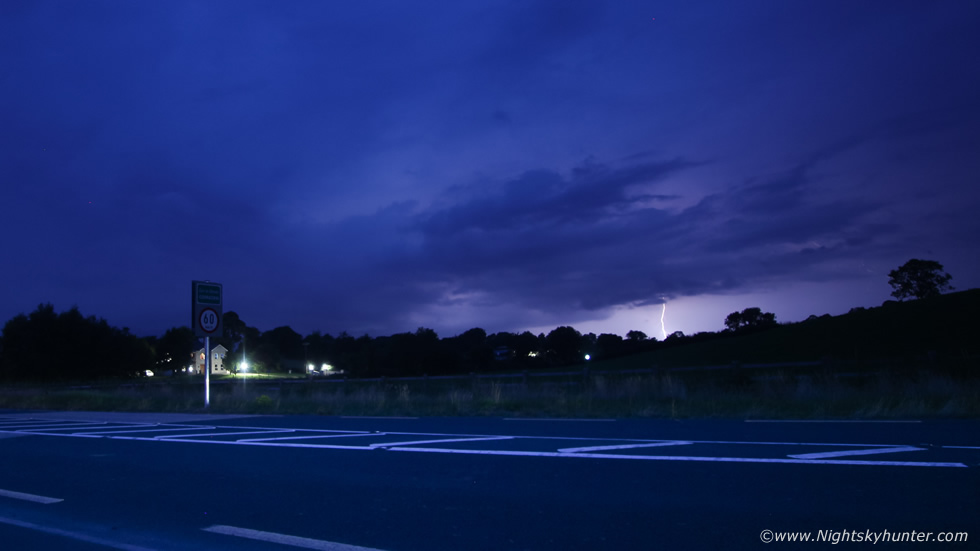 My second chase took me to Coleraine then outside Castlerock where I watched more hail showers pass over, I briefly pulled onto the side of the road for a capture, this was looking back E as the rear of the cell blew over the road from L to R, check out how large and low the anvil was with a large mammatus bag on view which can be seen side-on. I filmed the passage of more cells over a local filling station then enjoyed a break at McDonalds where I enjoyed a McFlurry then got back on the road home to Maghera. No sooner had I arrived when the best hail shower of the day happened rite over my home, good hard pea sized hail stones which made a nice din as they fell from another dark beast aloft, I got some of this on video. The last chase was to the E where there had been recent lightning, while in Clady we encountered another intense hail storm, this time strong straight line winds blew the hail horizontally which was exciting to watch, the sky turned dark and threatening while cars had to slow down and use headlights to negotiate the storm, I got a portion of this on video too. After chasing mammatus on the back roads outside Ballymena I finally turned tail and headed back home. I really enjoyed this weather shoot, it shook off the cobwebs however I ended up using more diesel than I had anticipated, but that's storm chasing for you, now I can't wait for proper Spring convection, warm weather and further atmospheric adventures on the road.
Video footage of the three chases filmed with the Go Pro, this is really just me messing about for a little fun with some speeded-up segments and even a clip of me driving, the highlight for me is the section where I chased that big cell along Glenshane Road towards Magherafelt, the anvil was huge in the super wide FOV of the Go Pro, it was massive, you can see the mammatus to the L and the entire incus surrounded by blue skies.
Eclipse Chasing & Geomagnetic Storm Time Lapse -
NEW
I spent Friday morning eclipse chasing with a film crew from the BBC's The One Show, I was up at 05.30 then met the two car crew after 06.00 and did plenty of filming around my home, then we went in pursuit of the eclipse along Glenshane Pass and Maghera then watched maximum eclipse from Drumlamph woodland. Unfortunately thick stratus cloud prevented us from even seeing any stage of the eclipse even for a second which was very frustrating however when the sun was 95% covered the sky and landscape did turn significantly darker which was pretty cool to experience and the environment did seem to turn more silent as if dusk was approaching. We still had a great time and our segment might briefly appear on television tonight on BBC1 at 7pm on The One Show itself. Above is another aurora image from the Antrim coast on St. Patrick's night at the Giant's Causeway during the 02.00 ray outburst which was beautiful to watch.
Time lapse footage of the March 17th aurora filmed with the Go Pro and my Canon 600D with 10mm lens, the section at the Giant's Causeway is my favourite part of the video, make sure to watch at 1080p HD for best quality. The musical score was created for me by Belfast singer/song writer Joseph McNally who did a superb job of the soundtrack!
St. Patrick's Night Aurora Spectacle! -
March 17th
March 17th brought with it the greatest geomagnetic storm of the season due to a CME impact which took experts by surprise. During daylight hours this magnificent storm reached G4 rating with a KP of 8 (the scale runs from 0 to 9), however at one stage it almost reached 9. There were still 8 hours left until darkness in N. Ireland while this was going on which generated much excitement and anxiety both for myself and for other aurora photographers across the country, would the storm last until nightfall?, would it be clear?. Most storms fade away rapidly however this one managed to stay at severe levels for hours on end so it was just a matter of waiting for darkness. I was worried about the weather for we have been under the influence of high pressure anticyclonic gloom for two weeks with day and night of continuous grey cloud and mist. More was expected on St. Patrick's night with a frost however I knew that staying inland would be foolish because the calm conditions would cause havoc with mist and fog with light pollution reflecting off all that moisture, so my plan was to head to the coast for darker skies and in the hope that a local sea breeze might clear the air somewhat. I met up with fellow aurora photographer Paul Martin and his girlfriend in Maghera then we headed N to the Co. Antrim coast in daylight with the intention of getting on location asap and ready for darkness. We arrived at Ballintoy harbour in good time and watched as the planets and brightest stars came out one by one and even though the sky was still bright it had a suspicious look to it which I suspected was aurora related.
The three of us hiked to a quiet section of Ballintoy to get away from people and annoying lights and found a great peaceful location with a wonderful view across the ocean with 60 million year old rock formations on display. During twilight Paul spotted a huge beam of light in the sky which got us all excited and he even took a quick hand held high ISO capture which confirmed the sighting, the aurora was already here with impressive height, we rushed to get a good angle and gear set-up then got treated to a nice but brief show with purple rays reaching Polaris embedded within a subtle pink-red glow, it was a great show then suddenly it weakened and for the next few hours we watched the aurora as a single tier then double tier diffuse green arc with faint transparent rays. I used this time to do several star trails with aurora and tried my first night lapse with the Go Pro Hero 4 Silver. Then suddenly after 23.00 the aurora went absolutely crazy as it experienced a terrific outburst the likes of which I have not witnessed for well over a decade. Intense rays with green, pink, red and purple shot upward until they crossed the zenith (overhead) and even passed into the southern sky!!.
These are all 10mm wide angle with the Samyang F/2.8, the aurora was so massive it was impossible to fit it all in the frame or to do it justice at all and during the ensuing beautiful chaos it was difficult to know where to point the camera for the aurora was all over the sky, it was now an epic show.
All these rays extended above the frame, through the zenith and into the south which was shocking to witness and the motion was something else too, the rays seemed to sweep upward in such a fashion that it made me feel like I could actually see the process of the high speed electrons streaming through the Earth's magnetic field lines as they become funneled downward at high velocity forming the auroral oval.
This was facing S and looking overhead at 10mm, Ursa Major can be seen at top (upside down) and Polaris (the North Star) below centre, this really gives you an idea of the size of this spectacle.
Then it formed a corona which is a rare sight indeed for N. Ireland skies, the last time I observed a proper corona was back in 2002-2003 and here it was back again, this is overhead with Ursa Major, Leo and Jupiter in the frame, this was certainly a trophy catch rite here. Paul and I were shouting at each other, we were on a high from the show, the motion here was unreal with rapid flickering and pulsing at speeds which are too difficult to describe.
The outburst faded so we changed location to the Giant's Causeway then another minor outburst happened with smaller rays however these rays were very bright and sharp and were rather beautiful to watch over the ocean from this ancient location, I used the time to do another star trail with aurora. We called it a night after this then I was back for 04.00 and not asleep until 05.30 as I needed to build these trails. What an unforgettable night!, I'm hoping I may be able to make several short time lapse sequences from the star trail stills and Go Pro avi. * There's a chance of further activity tonight (March 18th) so keep watch.
Drumlamph Woodland Star Trail -
March 11th
Star trail over the famous animal tree stump captured within the ancient Drumlamph woodland outside Maghera last night on a cold calm night. This was using the Samyang 10mm F/2.8 at 25 sec's for approximately 1 hour shooting directly N towards Polaris the Pole Star were the Earth's rotation exhibits the greatest amount of spin and hence trailing. You can see the carved Badger and Heron with Fish within it's beak on the tree top, there's also a Squirrel in the middle of the trunk near the bottom of the image. When I ended the trail I lifted up my tripod and thought I saw snow fall from the legs, turned out it was frost!, large hoar frost flakes had accumulated on the metal during the course of that hour.
Moonlit Snow Star Trails & Epic Birren Road Blizzard Report -
NEW
The third cold spell of the season affected N. Ireland on March 2nd and 3rd 2015 with a cold and very unstable Wly/NWly air mass from Canada which generated numerous snow storms and a great variety of Winter phenomena. I hunted for inland snow scenes during daylight hours and for convective ocean storms during the night on both days. Highlights were the surreal moonlit snow scenes at the north coast, the moonlit star trail imagery over Downhill and Mussenden Temple in pristine snow, the sheared moonlit ocean convection and an insane blizzard encounter on Brieen road where my Dad and I experienced severe winds, white outs and fast blowing snow so dense that my van vanished from view before my very eyes. One page report with 19 images and 2 video clips. - REPORT.
N. Ireland Storm Chasing Image Reports
Astronomy is not the only subject I'm interested in. One other such area is severe weather which will be playing a major role on nightskyhunter from now on in conjunction with my other astronomical pursuits. Check out my new N. Ireland Storm Chasing section and view the chase reports and images which detail not only storms but other phenomena such as a moonbows, noctilucent clouds and aurora displays.
Martin McKenna