LATEST SKY EVENTS
Updated July 6th 2015
Convective Outlook UK & Ireland -
Mon July 6th
VALID 06:00 UTC Mon 06 Jul 2015 - 05:59 UTC Tue 07 Jul 2015
ISSUED 21:49 UTC Sun 05 Jul 2015
ISSUED BY: Dan
Full text discussion will be written on Monday morning - however, some upgrades may be required to parts of Republic of Ireland and Northern Ireland if conditions continue to look favourable for low-topped supercells and perhaps a tornado given strong DLS/LLS, favourably-backed surface winds and curved hodographs. Source: Convective Weather
Storm Chase -
July 5th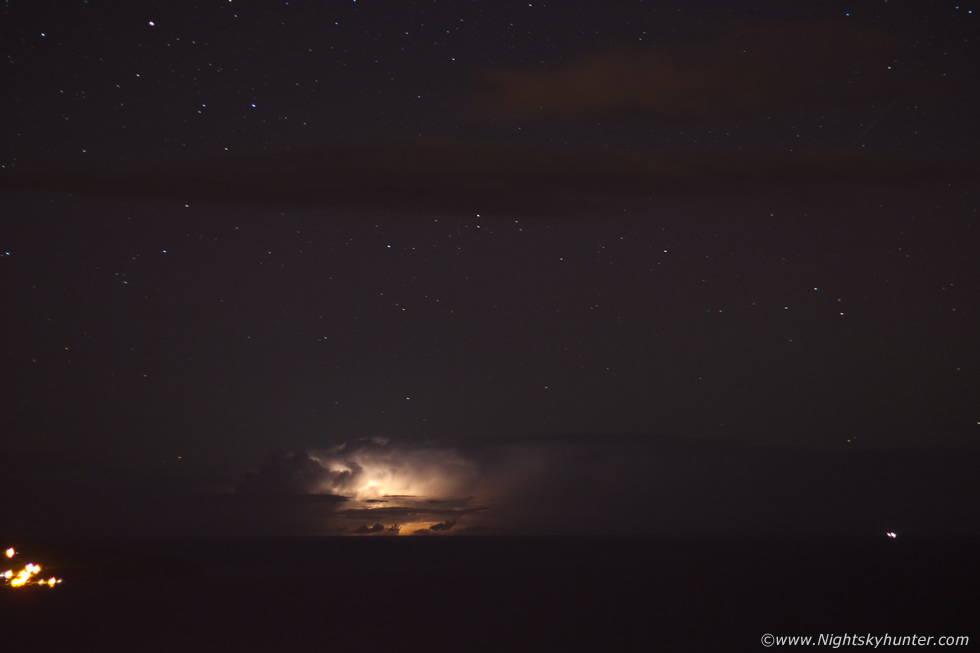 At last the thunder drought has ended and after a very long wait I finally got a chance to chase storms in what has been the most quiet season in N. Ireland I have ever experienced. Sunday looked promising with good solar heating with CAPE values between 800 and over 1000 with little shear however some parts of the country did have enough for some brief organisation, I was ready for it and on Sunday morning Roisin and I were up at 09.00 UT studying the charts and were ready to spend the entire day on the road. Sferics began early below the border and the big cell which produced them was moving N along the E side of the country heading for Armagh so that became our first early target. We headed for Armangh however once we arrived in Dungannon we decided to not pursue that cell any further as it was clearly dying and the mass of cloud and outflow associated with it was cutting off solar insolation so we re-fueled in town, turned around, and went back N to Cookstown in search of clear skies were solar heating would produce new updraughts. We spotted good towers growing up to the W and N back towards my home area so we decided to chase further N in that direction as I had a feeling my good old home territory could produce the goods. We stopped on Glenshane road, got a quick Wifi signal and was shocked when I saw the radar which showed a big line of storms running S to N across west Ulster across the Sperrins so we raced west across Glenshane Pass immediately. A line of cells came into view at various stages of their life cycles, some dying and others growing new, we then drove to the top of Benbradagh mountain where we ended up spending the majority of the afternoon. The storm clouds were building but they were very slow, it was like watching a snail crawl, everything seemed to happen in slow motion and with time the clouds turned more beefy and I spotted convergence in the area which several cloud locations merged, I knew from looking to the N that a storm was imminent. Some time later a thunderstorm was born over that direction in Limadvady which then moved N across Lough Foyle heading for the ocean. The above image shows that storm with dense precip core, it formed several interesting lowerings and sporadic rumbles of thunder which I was delighted to hear.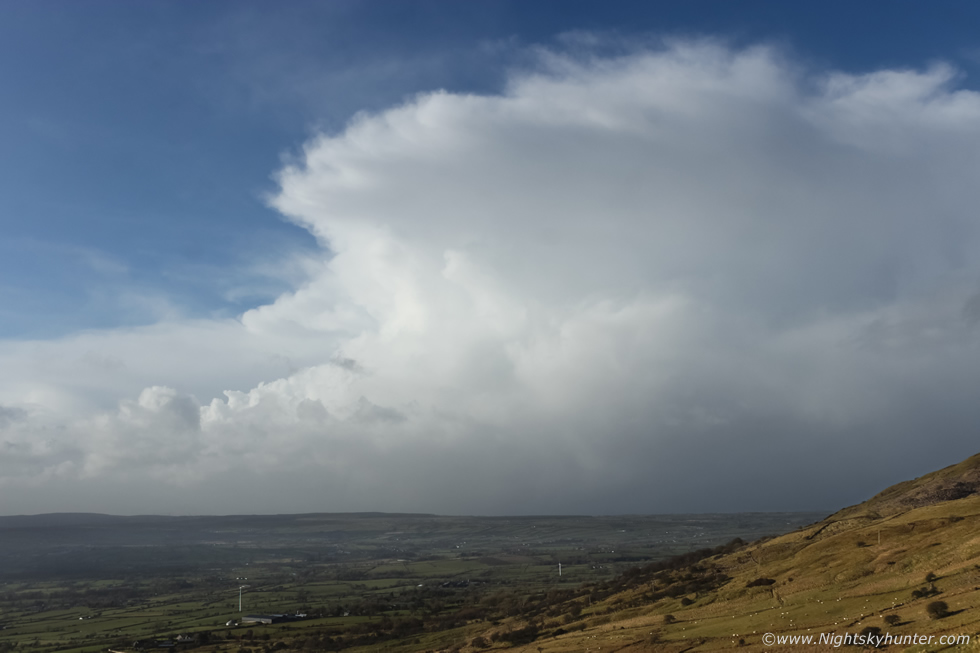 I couldn't see the lightning however we could hear the random rumbles, it became quite mean looking for a time, I have some Go Pro time lapse footage of it forming.
This was the main show and quite possibly the strongest thunderstorm in the N this day. I watched this storm build bit by bit at a very leisurely pace out west then after a VERY long wait this spectacular updraught base had grown rite before our eyes sporting numerous areas of twisting and rising inflow motion and even rotation and for a while I thought it was going to produce a funnel rite here. These are 10mm wide angle images, cell moving towards us and L to R at same time. This was the rain free base and out of frame to the R was the precip core.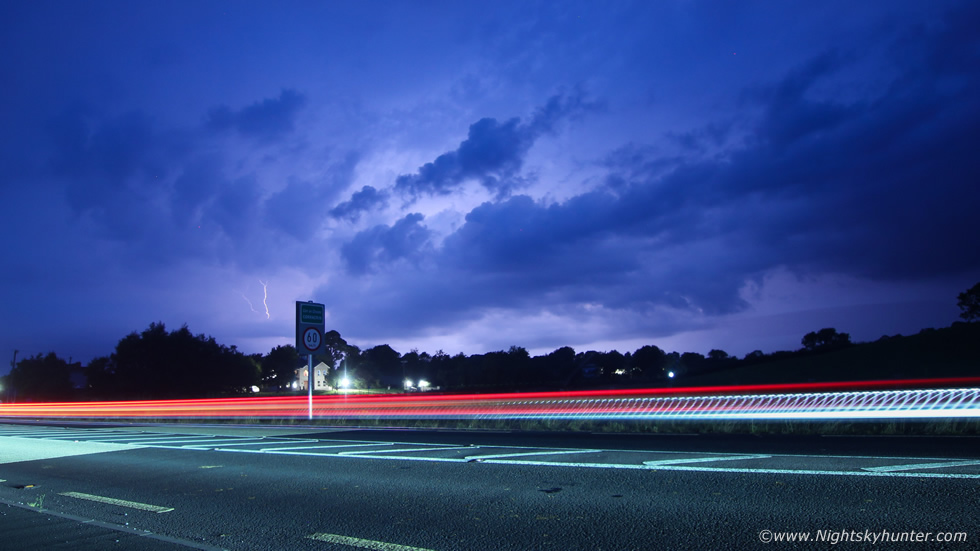 The base darkened and lowered with nice striation textures underneath and still exhibiting great inflow motion and rising scud into the base, it then passed to my right and almost overhead then the rain began, then thunder rumbled and that was the beginning of the storm's rapid growth to maturity. From the top of the mountain we watched it produce I-c lightning, thunder, then good hail stones, Paul Martin text me saying ''mental core in your area''.
The storm intensified as it moved N so we drove back down the mountain and chased it N through Dungiven then across the back roads to Coleraine, the storm had a great base on it and produced some great lightning bolts, many were I-c however we both witnessed a stunning close range double c-g bolt which struck the road on the right side then on the left in rapid succession - strike-strike, they were amazing with shearing blue-white bolts visible through the windscreen. Much to my good fortune I had just turned on my Go Pro a few seconds earlier and caught them both on video!. This storm's precip core was very intense with torrential rainfall, road flooding and hail stones the size of large frozen peas, we got footage of this core as we punched through in our pursuit. We chased it to Portrush then ended the day there as the storm weakened and died, however before that happened it caused major flooding in Ballycastle and damaged a bridge in the process.
Here's the footage of the twin rapid fire bolts striking the ground outside Garvagh, this was the video highlight of the day for us. A great days chasing with very rewarding visuals and an all around fun and satisfying day out in the elements, we must have spent 8-9 hours on the hunt. I have a longer video to make featuring more scenes from this chase which I will post later, thanks for viewing.
Storm Chase Bust -
July 2nd
Went storm chasing to Co. Fermanagh on Thursday on the hunt for storms and convective photo opportunities, there were several cells producing sparks in the midlands of Ireland far to the south which were well sheared and moving north, even though the current cells were dying new developments were likely as they moved north, from their location I expected Co. Fermanagh to be a likely area to target, just after I left TORRO issued a convective discussion for Ireland and N. Ireland for severe storms and tornadoes. On the road down I knew the chances were not good due to the grey hazy skies and cirrostratus aloft which was killing solar heating and preventing a cap break to the north, but I went anyway. Watched heavy showers from outside Belleek approach, observed a dark lowering under one which I monitored for a while but which turned out to be an outflow feature. The showers arrived bringing nothing but grey skies and moderate rain, the cells had fallen apart into a mess and it looked like it was going to stay that way. I drove around filming rain scenes and ended up at a lake where I took footage of two Donkeys in the rain, this was all I got from this day. Radar indicted Enniskillen as a next possible target so I went in that direction while stopping off to enjoy the amazing castles at Tully and Monea which were beautiful, especially the latter which is one of my favourite castles in Ireland. I began the long drive home then stopped for a gorgeous Aero McFlurry at the McDonalds in Omagh which was well earned. Above average sunset scene on the way home so I pulled over outside Desertmartin for a few images, here's one at 10mm with friendly Cows for company and much needed foreground. That's 7 & 1/2 hours on the road this day in search of storms with little to show for it, this is has been the most trying storm chasing season I have ever experienced and N. Ireland has yet to produce the goods, however I'm confident that nature will tip the scales and something spectacular and photogenic will happen in the near future, in the meantime I'm waiting for the next chase day.
Just for fun, here's footage of these two Donkeys in the heavy rain in Fermanagh, the scene really summed up how I felt at the time. I Love this part of the country though, there's a wonderful atmosphere, good chase territory, big lakes, nature, and the people are very friendly, I hope to some day catch a waterspout/tornado over the lakes here. Looking forward to the next road trip to see what nature does.
Venus & Jupiter Close Conjunction -
NEW
Video footage of the very close twilight conjunction between planets Venus and Jupiter low in the NW sky from Maghera when the pair where less than one degree apart, visually they looked like two golden stars in the milky twilight one above the other, Venus is the lower star and the brighter of the pair. I was lucky to see them thanks to a clearance in that area while to the SW and S dark skies and decaying Altocumulus Castellanus clouds covered the sky (no storms thanks to a strong cap) however I was clouded out soon after I obtained this footage so the timing as good.
Extremely Rare Summer Twilight Aurora Report -
NEW
On June 22nd/23rd 2015 multiple CMEs impacted the Earth's magnetosphere generating a freak G5 geomagnetic storm peaking at KP9 with a Bz tilt of almost minus 40. Despite the severe challenge of seeing anything at all through the intense Summer twilight sky this close to the Solstice I was astonished to witness several naked eye aurora beams over 40 degrees tall slowly meandering through the twilight arch in ghostly fashion from a hill in the Maghera countryside. This was an extremely rare event which I haven't witnessed in over 18 years of aurora watching and to also get it on camera made this an unforgettable memory and the highlight of the Summer night sky this season to date. Also included is a wall-cloud type lowering under the base of a storm cell over the fields adjacent to Maghera on June 24th exhibiting keen inflow motion. One page report with 4 images and 1 time lapse video. - REPORT.
Herons & Thunder Showers -
June 24th
Now it seems the tables are turning and Summer is starting to feel the way it should be. June 23rd was a lovely warm humid day so I decided to take Rhua out for a walk along the Moyola River. Walking between the banks along the trail covered with long grass and bushes almost felt like walking through a jungle, it was a real heat trap heavy with thick air while the sun burned aloft turning the river into a magical scene with intense silver glitter paths and vibrant green reflections of the trees upon the water, the river was so low one could almost walk across it in high boots. I spotted this beautiful big Heron and when he saw me he took flight before I could get any images so I stayed low and stalked along the trail for another 100 yards staying low behind the bushes and then I spotted him again perched on the opposite bank watching the water for fish, I had my chance, I slowly raised above the bushes and took two quick images with the 400mm lens before he took flight once more and vanished into the distance with a huge wing span visible against the sky. This is the image I got, I was very happy with the result, check out those green colours, these are all natural and not enhanced in any way, the high resolution version of this image looks great.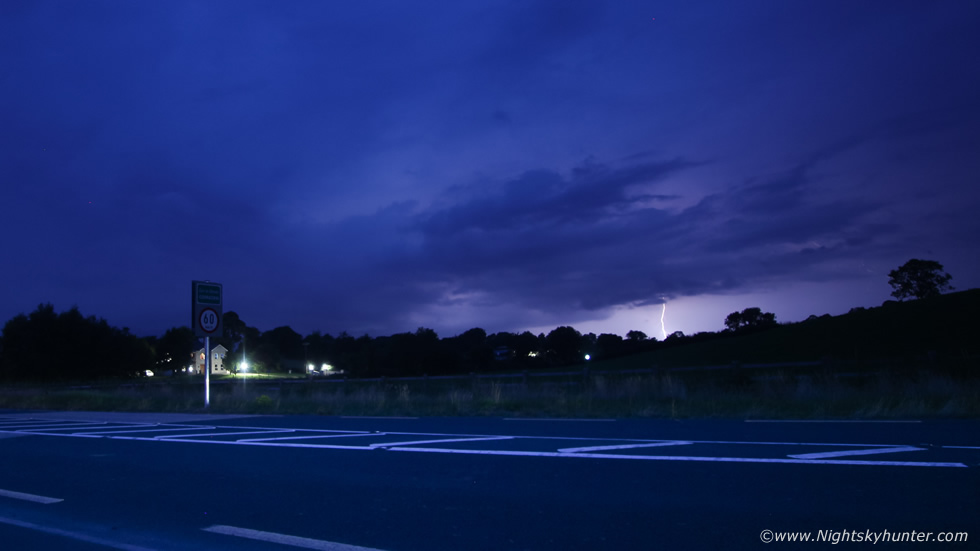 June 24th turned out more interesting than originally thought, for me personally - based upon physical feelings alone - this was the warmest and most humid day I have experienced this season without question. There were no storms forecasts out from anyone however it was only myself and Cecilia Daly who thought there was a chance of a rogue late afternoon thunderstorm. SWly flow with small zone of 200-400 CAPE with pockets of convergence however there was no big lift under the expected cloud cover and there was a cap aloft. By early afternoon it became very apparent to me that things were changing fast. The clouds were thin and hazy with periods of very strong sunshine getting through and the humidity was obvious to anyone outside, it just felt like the atmosphere was building up to an explosion, I could feel the storm potential brewing in the air. At 16.00 I went chasing to the N and E all over the countryside, not a lot was happening but convection was growing and it was reaching prime heating and CAPE time so I decided to just get on the road and eye ball the sky. I watched showers to my E from the countryside outside Garvagh, I was parked on a hill leaning on a gate at distant threatening clouds and in the foreground was a vast sweeping wheat field with two wind turbines turning, it was hot at this stage, I savoured the scent of the fields and my t-shirt was damp with the humidity - this is what Summer chasing is supposed to be like! - I was loving every minute of it. I arrived back home at 19.00 empty-handed but happy to have been out on the hunt in warm weather.
At home I checked the radar and saw two cells to my W and SW heading NE approaching the Sperrins, the cap had broken and storms had fired but even later in than I had anticipated. They had red and white cores on radar so I immediately skipped dinner and went straight out to see if anything interesting was happening. I parked on Glenshane Pass and got into a large field facing W and watched the storm clouds build, the clouds were messy but they were very slow moving and heading my direction, these were isolated cells and I felt they were made for me. I set up the Go Pro Hero 4 in the field and began a very long duration wide angle time lapse while taking occasional wide angle stills at 10mm. I was in Heaven, kneeling in a field watching storm clouds brewing with a time lapse on the go and for the first time this season I was sweating in a t-shirt in late evening, I heard a distant rumble of thunder which was the icing on the cake - finally the storm drought had broken!!, this was music to my ears. As the clouds neared I noticed convergence and although they were not overly photogenic they looked rather pleasing in the warm evening light with sun beams streaming at angles across the precip core.
I drove back to Maghera and was approaching the turn off for my home near the Coleraine road when I saw an interesting scene so I pulled over on the grass verge and got the camera gear out. This was a lowering to the E of N at the back end of the storm clouds, moving L to R and into the distance, it was dark and had a concentrated inflow section on the leading edge, I could see clouds getting drawn upward into the base and curling which was exciting to watch. This is a 10mm shot but I have others taken closer in and even a short time lapse section with my video camera on the van bonnet. The area became engulfed in precip but to my right a narrow base had two areas of small rotation and the leading area produced a small white funnel cloud, it was stubby and short and didn't have a nice point but it was rotating clearly nonetheless and attached to the base so I classified that as a funnel in my books.
Time lapse Go Pro footage of the thundery showers at Glenshane and the base with lowering in Maghera, if you look carefully you might spot the small funnel rotating under the base through the windscreen beside the lamp post. A very pleasing evening out indeed and hopefully a pre-cursor for bigger and better storms to come.
Noctilucent Cloud Gallery -
Update
I'm currently in the process of updating the Nightskyhunter N. Ireland Noctilucent Cloud Gallery. I used to have separate NLC galleries for each year/season however I have now decided to add my best, favourites, and good memories all into the one gallery which will include images from 2015 all the way back to 2008 and possibly a few oldies from 2005-2006, this is still work in progress however for now this is what I've got done, I hope you enjoy viewing. Editing these images brings back fond memories and keeps me busy on cloudy nights while waiting on clear skies to see what the current season will next present me with.
2011-2014 N. Ireland Storm Chasing Highlights Video -
NEW
I have just made this brand new 2011-2014 storm chasing highlights presentation featuring raw video footage complimented by numerous time lapse segments showing funnel clouds and thunderstorms across various locations in Ireland and N. Ireland from Glenshane Pass to Sligo and Belfast to the Antrim coast. These are video clips captured using three different video cameras from old to new and also includes footage of the June 2012 rotating base and funnel cloud over the fields adjacent to the Glenshane Road and segments from a local storm chase with BBC Newsline weather presenter Jackie McCann then ending with a great memory of a stunning sunrise from a high cliff vantage point looking across the Atlantic ocean with Paul Martin. However my favourite footage is the time lapse sequence of the beautiful pulse storms over Mullaghmore on a wonderful hot Summer's evening and the explosive multicell convection on the huge cells near Maghera in full sunshine. The soundtrack is from the movie 'Inception' and the presentation is best watched at 1080p HD. I'm now in the mood for whatever the current storm season presents us with and can't wait to get on the road.
N. Ireland Storm Chasing Image Reports
Astronomy is not the only subject I'm interested in. One other such area is severe weather which will be playing a major role on nightskyhunter from now on in conjunction with my other astronomical pursuits. Check out my new N. Ireland Storm Chasing section and view the chase reports and images which detail not only storms but other phenomena such as a moonbows, noctilucent clouds and aurora displays.
Martin McKenna