LATEST SKY EVENTS
Updated July 26th 2017
Convective Outlook UK & Ireland -
Wed July 26th
Day 2 Convective Outlook
VALID 06:00 UTC Wed 26 Jul 2017 - 05:59 UTC Thu 27 Jul 2017
ISSUED 17:49 UTC Tue 25 Jul 2017
ISSUED BY: Dan
... NORTHERN ISLES ...
Upper vortex on Wednesday morning and associated steep mid-level lapse rates may provide the focus for some showery precipitation with perhaps embedded lightning. This risk will generally decrease by late morning as main Atlantic frontal system rapidly approaches from the west.
... SCOTLAND / NORTHERN IRELAND / N + W EIRE ...
In the post-frontal environment, the passage of a pronounced shortwave trough during the afternoon and early evening will provide the focus for an increase in coverage of showers and a few thunderstorms as cool air aloft markedly steepens mid-level lapse rates - beginning in W Connaught / W Ulster mid afternoon, then spreading ENE towards SW Scotland during the evening. Strong DLS and notable LLS could allow convection to become well-organised, at least for a time, with potential for strong, gusty winds and perhaps a tornado. Hail with diameter up to 1.5cm will also be possible.
Showers will continue overnight, though with lapse rates looking less impressive and so lightning will be more isolated / sporadic - the risk then extending towards W/SW Ireland later in the night. Source:
Convective Weather
Recent Shoots - Storms, Night Sky & Sunsets -
UPDATE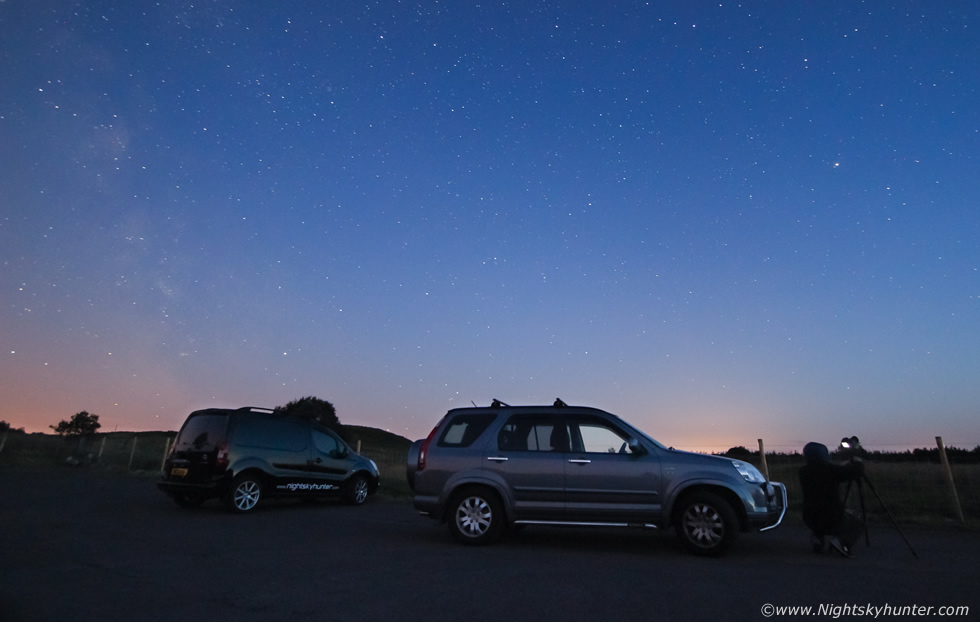 Sorry for the lack of updates recently, my Wife Roisin was on holidays over the last two weeks so we spent a lot of time together and I didn't get a chance to update the site as I was at a number of different locations during the period. The holidays were great, we spent a lot of time in nature, walked many miles and were rewarded with a delightful number of warm sunny days and great weather. I did however get out for a few shoots, this was Beaghmore Stone Circles outside Cookstown, I had met up with photographer Paul Martin to hunt for a rare Summer aurora display. A glancing blow from a CME generated a decent storm with NOAA going for a G3 event which was fairly significant, the oval was all over N. Ireland however we were not impressed by the wind speed, density and the IMF which kept going N, however we decided to try for it anyway. It was shocking how dark the Summer sky now gets during the middle sector of the night. These images were taken when twilight was blending into an overhead semi darkness, even this short exposure reveals the Milky Way in Scutum and Sagittarius over our vehicles.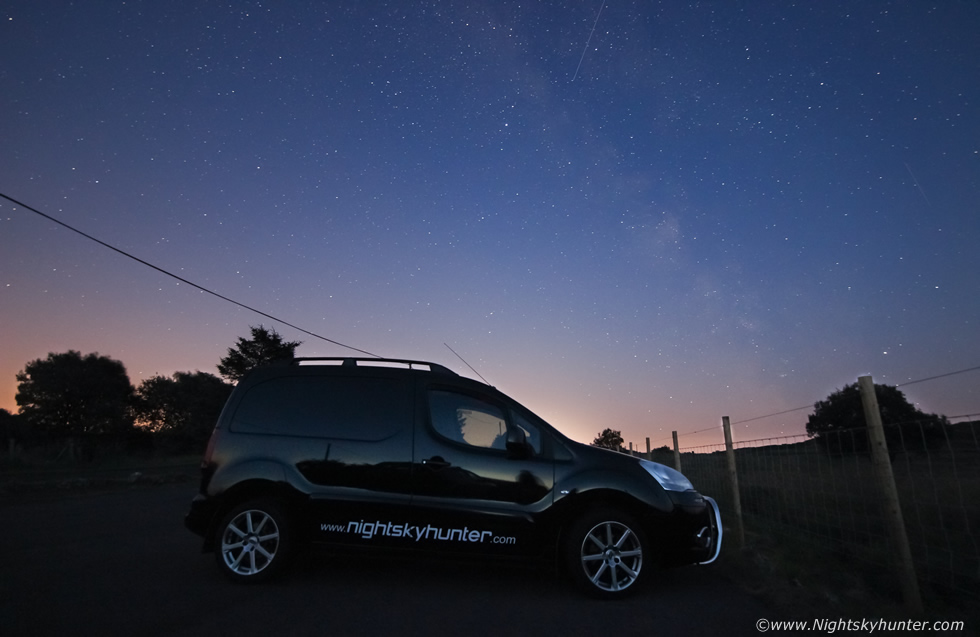 We tried hard to convince ourselves we could see aurora structure with the naked eye however we could never convince ourselves enough, even the cameras never detected any activity at this time. I took this memory shot of the MW over my van. Paul and I had a great night watching the sky, it felt good to be on the hunt again and the darker sky was a testament to the return of the proper aurora season in the very near future. Paul and I had actually arrived during golden hour to fly our drones and film this ancient site in magical light which was the highlight of the trip, you can view the footage here.
A risk of storms lured me out a few days later and I ended up spending the entire day on the Sperrins, watching convection and scanning the skies, my eyes felt burnt out after hours of observation. I wasn't liking what I was seeing, bases too high, tops low and shunted, no life in the clouds, and clearly a capping inversion stopping vertical growth. Storms did break out over Fermanagh and below the border had some great action with reports of shelf clouds, mammatus, lightning and flooding. The highlight for me was this isolated base which formed on a convergence zone, I watched the clouds build in this one area and at times scud under the base was slowly rotating, I was expecting a funnel cloud however it never came, still it was fun to watch with anticipation what would happen next. I actually shot a 10mm DSLR time lapse of this scene for training purposes.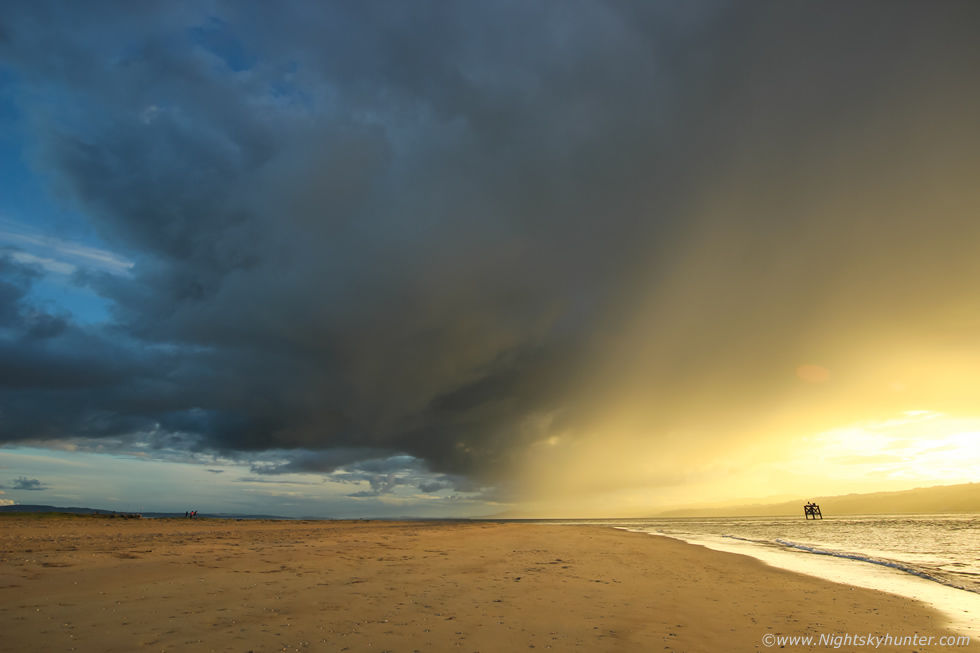 This same day I abandoned storms and went to the coast do see what photo opportunities may be waiting, I teamed up with Nigel McFarland and within minutes we got treated to an epic sunset. This cell began to collapse and as it did so it became illuminated in stunning light.
The best golden hour light I have seen since 2016, the clouds, beach and sea were glowing intense orange, yellow and gold with a golden glitter path crossing Lough Foyle.
I captured this memory selfie, the image is unedited, nothing done to it in post at all other than resizing.
This stunning tall ship called Thalassa came into view offering us great foreground interest with the ship against a fiery storm sunset sky with blue dusk moving in to end the last sliver of awesome light, it really was a stunning evening to be at the coast. I might do a joint image report documenting this sunset with NLCs.
Noctilucent Clouds Return! -
July 2nd (Time Lapse Added)
Quick update, on July 2nd I got treated to yet another stunning NLC display for the second night in a row, however this display was even brighter with greater structure than the previous night, however unlike that fine clear night I was battling with cloud blowing across on the NWly wind, I only got brief glimpses of the display through periodic gaps which made shooting near impossible. I was on the back roads near Cookstown then on the main road outside Desertmartin. I tried shooting time lapse however every time I got set up I got perhaps a couple of minutes of shooting before cloud came in forcing me to end the exposure integration. In the N the sky was covered in multiple stacks of bright blue bands, while to the NW the structure was stunning in the form of large whirls (my favorite) crossing herringbone, it was changing by the second.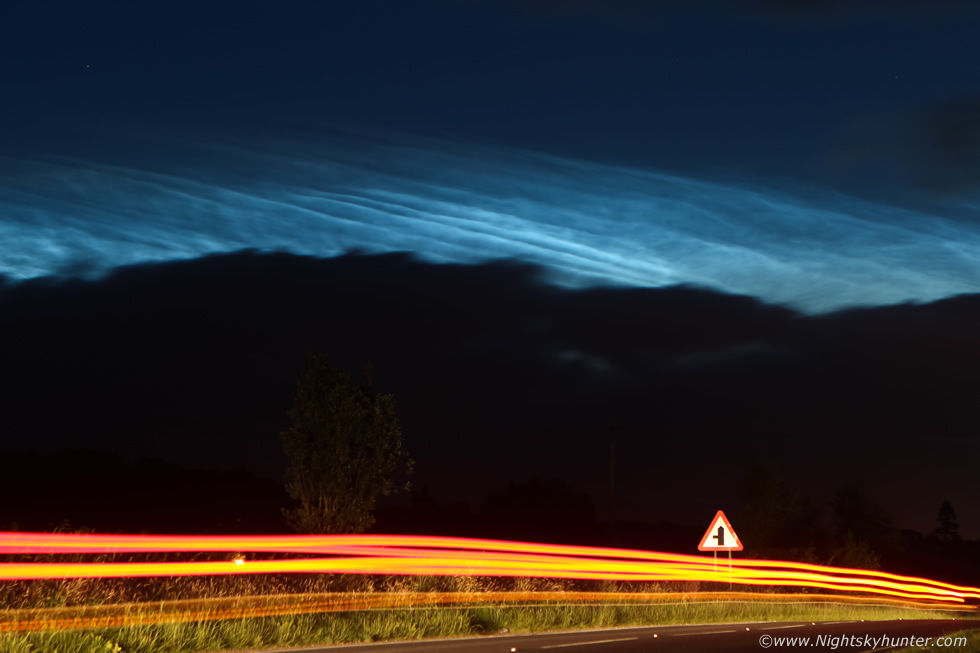 I did what I could in the middle of the night on these dark roads, shooting car trails added a little contrasting foreground interest with the clouds. Veteran NLC observer John C. McConnell and I both agreed that this display likely peaked at type 5 brightness at the top of the scale, it was certainly illuminating objects around it and casting shadows making this the first type 5 display I have witnessed since 2009.
Beautiful type 4 NLCs from Toome and Lough Beg on June 31st 2017. DSLR time lapse. 3.5 sec exposures shooting for several hours to capture the movement of these amazing electric blue clouds. Footage mixed with on-location vlog filmed with my mobile phone. Great structure, whirls, lacunosus holes, waves and bands. I used 50mm F/1.8 and 24-70mm F/2.8 lenses. With me on this shoot was Paul Martin and John Fagan. You might notice a slight jump in the time lapse on several occasions, this was when I stopped the camera to check my exposure and to check the lens for moisture, this affected the final time lapse. I hope you enjoy it regardless. Soundtrack is the real sound of planet Jupiter as captured by the Voyager spacecraft, thanks for watching.
Beautiful Noctilucent Clouds! -
June 30th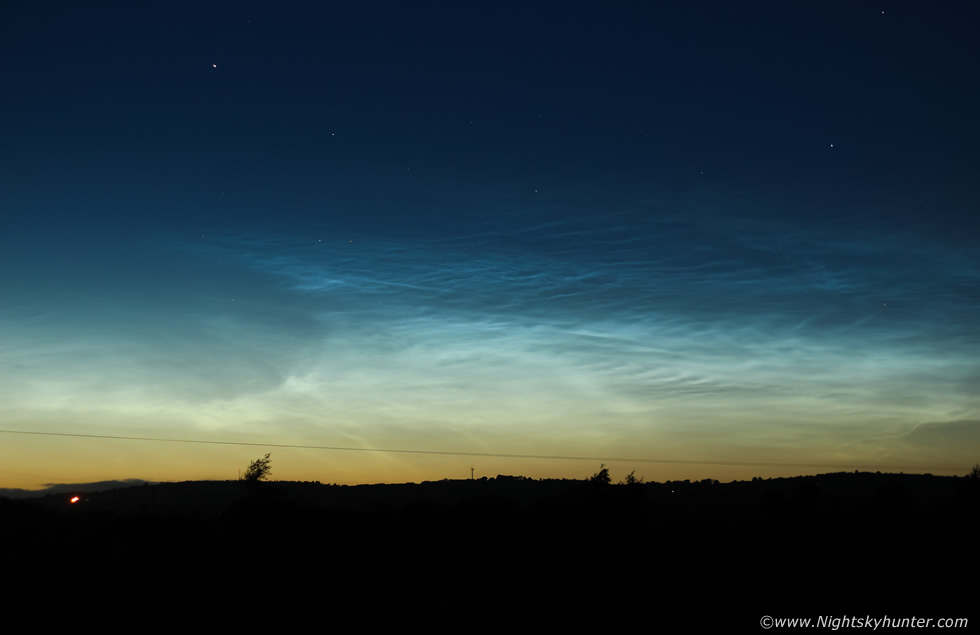 What a rewarding photo shoot last night hunting for NLCs with Paul Martin and John Fagan. Only clear night of the week, we took a gamble and met up hoping to at least see something, our hopes were low considering how bad this season has been. Met up at Toomebridge, suddenly NLCs appeared at midnight, unfortunately to the NE at the wrong angle to the bridge, however we watched the NLCs rapidly grow above the lights and pylons and suspected that this could be turning into a great display. Two car loads of us driving along back roads at night trying to find an open section of country away from trees. We finally found a nice country road somewhere between Toome and Lough Beg which offered us an uninterrupted view across fields to a flat horizon. The NLCs evolved into a stunning display, the best I have seen in two years or more. Structure was very sharp and changing shape in real time with the naked eye, herringbone, sharp bands, complex knots, small and large whirls, with colours varying from an orange hue at the horizon to silver then beautiful electric blue, we could see all kinds of forms including an NLC 'funnel' and one of the 'Gremlins'. We time lapsed much of the display. Before dawn the show was 40 degrees high and type 4 brightness, it kept producing for the entire night in a perfect clear sky. Now a lot of effort involved in rendering the time lapse, great night!
The complex structure below Capella left us awestruck all night long, we couldn't take our eyes from it
We made it back to Toomebridge for 03.00 for a few snaps before the sky got too bright, pre-dawn and the NLCs were type 4 brightness and 40 degrees high, the structure just kept on producing, what a show. We watched it until the birds began singing then I made it home after 04.00 with over 2000 exposures taken. I will get the time lapse sorted for next week and will likely do a report also, however between now and then I will be on the hunt for moe NLCs.
N. Ireland Storm Chasing Image Reports
Astronomy is not the only subject I'm interested in. One other such area is severe weather which will be playing a major role on nightskyhunter from now on in conjunction with my other astronomical pursuits. Check out my new N. Ireland Storm Chasing section and view the chase reports and images which detail not only storms but other phenomena such as a moonbows, noctilucent clouds and aurora displays.
Martin McKenna