LATEST SKY EVENTS
Updated April 27th 2017
Arctic Winds & Sand Blizzard At Benone Beach Image Report -

NEW
On April 24th 2017 an unstable Arctic air mass advected over N. Ireland bringing with it a nocturnal threat of hail and snow showers with a risk of thunderstorms along coastal areas. I teamed up with John Fagan and Nigel McFarland on Benone beach where we spent hours watching the skies. The convection refused to spark however the real action was happening all around us. 50mph Nly winds with convective gusts produced an impressive sustained display of blowing sand which looked like a desert dust storm which was extremely dramatic to watch. The report documents this aspect of the chase with video footage and stills to compliment the written account. Quite an exciting night of wind driven weather lasting until 02.30. One page report with 9 images and 2 video clips. - REPORT.
Arctic Winds & Sand Blizzard On Benone Beach -
April 24th
At last a chance of stormy weather!, after a prolonged quiet convective period the synoptic pattern suddenly changed when low pressure advected freezing Arctic air across N. Ireland on Monday night with an unstable fetch affecting N and NW coastal areas with upper air temps of -35C and several hundred CAPE so numerous squally showers of hail and high ground snow were anticipated. Thunderstorms were also possible in a sheared atmosphere in conjunction with strong to locally severe wind gusts. I was up for a night chase and arranged to meet John Fagan and Nigel McFarland at Benone beach. I arrived on location at sunset and was immediately impressed by the sand which was blowing across the beach at high speed, it actually stole the show, here's a still from my DSLR footage.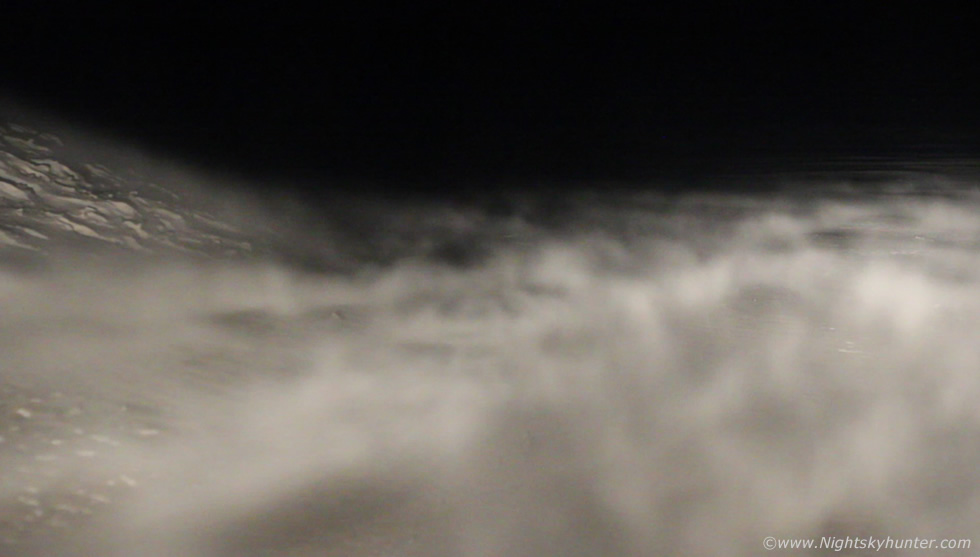 The wind stayed severe all night with gusts between 40 and 50 mph, at times we struggled to open the van doors, staying outside was just not happening, due to the wind and airborne sand we couldn't set up our cameras and tripods, it simply wasn't happening in these conditions. Outside the windscreen the beach was like a sand storm or blizzard, simply incredible to watch in the creepy darkness with streamers of sand lit by our headlights, here's another grab from the DSLR footage.
I obtained video footage of the sand storm until 02.30 the headed back to Maghera. Despite observing no lightning I felt this sand event was more than worth the trip, perhaps the most dramatic blowing sand event I have ever witnessed under stormy skies, I will do a report on this shortly. The van was a mess the next morning, sand everywhere, on the dash, in the buttons, steering, gear stick, seats and floor.
Video footage of the sand storm at Benone during daylight when I arrived then later in the night, filmed using the Canon 600D with 50mm F1.8 lens and the windscreen mounted Go Pro.
Windscreen mounted Go Pro time lapse of the convection and squalls blasting onshore at the beach from dusk until darkness while the sand lashed below. I will cover this more in the report so sorry for the brief update.
Nocturnal Storm Chasing, Causeway & Ballintoy Aurora Report -
NEW
New report detailing two days and nights on the north coast storm chasing and aurora hunting on March 20th and 21st 2017 with John Fagan and Glen Miles. The first shoot documented daytime hail showers from Portstewart followed by an after dark storm watch on Downhill beach in the midst of clouds, wind, sleet and snow showers, the highlight was an nocturnal back sheared anvil with mammatus followed by a severe snow squall which produced blizzard conditions on the beach. Night two was a glorious clear moonless night when a 600km/sec solar wind stream and CIR region generated a beautiful aurora display with several outbursts captured from the Giant's Causeway and Ballintoy Church making this the best aurora in almost a year of sky watching. One page report with 12 images & 1 time lapse video. - REPORT.
Elemental Photography From Maghera & Surrounding Countryside -
NEW ARTICLE
A brand new Nightskyhunter article called 'Elemental Photography From Maghera & Surrounding Countryside'. During 2016 I was invited to write an article about my photography on behalf of the Maghera Historical Society which was published in the Maghera Times that season complete with colour photographs. I decided to share that article here, this is the full version with more images which I hope you will enjoy. The article is straight forward and is aimed at the beginner or amateur observer and photographer which includes a little bit of history about how I got into the subject of astronomy and storms complimented by sample imagery taken from Maghera and it's vicinity. I hope you enjoy it, thanks very more reading. - ARTICLE.
N. Ireland Storm Chasing Image Reports
Astronomy is not the only subject I'm interested in. One other such area is severe weather which will be playing a major role on nightskyhunter from now on in conjunction with my other astronomical pursuits. Check out my new N. Ireland Storm Chasing section and view the chase reports and images which detail not only storms but other phenomena such as a moonbows, noctilucent clouds and aurora displays.
Martin McKenna