LATEST SKY EVENTS
Updated May 25th 2015
The 2015 Noctilucent Cloud Season Beckons -
WATCH
NASA's AIM spacecraft has recently detected the first Noctilucent Clouds or 'NLCs' of the 2015 season over Arctic regions on May 19th - quite early in the month however not unheard of - which marks the start of a new season for observers in the northern hemisphere. NLCs should become visible to ground based observers on the nights ahead so make sure to scan the twilight horizon around midnight for the first tale tail signs of these beautiful electric blue night shining clouds. The season typically begins from late May to early August with a major peak in activity on the weeks either side of the Summer solstice. Displays can range from faintly glowing wisps of light barely visible to the untrained eye to magnificent displays sporting vivid 3D-like structure which cast shadows and dominate vast areas of sky, the latter can be breathtaking and once seen are never forgotten. NLCs are composed of meteoritic material encased in ice crystals which manifest in the Mesosphere some 82km above Earth. It is this great height and their reflective properties which make them glow against the twilight sky when the sun is between 6 and 16 degrees below the horizon. Monitor the W to N skyline 1-2 hours after sunset in the evening and again before dawn from the N to E, vast displays will coverage large areas of sky and will be difficult to miss!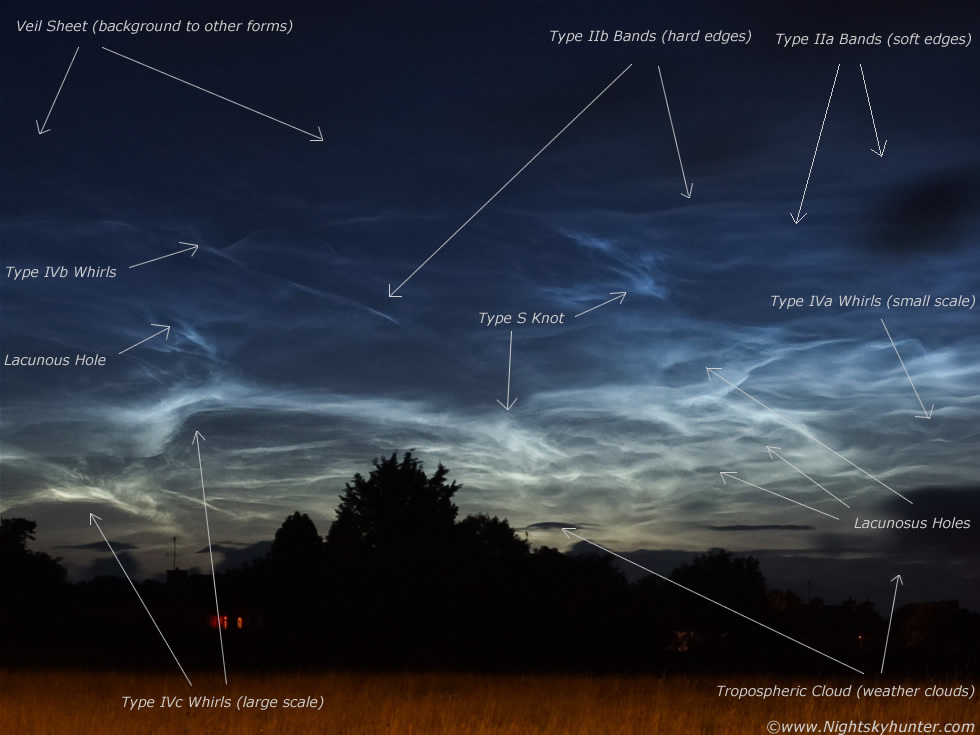 How do you identify NLCs?, how do you determine the brightness of a display?, measure its angular extent or know what kind of structure you are observing?, to find out more on NLC observing, basic photography and the history of these amazing clouds please check out the Nightskyhunter NLC article.
Exceptional Sunset Mammatus Display Over Maghera Report -

NEW
During the late evening of May 18th 2015 I was working on video editing in my room after a local chase earlier in the day when between 20.30 and 21.00 UT I felt a sudden impulse to glance out my window which revealed a stunning sunset sky show unfolding. I ran into my front garden and was instantly treated to the best mammatus cloud display I have ever seen with large udders arranged in streamers on a fanning wispy anvil all lit into glorious gold and yellow colours by the setting sun. For ten delightful minutes I watched and photographed the cell as it passed over Slieve Gallion with US-style mammatus hanging over Maghera before it passed over Lough Neagh and vanished into the darkness of dusk accompanied by several departing rumbles of thunder marking the second time a sunset mammatus display passed over my home area within a week. One page report with 15 images and 1 video clip. - REPORT.
* Mammatus Gallery new update.
Recent Storm Chasing Videos -
NEW
Here's a selection of recent storm chasing videos covering some of my 'elemental adventures' over the last two days, all are best watched at 1080p HD. The above was from May 18th showing the amazing sunset mammatus display which passed to the S of Maghera after 21.00 which was a fantastic visual spectacle. It was filmed from my front garden and I was in a rush to get still images so I simply set my Samsung video camera on the path and let it record the upper portion of the display as it transited from W to E, you can see the garden fence in the frame. There's a time lapse portion too.
Afternoon chase on the same day with Roisin at various locations including the mountains, Swatragh, Maghera and Glenshane road with time lapse sections. Of interest is the angry Swan at Ballyronan Marina who took an instant dislike to my Go Pro and tripod, you can hear him hissing loudly, also a cell which passed over the lough with rain, hail and inflow motion with slow rotation.
This was taken on May 19th showing a cell with anvil/mammatus over the Tobermore road outside Maghera facing S and filmed with my Canon 600D with Samyang 10mm lens and Go Pro with time lapse segment near the end.
This is the cell over the Tobermore road with mammatus at 10mm, it was dropping a lot of hail when it blew in over the Sperrins. Lots of hail today with some dramatic reports coming from various parts of the country. The storms have finished for now with high pressure returning and slightly warmer temps towards the weekend and next week, however will this be sunny HP or a cloud infest?, we will find out in due course. This has been a strange Spring for cool temps and a real lack of heat, I'm still waiting on proper storms from a SWly flow, I hope the pattern changes as we move into June and July. Thanks for reading.
Dramatic Sunset Mammatus Display Over Maghera Image Report -
NEW
A sudden and unexpected treat happened on May 11th 2015 when a cell passed over my home town of Maghera at 21.00 which produced a stunning widespread mammatus display on the back of a sheared anvil all it into vivid orange and golden colours by the setting sun which extended across 180 degrees of sky. After a last minute drive into the Maghera countryside adjacent to the Crewe Road I captured a succession of dramatic wide angle images of the display in perfect light with the clouds surrounded by clear blue sky in conjunction with Go Pro footage which made for spectacular end to the day. One page report with 13 images and 1 video clip. - REPORT.
2011-2014 N. Ireland Storm Chasing Highlights Video -
NEW
I have just made this brand new 2011-2014 storm chasing highlights presentation featuring raw video footage complimented by numerous time lapse segments showing funnel clouds and thunderstorms across various locations in Ireland and N. Ireland from Glenshane Pass to Sligo and Belfast to the Antrim coast. These are video clips captured using three different video cameras from old to new and also includes footage of the June 2012 rotating base and funnel cloud over the fields adjacent to the Glenshane Road and segments from a local storm chase with BBC Newsline weather presenter Jackie McCann then ending with a great memory of a stunning sunrise from a high cliff vantage point looking across the Atlantic ocean with Paul Martin. However my favourite footage is the time lapse sequence of the beautiful pulse storms over Mullaghmore on a wonderful hot Summer's evening and the explosive multicell convection on the huge cells near Maghera in full sunshine. The soundtrack is from the movie 'Inception' and the presentation is best watched at 1080p HD. I'm now in the mood for whatever the current storm season presents us with and can't wait to get on the road.
April 16th Monea Castle G2 Aurora Display Image Report -
NEW
The grand finale of the 2015 Spring aurora season happened on April 16th when a G2 geomagnetic storm was generated by a fast moving solar wind stream which took everyone by surprise. I met up with photographer Paul Martin and together we drove into the beautiful countryside of Co. Fermanagh and photographed the stunning aurora over the ancient ruins of Monea castle near Derrygonnelly, the first time this has ever been done, and watched in awe as a vibrant pink and purple aurora surrounded the castle with angelic beams of light up to 40 degrees high. This night made the entire aurora season for me on both a personal and photographic level. This detailed report also documents a fox encounter, a faint aurora from Downhill beach the previous night and a wonderful sunset from Kildress church outside Cookstown. One page report with 16 images and 3 time lapse videos. - REPORT.
N. Ireland Storm Chasing Image Reports
Astronomy is not the only subject I'm interested in. One other such area is severe weather which will be playing a major role on nightskyhunter from now on in conjunction with my other astronomical pursuits. Check out my new N. Ireland Storm Chasing section and view the chase reports and images which detail not only storms but other phenomena such as a moonbows, noctilucent clouds and aurora displays.
Martin McKenna