LATEST SKY EVENTS
Updated October 24th 2014
Glenshane Winter Road & Moonlit Glenariff Waterfalls Report -
NEW
Feb 14th 2014 was an action-packed afternoon on Glenshane Pass when my Dad and I were involved in a que packed with several hundred vehicles with spun-out trucks trapped in the snow and ice on this famous winter road. This was quickly followed that very same night by a photo shoot to Glenariff Forest Park in Co. Antrim where photographer Paul Martin and I photographed the beautiful waterfalls under the surreal light of an almost full moon which made for a magical and eerie experience. One page report with 14 images. - REPORT. * A report from earlier in the season which I'm only getting online now.
Antrim Coast Storm Chase - Imagery & Video Footage -
Oct 21st
I went storm chasing to the Co. Antrim coast to watch and photograph the effects of Ex-Hurricane Gonzalo which was now an Atlantic storm and the first of its kind this season so I just had to get out and document the action. I left in the morning since the strongest winds were expected after the cold front during the post-frontal airmass and were due to peak during the early afternoon. Although this storm was not noteworthy for being highly convective there was a surprising number of lightning strikes over the N and NW coasts during the early morning hours and this showery activity was expected for the rest of the day. I encountered a brief but brilliant hail storm outside Coleraine which was very cool then I arrived at the coast and was highly surprised by the chaotic state of the sea on view. Large swells and waves were not expected with this storm however the sight of the ocean was quite astonishing with moderate to large waves with very deep troughs and large swells, the sea was covered in white horses on top of a stunning metallic green surface of churning madness.
I encountered strong gusts of wind and impressive wave action, in fact, I was quite taken back by how good it looked, the sea was highly agitated and thrashing and wild and I was enjoying every minute of it. I ended up observing and taking images and video from several locations throughout the day however it was Dunseveric harbour which got my thumbs up as the most severe and spectacular location along the coastline from what I experienced. The ocean was beautiful, thrilling and also frightening. This was my third storm chase with my new Berlingo van and it got a good battering from water, salt, sand, dirt, leaves and who knows what else, it was a mess and I christened the inside of the cap when I put down the window to shoot waves and ended up with hail stones blasting inside. I spent hours on location and had to admit that despite the media nonsense this storm was much more impressive than I had thought, I mean this on a visual level, I measured the wind speed with a hand held anemometer and got a gust at 38 mph however I was in a semi-sheltered location at the time and I wasn't going mad with the device since I was in photography mode, however on higher ground near Dunluce castle the wind was considerably stronger and I suspect there were gusts in the 50mph range. I have seen low pressure systems with stronger winds and deeper centres than this however this storm really stirred up the sea into spectacular fashion and beat several other past storms for visual excitement so I was rather pleased with its performance. Here are a few images using the telephoto lens...
Outside Coleraine on the road to Portstewart, this is the rear of the nasty hail squall which I had drove through a few min's earlier, check out the two hail cores, I'm assuming it was the left core I encountered.
Stunning breakers and deep troughs at Portballintrae with the 100-400mm
Ocean madness - beautiful chaos
Dunseveric harbour with nasty squalls and waves getting their tops sheared off, it was crazy here and very exciting, I shot and filmed through the driver's open window while the van rocked in the wind, I saw several spray bows on the waves when the sun came out, you can see a faint one on the video.
Ballintoy Harbour never lets me down
These are random images from several hundred stills taken however my main focus was on getting video footage which does scenes like this the justice they deserve.
11 min long video clip of the wave action from Portstewart, Portballintrae, Dunseveric then Ballintoy. Best to view this in HD with the volume turned up to hear the crashing waves and screeching wind. Some of this was filmed with my trusty Samsung video camera however from 1 min 50 sec's onward there are sections filmed with my Canon 600D DSLR and 100-400mm lens which really do the scenes some justice, the quality is much better and you can really sense the dramatic depth to the waves charging in, the end clip almost makes me duck.
More Sunset Images & Gallery Update -
NEW
I have just updated the Nightskyhunter Sunset Gallery with the latest imagery from last Sunday's sunset photo shoot on the north coast, these and several other images can be viewed on there documenting this truly beautiful sunset sky show. The above is one of the more unusual images from the set showing the 'God of the Sea' statue summoning the sun which was in the process of setting behind the hills of Donegal with wonderful colouring on the clouds above with reflections on Lough Foyle and all captured from Binevenagh mountain were the visual sight was terrific.
Stunning Lough Foyle Sunset -
Oct 12th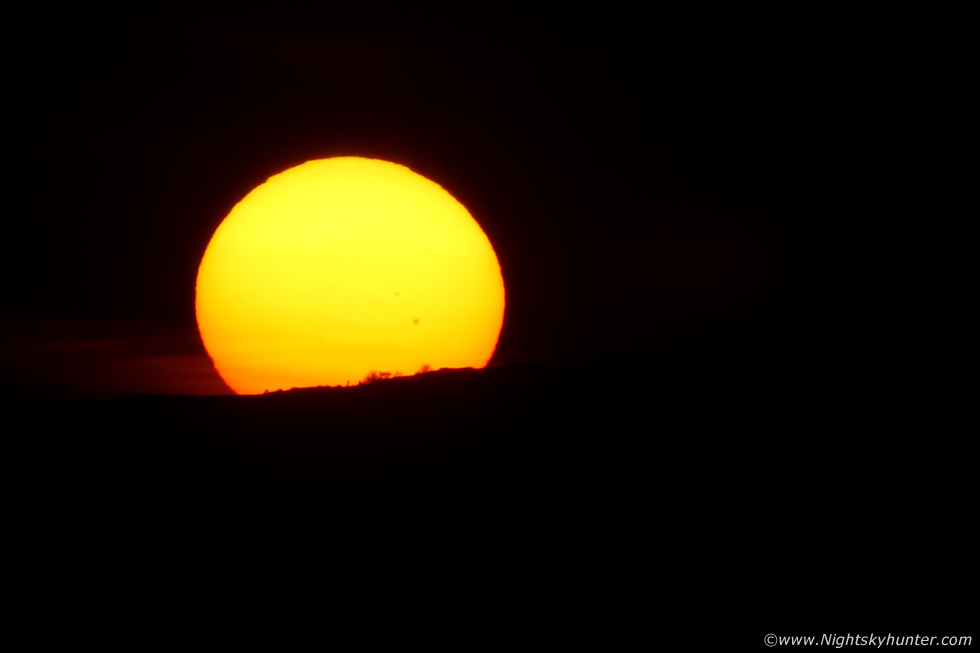 Roisin, my Mother and I were enjoying a relaxing day in Portstewart on the Co. Antrim coast on Sunday and after several hours of walking and enjoying tea on the promenade I began to get a feeing that there was going to be an excellent sunset. The sky was grey all day with sunny spells with low level and mid level broken cloud with a clear horizon extending all the way from the NE to SW and I suspected that once the sun lowered into the clear sector that cloud deck could light up into a wonderful sunset sky show. We decided to change location and for some reason I felt an impulse to watch the sunset from a more remote location so guided only by instincts we drove to Downhill then advanced upwards until we reached the top of Binevenagh Mountain beside the 'God of the Sea' statue, then as we watched a beautiful sunset spectacle unfolded. The sun appeared in the clear sector just as anticipated and proceeded to illuminate the under side of the clouds. This was the scene with the sun setting over the mountains of Donegal with a wonderful golden glitter path reflecting on Lough Foyle.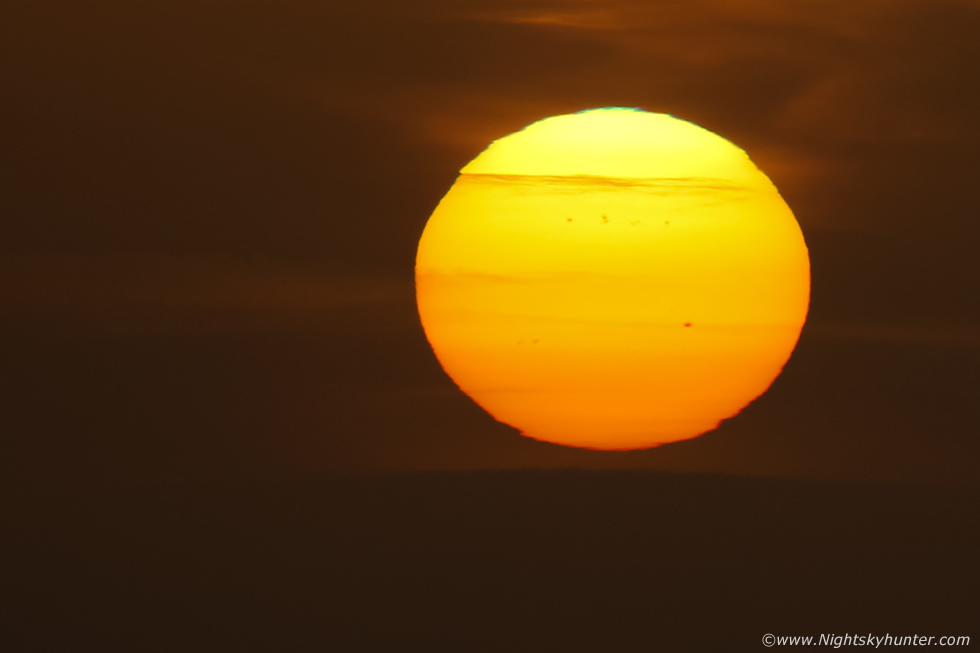 This was with the 100-400mm lens, the lough was so still and serene that there was hardly a ripple and it was this peaceful state which made the water behave like a mirror reflecting that beautiful sun on the surface, the glitter path was stunning and of pure gold, we were mesmerized.
I simply had to take a close telephoto shot of the glitter path on the lough. The entire show sported pink, red and gold colours and it made for a magical experience from the top of this mountain, it felt like we were all participating in a fairy tale produced and directed by nature, what a show to end the day. I have many more images to sort through and will add more this week to the Sunset Gallery.
5am Lunar Fog Bow Encounter On Glenshane Pass Report -
NEW
At 03.00 on October 9th 2014 I drove to the top of Glenshane Pass in the hope of seeing lightning from distant storms over the Irish Sea however what I didn't expect was the manifestation of a beautiful and rare lunar fog bow. This was the first time I had ever captured a true lunar fog bow on camera and much to my great surprise the phenomena remained visible for almost one hour. I ended up having a thrilling night observing and photographing this ghostly bow all to myself from a field on this vast mountain with the surreal moonlit hills, stars and planet Jupiter for company. One page report with 6 images. - REPORT.
'Your Place & Mine' BBC Radio Ulster Interview -
NEW
This is a recording of my interview with Anne-Marie McAleese for 'Your Place & Mine' on BBC Radio Ulster which was recorded at Drumlamph woodland outside Maghera and featured on the radio last Saturday morning. This was a very fun chat out in nature about my passion for aurorae, the night sky, storms and photography. Thanks very much for checking it out.
Fanad Head Lighthouse Photo Shoot Report -
NEW
Our first trip and night time photo shoot at the famous Fanad Head Lighthouse on the Co. Donegal coastline with my girlfriend Roisin Laverty and photography mate Paul Martin on Sept 27th 2014. We spent hours at this beautiful location doing photography and observing the exceptional dark and transparent night sky which boasted stunning views of the Milky Way, green airglow and even a faint aurora complimented by night landscape imagery of the lighthouse with three star trail captures. Fantastic night with 4 hours and 180 miles on the road. One page report with 12 images & 1 video clip. - REPORT.
Antrim Coast Photo Shoot -
Oct 1st
I did a photo shoot last night at the Co. Antrim coast to take advantage of the best and only clear night of the week so far and with a first quarter moon low in the SW I knew I could use its natural light to illuminate foreground then take advantage of truly dark skies once it set. My goal was star trails however there was also a healthy looking aurora oval before sunset so I suspected than an auroral glow along the horizon couldn't be ruled out too. I arrived just as twilight was surrendering to astronomical darkness so I immediately began the climb down the old steps beside Dunluce Castle then detoured onto the grassy slope away from the path and found an angle I have always liked from past adventures here. There was no aurora so I got to work on star trails and managed to get several attempts using the 10mm lens however I was not happy with the results so I made my way down the steep slope to a better angle and attached the Canon 24-70mm F/2.8, zoomed in a little to frame the two haunted towers then began my trail. I got off to a slow start due to a faulty cable release then another with a loose connection (time to buy more) then I had to wait for a formation of moonlit contrails to clear the area then the first proper trail of the night was underway.
I hunched down in the grass and waited, the only noise was the click of my camera every 30 sec's, the night sky was beautiful and the weak moonlight combined with the headlights from random passing cars illuminated the old stone bricks on the castle towers to perfection and I had a feeling that I was going to get a nice end result. I saw lights suddenly appear on the steps, until this point I was alone and had the entire place to myself however now I could see two people with a camera taking images of the castle too and unfortunately they kept sweeping their lights over the castle walls which ended up ruining my star trail when I was less than a quarter of the way through the shoot so I packed up and left the area. Above is the aborted result.
You don't need to use torches and headlights at Dunluce, this is one of the single 30 sec frames from the star trail shoot with the towers lit by a passing car, you can't ask for much better than that and the colour is nice and warm to contrast with the cooler sky, looks nice I think. I must retry this again another time with full star trail.
I drove to the Giant's Causeway visitors centre then parked to have a brew and a snack to warm up while watching the moon lower into the horizon haze sporting an impressive large size due to the moon illusion effect then it was gone and the night was suddenly thrust into darkness and the stars seemed richer and brighter than ever. I glanced behind me and saw a very cool looking building which I had never noticed before, I'm certain I had seen it before in daytime however it had never jumped out at me before at night until now, I was instantly drawn to it and decided to investigate. This was the Causeway School Museum, I entered the grounds and made my way across the pitch black eerie garden adjacent to it and found a nice view so I set up the 10mm and began shooting a star trail while I went back to the van to wait. After 40 min's had passed I went back into the dark shadows and noticed that the red light wasn't on my camera, as it turned out it had only taken one image and no others during that entire time, it was that darn cable release again, in the dark I had mixed them up and used the faulty one, I was so frustrated that I almost packed up and went home however I decided to give it one more try with the new cable, this time it worked and here is the result which I'm rather pleased with. I love the creepy shadows of the tree branches cast onto the white walls, also the old tower on the roof and steps with rails at the back, I loved this old building and was glad I had found it, I have never taken images here before in my life so it felt great to shoot something different and new. I called it a night and drove the 40 plus miles back home feeling content.
Night Sky & Weather Print Sales -
NEW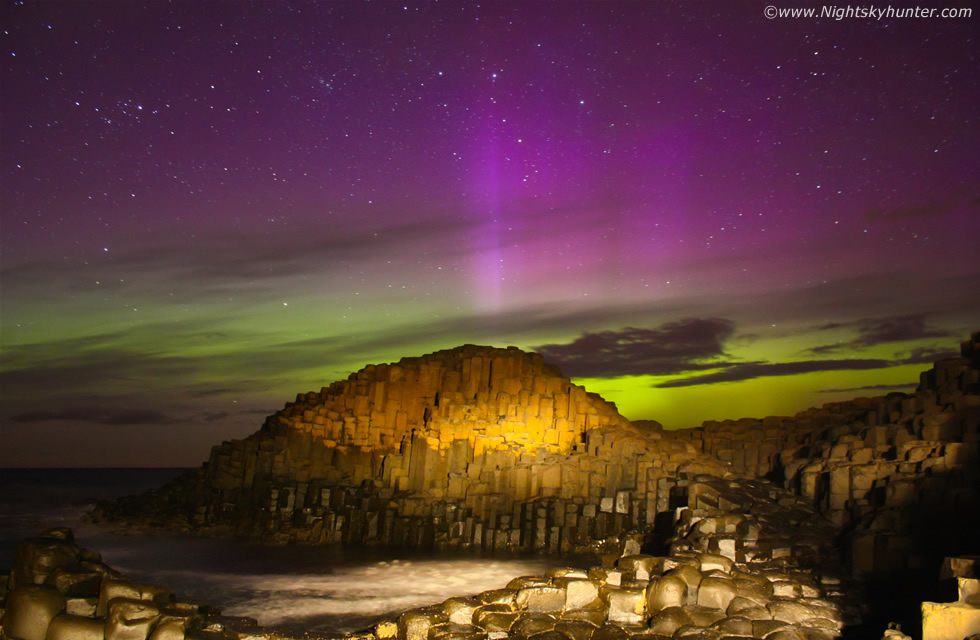 One of my personal favourite night sky images re-done with noise reduction applied. This was the April 2012 G2 geomagnetic storm captured over the legendary Giant's Causeway with Roisin Laverty on an unforgettable night of exceptional aurora activity. I recall descending slippery rocks which felt like walking on black ice with the sea lapping at my tripod legs and occasionally rising over my boots and soaking my socks and jeans however it was worth the wait to get this image just as the aurora went into its first outburst of the night. A vivid green band crossed the horizon then a proud formation of pink and purple beams shot skyward like coloured pillars of light among the stars reaching 80 degrees tall, I took this exposure with the 18mm kit lens just as Roisin swept the famous 60 million year old rocks with a golden torch beam - and this was the result. This is why I love hunting the aurora - you never know what you are going to see and the photographic results can be epic when it all comes together. A fond memory which shall never be forgotten, I'm proud of this image - not just for what it shows - but because it is the result of both my energy and Roisin's energy all together in harmony.
* This image and any of the images on the website are available to purchase as photo prints of any size (including large format) and canvas products so please email me if you are interested in ordering a copy. All my work can be viewed in the Reports Section or via the new Nightskyhunter Stock Gallery, thanks for viewing.
N. Ireland Storm Chasing Image Reports
Astronomy is not the only subject I'm interested in. One other such area is severe weather which will be playing a major role on nightskyhunter from now on in conjunction with my other astronomical pursuits. Check out my new N. Ireland Storm Chasing section and view the chase reports and images which detail not only storms but other phenomena such as a moonbows, noctilucent clouds and aurora displays.
Martin McKenna