LATEST SKY EVENTS
Updated December 17th 2014
Comet Lovejoy Now Visible To Naked Eye! -
Update
(Above) Stunning CCD image by Rolando Ligustri from Australia taken on December 15th
Comet C/2014 Q2 Lovejoy is now a naked eye object via trained comet observers in Australia, it was first detected without optical aid on December 12th then follow up naked eye sightings were made up to December 15th with all observers reporting it as a fairly easy object from dark sky locations. Q2 was not expected to cross into naked eye range until January however it is already there much earlier than anticipated which is exciting news, recent observations place Q2 at mag +5.7 (Chris Wyatt) with a bright and moderately condensed inner coma with central condensation. CCD images - such as the fine example above from Rolando Ligustri - reveal a fine ion/gas tail with a network of streamers extending for almost 2 full degrees (4 apparent full moon diameters). So what does this mean for Lovejoy's future?
J.P.Navarro Pina is of the opinion that Q2 Lovejoy has a very large nucleus comparable in size between that of 2P/Encke and 10P/Halley, furthermore there's a consensus within the comet community that the nucleus is very active with high rates of dust release more typically observed within the nuclei of great comets. Assuming this is isn't a brief outburst and if activity remains at the current rate then Pina predicts that Lovejoy could peak at mag +4.0 in January based on the above light curve...
''Based on 511 observations ccd+visual of comet from MPC database, Comet Obs, LIADA, and observadorescometas , update the new light curve of comet C/2014 Q2 LOVEJOY, continue fast increase of visual magnitude and probable state of outbursts, my personal analysis indicate several possible outbursts for this comet and lack confirmation , the activity index continue high n=10.3 ( 15/12/14 ) and absolute magnitude m0=+2.5 in r = 1,4 au. If you continue this rapid increase in brightness could have magnitude +4.1 in January -2015 , the Afro production is high rate actually ~ 4.200 cms ( From Cometas Obs data ) , dust rate production is typically of great comets , the comet masses computed for C/2014 Q2 , in comparison of comet 2P/ and 10P/ . The possible calculates active surface areas f > ~ 2.4 for this comet. The pre-perihelion formula general calculated is based in 93 visual's observations , thanks to all visuals observers, great job''
(Above) Finder chart showing Lovejoy's location throughout December and into the New Year from Sky & Telescope
Q2 Lovejoy will appear in northern hemisphere skies in mid to late December then will swiftly move north becoming well placed in a moonless sky before peaking in January at perihelion when hopefully it should be a pleasant naked eye sight in proximity to the bright Winter stars. Looks like Terry Lovejoy has bagged us yet another nice comet! - Stay tuned for updates.
Early Season Snow Chasing -
Dec 12th
I'm a winter weather lover so I went out chasing early season snow through the Sperrins just to experience the wonderful sensation of walking though crisp snow and breathing in that clean cold air. A friend and I were out the night before and ended up on a narrow mountain road and got our first 'substantial' snow of the season on Glenshane Pass at midnight, we parked on 1.5" of snow and let the headlight beams light up the narrow road for us while we just stood there taking it all in, hearing the snow crunch underfoot brought all those childhood memories back and we couldn't help but smile, this was a very fine memory. The next morning I headed back up the mountain again, this time on my own, Glenshane Pass looked beautiful with snow and blue skies above then I drove to Benbradagh outside Dungiven. Here was the view from the base of the mountain looking across green fields with sheep and country bungalow with snow line clearly visible, I would be driving up into those clouds shortly.
400mm capture looking towards the summit, it looked bitterly cold up there and I braced myself for what could be a dodgy drive up that very steep mountain road.
I made it 3/4 of the way up, it was worth it to get parked rite on the snow line then admire the view at ground level which seemed very far below. The Berlingo done me proud and went up the steep road with light snow and frost with no problems. That's until I pushed my luck too far and reached a steep section of road with deeper snow with ice underneath. The wheels began to spin then the van began to slowly back down the mountain and for a horrifying moment I thought I was going to go through the weak fence and down the mountain, however I managed to get the van turned sideways, then stopped, then I slowly crept down a little more while holding my breath until I reached an area of better grip, those are all my tracks on the image, but it was all part of the experience and the view was simply awesome. The wind chill was nasty though so photography was not easy and I had to hike a little further up the mountain on foot however I couldn't stick it for long as my muscles screamed from the exposure (after chrio sessions)
Some free advertising here, I just had to get an image of the Berlingo on the snow, I have my website address on the sides and back, this van is fantastic, reliable with great fuel economy, it drives like a jeep and feels light and comfortable and the rear provides sufficient room to store camera gear and coats etc, I really love this van, it's perfect for all my photography needs and it has already encountered three days of its first snow this week. The models are hinting at a cold blast around Christmas time so there might be a further chance of ice and snow over the Christmas holidays so stay tuned for updates.
Winter Storm Chasing -
Recent Images
A few more images from our storm chase to the north coast in pursuit of nocturnal Winter thunderstorms. Roisin and I pulled over just before sunset on the main road outside Garvagh for there was a spectacular line of massive cells across the skyline from NW to NE, four cells in total of impressive appearance with their tops catching the last light of the setting sun, check out how solid the anvil is on this one for a winter cell, there where thunderstorms across the coast all afternoon and these were the culprit cells viewed side-on as they moved from L to R, they where actually over the ocean and brushing the coastline at this point.
The rear end of the same cell as shown in the first image with classic anvil, Roisin and I wished it had got darker faster because we would have seen the lightning from here had the light been a little lower. Roisin took a short video clip of the storms for me which I must post.
Later at Downhill beach in darkness where a high tide kept us off the sand, we watched several flashes of lightning and when the clouds cleared I saw this stunning cell moving from sea to land, check out the flanking convection and the vast size of the anvil with stars aloft and clouds back-lit by a rising moon with Mussenden Temple in the foreground. I got a text from Tyler Collins reporting lightning and thunder from Ballintoy Harbour area soon after this exposure was taken so this must have been the cell which did it, this image is one of my favourites from the night.
One of my last exposures of the night with storm clouds blowing towards the coastline all lit by the streetlights into vibrant orange colours with stars and moonlight glow, under the leading edge is a precip curtain of sleet and wet snow, when the tide retracted the beach was like a mirror which reflected the clouds and those awesome colours so quite a nice set of results from this shoot. I was out again at the coast on the night of the 10th (even though I was supposed to be resting) and saw 6 more flashes of lightning, conditions were rough with terrible wind chill and horizontal sleet showers on the way home, I never caught any lightning on camera however I may post some of the patrol images later.
Latest -
Dec 10th
It's been a strange week with the passing of one of my relatives then I managed to injure my neck and back (muscular issues) which has caused me a great deal of discomfort and pain these last few days and nights and knocked me out of action. The above image was taken from Sunday night at Downhill beach when Roisin and I went chasing after ocean thunderstorms and thundersnow cells, the sight before sunset was quite spectacular with massive cells to the N and NW with rock solid anvils which were very impressive. The above exposure shows one of these night storms moving in from ocean to beach with Mussenden Temple in the distance, just before a I took this image a blue flash of lightning lit up the sky from deep behind that core, check out the precip curtain of dense sleet and hail. I took many more images this night however I have been feeling too unwell to post any more. I'm currently getting help from a chiropractor so I hope to be back in action soon because there is serious weather on the way!
Winter Has Begun -
Dec 5th 2014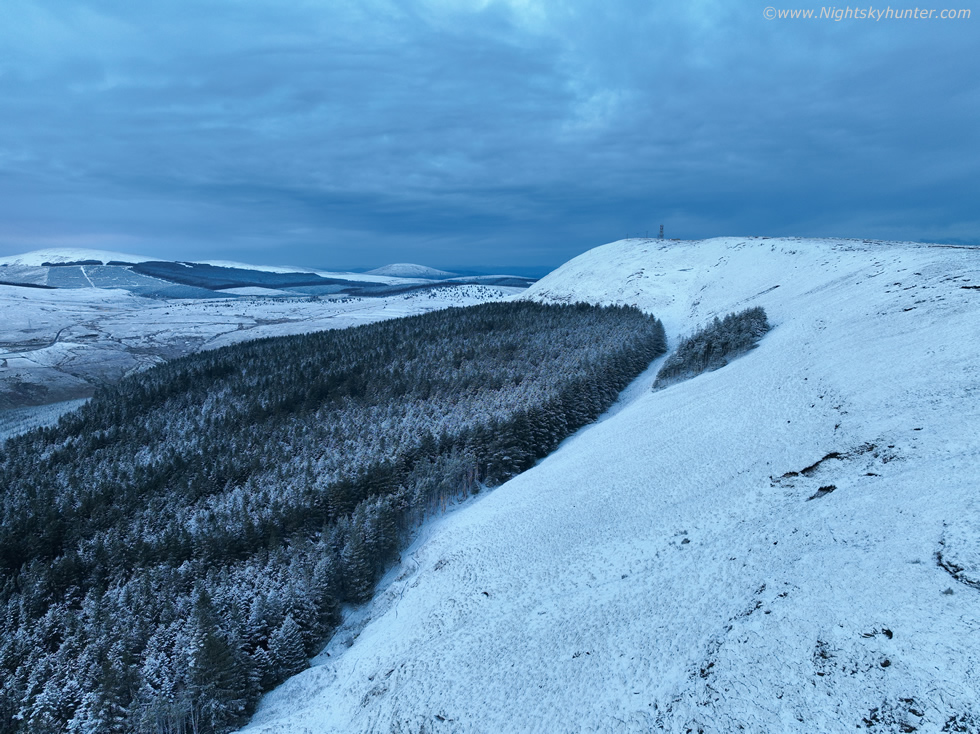 I encountered my first snow of the season on Friday morning after what seemed like a very long wait. A brief snow flurry fell over Maghera however it was rapidly replaced by sleet and rain so I decided I needed higher ground so I met up with a mate and drove to Glenshane Pass which sported patchy light snow on the hills, it was snow alright however it wasn't sufficient for photography so on an instinct we drove to the very top of Benbradagh Mountain in Dungiven and suddenly got treated to a more substantial light layer of snow on the peak, we ran out onto it to savour the moment, it was utterly freezing with a keen wind chill and my hands were red in minutes, here's the snow on this raw peak looking along a narrow mountain road into the distance where the mountain met the sky, we where actually standing within clouds at this height - so this is my very first snow image of Winter and a fine memory it was. Half way down the mountain we encountered more snow, this time falling on us from a passing shower and for a moment it was a dramatic sight in the eerie light with light and dark mottled curtains of snow falling down the flank of the mountain with the distant wind farms on view, when the shower passed we could see that it sported a large anvil and mammatus display, not a bad day at all and quite possibly the start of more significant weather to come in the near future.
Epic Creggan Sunset Image Report Online -
NEW
An unexpected sunset sky show unfolded during the afternoon of November 30th 2014 while I was visiting in-laws within the Creggan countryside near Lough Neagh. A remarkable long duration sunset with rich orange, red, and yellow colours manifested in the dusk sky complimented by a complex formation of altocumulus clouds. The sunset remained into evening twilight accompanied by the moon and brighter stars which was something I had never experienced before. It was a personal thrill to photograph this amazing sight standing within a pitch black field in crisp frosty air with a country house covered with Christmas lights for company. One page report with 7 images. - REPORT.
'The Longest Night' BBC Filming Image Report Now Online! -
NEW
My longest write up to date documenting three night time storm chases along the Co. Antrim coast On Dec 16th and 19th then climaxing on Dec 21st with an epic all-night dusk to dawn photo shoot with a film crew from Alleycats TV recording my every move for a new BBC television program called 'The Longest Night'. The report documents this thrilling adventure from Downhill Beach to Dunluce Castle then peaking before dawn at Ballintoy Harbour as we battled with the wind, rain, sleet & snow to get rewarded with wonderful scenes of moonlit waves, convection and a shadow-casting Iridium Flare with stunning episodes of ocean lightning as the Atlantic raged all night long making for a truly unforgettable night. One page report with 35 images. - REPORT.
N. Ireland Storm Chasing Image Reports
Astronomy is not the only subject I'm interested in. One other such area is severe weather which will be playing a major role on nightskyhunter from now on in conjunction with my other astronomical pursuits. Check out my new N. Ireland Storm Chasing section and view the chase reports and images which detail not only storms but other phenomena such as a moonbows, noctilucent clouds and aurora displays.
Martin McKenna