LATEST SKY EVENTS
Updated November 21st 2015
Winter Arrives In N. Ireland -
Nov 20th
We finally got our first taste of Winter across N. Ireland on Nov 20th/21st due to a polar air mass moving inland from an unstable ocean and falling as hail, sleet and snow showers during the afternoon, evening, and first part of the night. It seemed that any part of the country could get them however I focused on the Sperrins since it was the highest location in the area and infamous for winter weather. I went chasing on my own during the day and after a quiet start things quickly changed when I encountered my first snow showers of the season on Glenshane Pass, I can tell you it was an absolute joy to see snow again! The gusty winds really blew the snow fast across the landscape so my first introduction to snow this season was quite dramatic with snow flurries blowing sideways over the trees, hills and meadows. In their wake I got treated to several mammatus displays in good light under the anvils of these convective cells then from the peak of Benbradagh I got more mammatus, snow and hail showers with extremely fast moving dramatic clouds, all my cameras got a good work out this day and I made good use of my tripods and window clamp which was used to film much of the footage on the peak where strong winds made life unpleasant, the temp dropped from 4C to -1C rapidly before sunset so I headed back home, got warmed up, then headed out on a night snow hunt.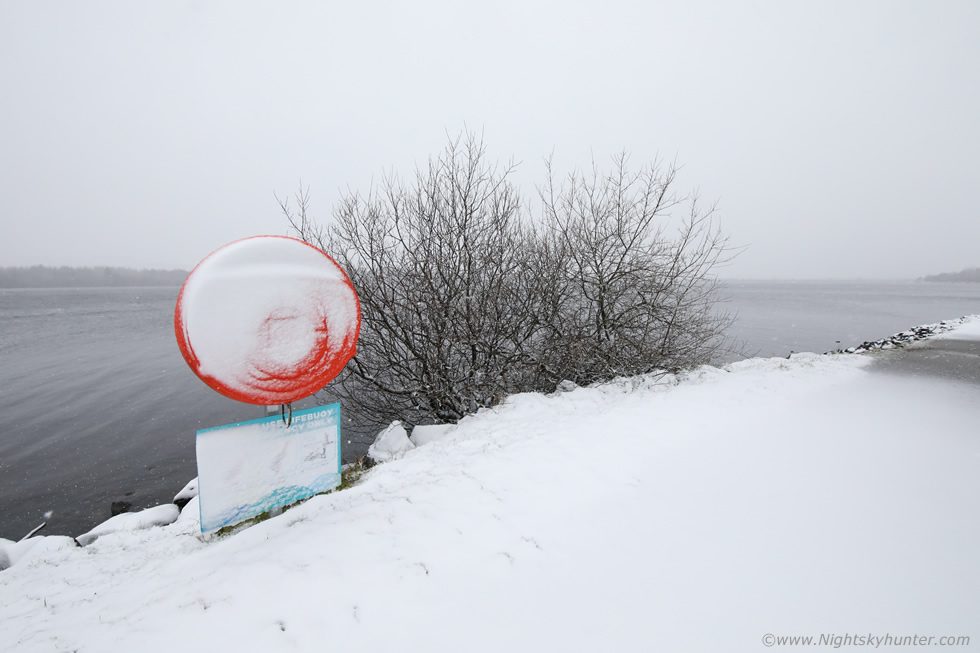 I met up with John Fagan, the plan was to shoot moonlit snow scenes as the forecast gave clear spells early in the night however we were shocked to find out that there was a great deal of cloud with non-stop showers moving down from the N so we waited at the Ponderosa - N. Ireland's highest pub (no we didn't go inside although a warmer from an Irish Coffee would have went down well) where we filmed curtains of snow blowing past the lights showering the area with a fine layer of snow and ice crystals while moonlit cells and towers periodically appeared in the dark then vanished behind cloud at high speed.
We did get a few very brief breaks in the cloud when the moon appeared illuminating the snow for us so we got exposures of this derelict building with stars and moonlit cloud with a good cm or more of snow on the ground. It was bitterly cold with a strong wind, our tripods got blown over and the strong gusts with the snow showers were brutal accompanied by a lot of cloud, the conditions were challenging to say the least, there was no question this was our toughest night shoot of the season so far. You can really sense the raw wind in this short exposure with the streaking clouds and long grass with motion blur, moments like this were short-lived however they were more than worth it, this is my favorite image from the night.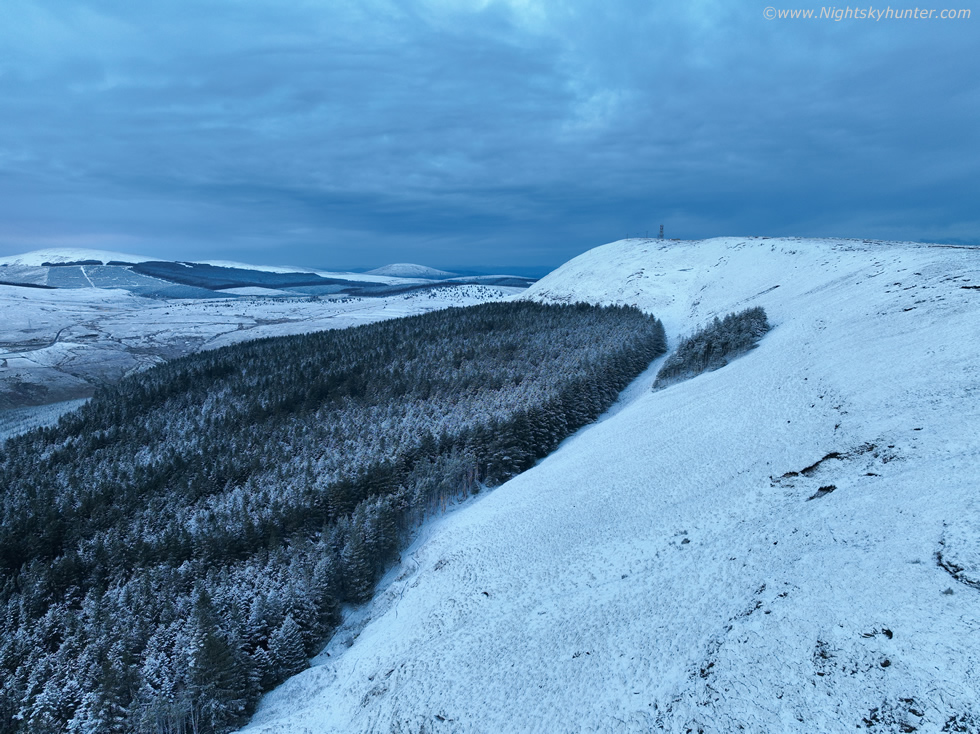 Facing the moon higher and shooting time lapse, we only got a few frames with stars then the rest of the time lapse was affected significantly by cloud until moonset, again look at the grass on the left blowing flat in the gusts. I'm glad we got these images when we did which really made the night for us then we called the shoot to an end near 02.00 UT. Great to finally see some winter action!
Daytime video footage of hail and snow showers with blowing snow, gusty winds and mammatus clouds from Glenshane Pass and Benbradagh then night road scenes from the same area with falling snow curtains over the Ponderosa pub followed by a DSLR time lapse of the derelict house with moonlit snow, best watched at 1080p, thanks for viewing.
Stunning Leonid Fireball Observed & Lough Fea Star Trail -
Nov 18th
A last minute photo shoot was arranged late last night when a CME hit triggering enhanced aurora activity so I decided to meet up with John Fagan and shoot at a local lake for aurora and Leonid fireballs, the first was a let down however the second was an unforgettable event, I didn't get it on camera however seeing it was something else entirely, here's a copy of what I wrote on facebook...
''What an epic fireball last night!!! - met up with John Fagan for a photo shoot at Lough Fea due to a brewing G1 aurora, when we arrived the aurora had faint naked eye rays then faded and like all the recent aurora forecasts it had turned into a damp squib, however the sky remained beautifully clear so we did a 2 hour time lapse to the north just in case. Orion looked stunning behind us to the east climbing over the trees and I said to John that I was tempted to get a second camera and time lapse Orion rising however due to the cold I let the idea go. Then at approx 01.50 UT John and I where facing north when the entire sky lit up vivid blue from somewhere behind us, we instantly thought it was close lightning as the light was phenomenal, we turned around and realised with shock that it had been a Leonid Fireball''
''We could see a 25 degree long straight edged glowing orange train with glowing orange 'head' sitting stationary among the stars between Orion and Lepus and as we watched the train faded which was then replaced by a vivid smoke trail which manifested to the naked eye and as we watched it changed shape as the upper atmospheric winds deformed its profile into various shapes like an orange comet with S and N pointing 'tails' and a letter 'Z' among the stars, this naked eye smoke trail was visible for 10 min's however we suspect that with a camera it may have been visible for 20 min's. Based on the shocking brightness of this event we believe this fireball must have been considerably brighter than a full moon!!. If only I had been shooting Orion with my 2nd camera and I would have had the entire spectacle to show you, but a hard earned lesson it was - always trust your instincts. Best Leonid fireball I have seen since 2008 at the very least, it was so bright I immediately began recording with my mobile phone voice recorder as I was expecting to hear audio phenomena or sonic booms from the entry, What a show!!!''
This was the star trail from the primary camera which was facing north hunting for aurora across the lake which I was also using for time lapse material however had I trusted my first instinct of setting up the secondary camera facing Orion I would have had that fireball on camera and it would have been the best astro image I had ever captured in my life, however it was still a fantatsic visual memory and I was still well pleased with the star trail, we had to stand out for hours in the cold to get this.
Lough Fea night sky time lapse with fading fireball smoke train visible as an orange expanding shell 15 degrees long below Orion, note this smoke train was picked up almost half an hour after the original fireball observation.
Squall Line Storm -
Nov 18th
The Autumn stormy weather continues with a late morning local chase in Maghera countryside close to home. Cold front passage during the early morning hours cleared with an unstable trough in it's wake which generated numerous squally showers and thunderstorms at first light. Lightning and thunder were observed in Co. Donegal, Co. Fermanagh then Co. Tyrone near Omagh and as the SWly flow sent numerous cells across inland areas a strong squall line formed orientated on a highly slanted SW to NE axis. The line was very intense between Omagh and Cookstown then approached Lough Neagh sporting interesting signatures on radar indicative of very localized strong winds and even tornado potential, TORRO even posted a convective discussion and highlighted and area of the line near Castledawson which was especially prone to a severe weather event. The line then crossed the lough into Antrim all the while maintaining red and occasionally white echoes on radar.
Once the rain and wind hit Maghera I let it pass over my home while maintaining a visual for better light and decent cloud structure, the sun re-appeared in the S and blue skies dramatically improved visibility. When this happened I instantly spotted the rear end of the squall line with a formation of anvils and subtle mammatus, these cells where arranged in a huge line from NE to SE so I immediately got in the van and chased after it (I hadn't even washed my face at this point). I stopped in the countryside, pressed record on my window-mounted Go Pro then got out onto the country road for a series of 10mm wide angle shots. The sun stayed out long enough to light up the countryside for me, the squall line looked mean as it trekked over the fields into the E with multiple anvils and mammatus contrasting beautifully against a clean blue sky.
A little advertising in this image. Squall lines are a linear mode of storm formation where numerous cells form in a line, depending on the atmospheric profiles they more often than not tend to be big outflow producers resulting in sudden severe gusts of wind (squalls) which in some cases can be so enhanced they can be as destructive as tornadoes (straight lined as opposed to rotating), these wind gusts are often accompanied by heavy rain or hail with or without thunder and lightning and can even spawn brief tornadoes embedded within the precip which often give their presence away as an LEWP or Line Echo Wave Pattern on radar. The most impressive squall line I have encountered was during a wild March night in 2009 (report).
Go Pro footage of the clearing squall line at 8x and 16x speed time lapse.
Autumn Storms Video -
NEW
Short video clip showing various snippets from recent day and night storm chases to the Co. Antrim coast on November 11th and 12th. The first clip is a time lapse at Downhill beach of a well sheared low topped cell over the ocean, this was on a day of great shear which resulted in TORRO issuing a convective discussion for tornadoes and mesocyclones (supercells), there is a suggestion of turning/low rotation from the updraughts within. This is followed by strong winds blowing sand across the beach then stills of distant lightning over Donegal later that same night and ending with star time lapse over Sheep Island while we patrolled for sprites. The second day begins with two anvils in Maghera moving E on a squall line which later hit Antrim causing damage to half a dozen homes, this was reported as possibly tornadic however it could well have been violent straight line winds too so the case needs to be investigated further. The clip then ends with a star time lapse at Portbradden while we once again patrolling for sprites. Best viewed at 1080p.
Donegal Night Thunderstorms -
Nov 11th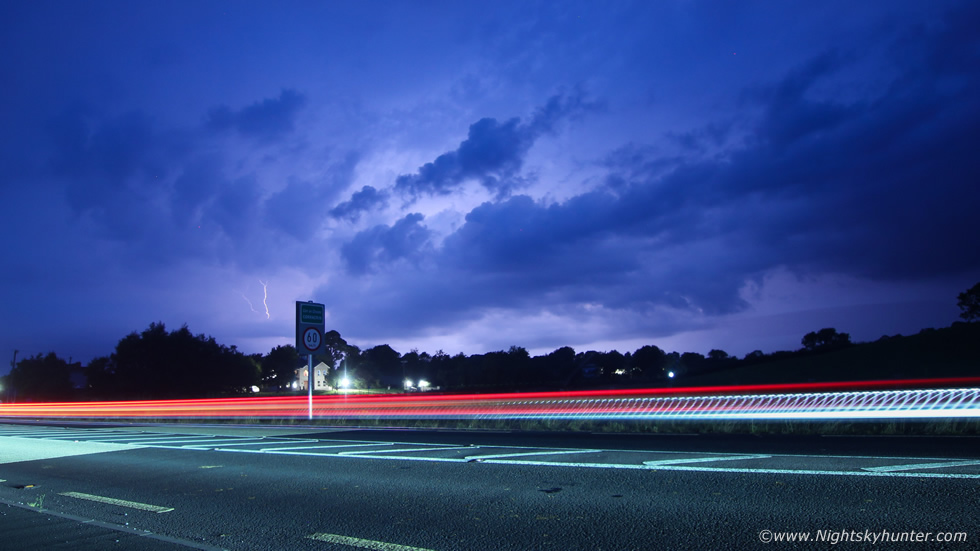 On November 12th/13th there was a chance of a aurora from a CME hit along with a risk of coastal storms with moderate CAPE to the W and NW in very good wind shear so I decided to go on my first late Autumn storm chase. TORRO had issued a convective discussion for tornadoes and even supercells while an impressive daylight storm was moving over the west Donegal coastline producing alot of lightning and well sheared on radar, this cell may have had supercell traits. I hit the road in daytime and met John Fagan at Downhill beach where we watched a low topped cell over the sea which I time lapsed complimented by gusty winds and impressive sand blowing across the beach, we then got treated to a nice sunset primary rainbow, a great clearance followed so we relocated to the area above White Park Bay. Later in the night we got treated to a show of distant lightning, these were very distant however we could see the blue flashes clearly and at times the flashes lit up the inside of the cells, we also saw several c-gs. At one stage there where five storms flashing over the sea, 1 to the north the others to the NW and W, however it was the Donegal cells which put on the best show, John and I where shooting while using the van to protect us from the cool wind and captured several on camera, I was shooting with the 50mm F/1.8 here. Very nice c-g hitting down over Donegal.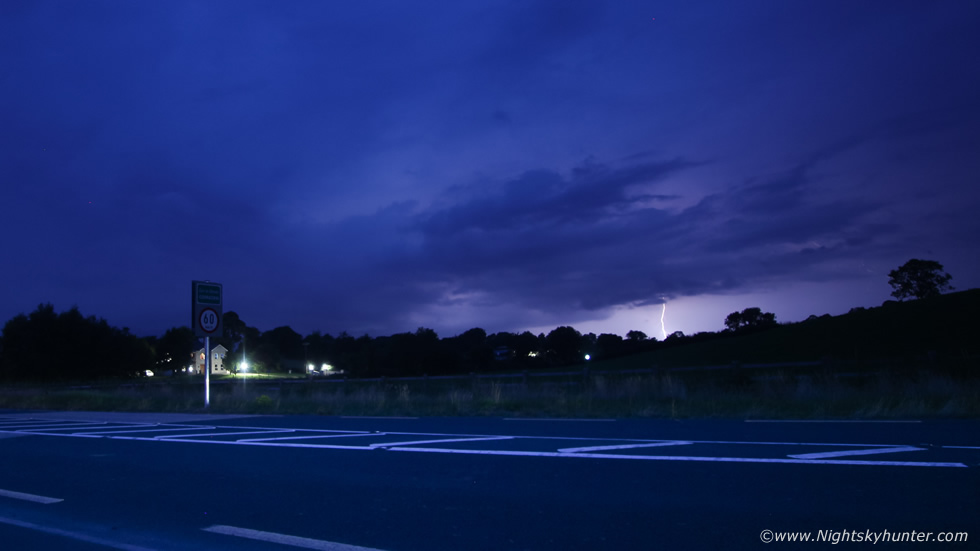 Now on tungsten WB, got two c-gs here at the same time, we waited for the cell to get closer into the NE and clear Donegal however it stopped flashing when it did so which was frustrating, however it was still a nice show and watching these big flashes really made the night for us. There was a faint auroral glow visible all night long as a green enhancement however that was residual activity from the recent solar wind stream, it looked like the CME never hit to produce the big show. We spent until near 03.00 shooting star trails at Ballintoy with Mark McMullan and observed several nice Taurids, the cold was getting to us all though so we called it a night and I made it home for 03.30. A very good chase and shoot which I enjoyed very much.
Halloween Triple Planet Conjunction Report -
NEW
On October 31st 2015 John Fagan and I spent Halloween night doing a photo shoot at the Co. Antrim coast shooting star trails, time lapse video and patrolling for Taurid fireballs. The first half of the night was spent at Dunseverick waterfall which looked spectacular under the brilliant moonlight with stars aloft, then at 02.00 UT we relocated to the Ballintoy coastline and time lapsed the rise of the impressive triple planet conjunction between Venus, Jupiter and Mars using four DSLRs and various lenses as the planets rose above a flat sea horizon only 7 degrees apart sporting halos and glitter paths upon the beautiful moonlit ocean in the pre-dawn sky. One page report with 10 images and 1 time lapse video. - REPORT.
Elephant Rock Geomagnetic Storm, Star Trails & Time Lapse Report -
NEW
On October 7th 2015 two solar wind streams in conjunction with a co-rotating interaction region generated a strong G2 geomagnetic storm which showed itself to the naked eye at dusk even before the sky got dark. I met up with photographer John Fagan and together we shot the aurora from 60 million year old Elephant Rock near Ballintoy on the Co. Antrim coast with five cameras shooting time lapse footage and star trails with various lenses. The aurora went into an early outburst producing a twin tier band with vivid green colours illuminating the ocean complimented by a multitude of fast moving rays and spikes which completely blew us away. The report also documents two more aurora hunts along the coast on October 8th and 13th. One page report with 14 images and 2 time lapse videos. - REPORT.
N. Ireland Storm Chasing Image Reports
Astronomy is not the only subject I'm interested in. One other such area is severe weather which will be playing a major role on nightskyhunter from now on in conjunction with my other astronomical pursuits. Check out my new N. Ireland Storm Chasing section and view the chase reports and images which detail not only storms but other phenomena such as a moonbows, noctilucent clouds and aurora displays.
Martin McKenna