LATEST SKY EVENTS
Updated April 30th 2016
Convection & Hail Shower Chasing -
April 29th
I talked myself into going chasing again even though it was a marginal set up with just 100-200 CAPE with no shear or surface convergence, the best chance of storms was down south to the S and SE however I couldn't justify a big drive like that with such a low risk outlook as this, however there haven't been much chances yet for chasing and I couldn't sit behind the computer all day looking at the radar so I decided to hit the road and focus on the W part of the country and in particular the S. Sperrins, that way showers would arrive from the N and have time to move S overland and build in the solar heating (which was plentiful despite the cold temps and NWly wind chill). I didn't plan on going far however that soon changed when I got moving, I ended up spending five hours out driving and watching convection. It became apparent that convection was shunted by a CAP which would not break however on the plus side I discovered new mountain roads I had never been on before and got treated to wonderful scenery, there were nice clouds around too producing dense cores of hail stones. I spotted one cell about 10 miles away and watched it slowly come in from the NW so I chased after it to the W to get ahead of it so I could let it over take me, however once it got close, outside Omagh, I needed a good view for shooting, I left Omagh and back onto the country roads, trees and hills everywhere blocked the view, then I found a clearance and pulled over on the side of the road and sun came out to light up the landscape for me.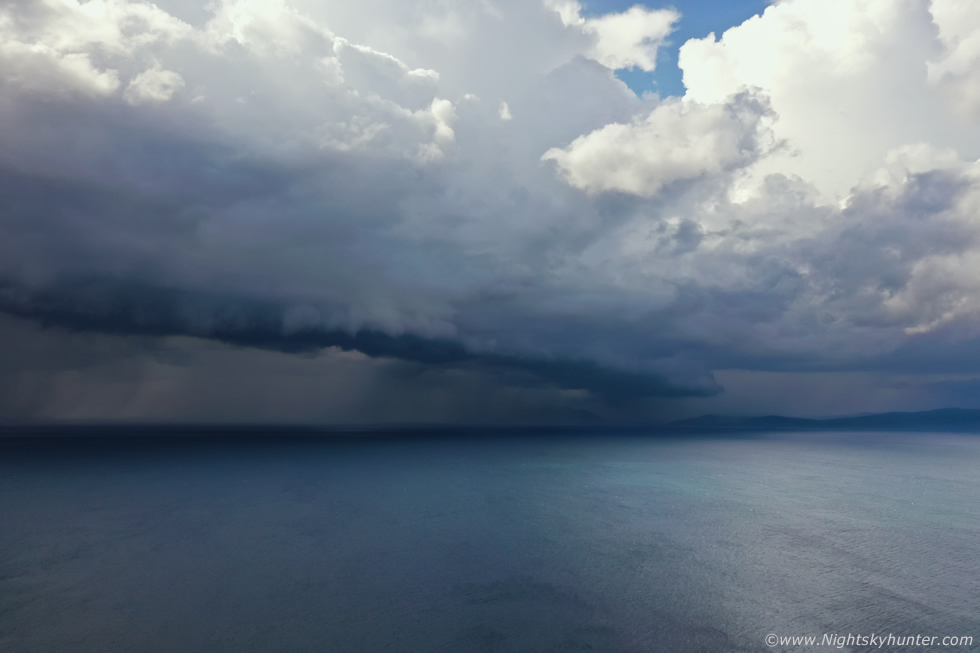 These were my photogenic catches of the day, the clouds looked very dramatic in the high contrast light and were dropping frozen pea-sized hail stones across the mountains and back roads. The owner of the house drove out and asked me what I was doing, however once I explained that I was taking images of the storm clouds she understood, she was a very nice lady and understood then let me get on with it before I moved to another location which was very nice of her. If you are that lady and are reading this now please drop me an email if you would like any of these images for the memory, thanks.
Short video of the chase featuring convection and hail cores in Co. Tyrone, all filmed with the Go Pro Hero 4. I need an external mic for the Go Pro so it picks up better audio, especially when driving through hail cores.
* The recurrent Nova TCrB has brightened for the first time in years, there is speculation that it could go into outburst again which is very rare, the last time this happened it peaked at mag +2.0 and looked like a bright new naked eye star breaking up the constellation of Conora Borealis, if there are any further developments I will do a full update on this exciting star. Also there is a transit of Mercury across the sun on May 9th, I will update next week about this event.
Storm Clouds, Hail & Snow -
April 28th
Another cold day with a bitter Nly wind, it felt more like January than almost the start of May, the unstable air generated numerous showers and even a few thunderstorms. A train of convective showers moved in across the Sperrins and moved S passing over Maghera, I spotted ominous dark storm clouds from the back garden with cores then decided to give chase so I drove to a hill outside town and got a few images and set up the Go Pro for a short time lapse.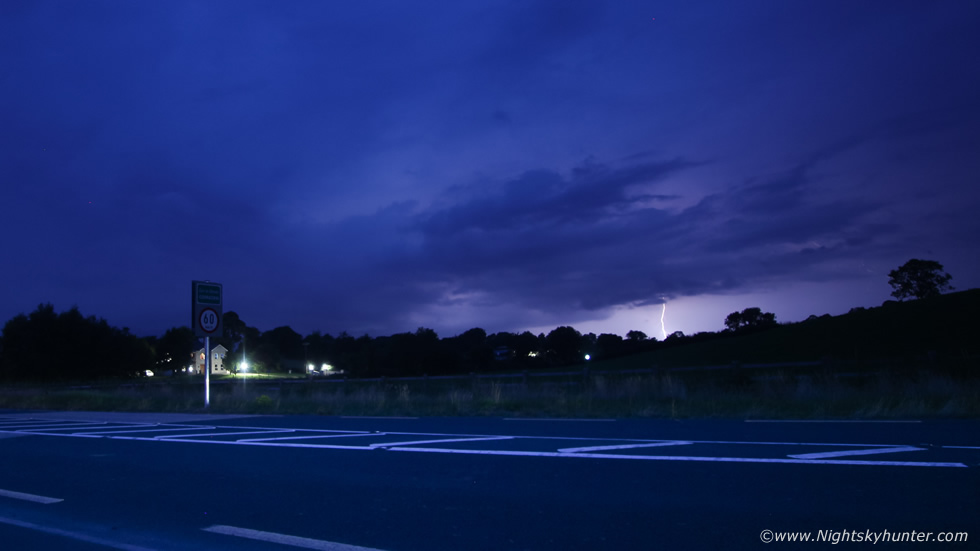 The clouds looked very dark and threatening and had 'that look' so I suspected this was brewing into a storm. Underneath hail and wet snow was blowing across the countryside affecting drivers on exposed high ground. I packed up and chased E to keep up with it and pulled over on a country road outside Culnady and had a fun time watching the clouds passing rapidly across the countryside while Sheep 'baaaed' in the fields beside me, then I did a loop back into Maghera then up onto Glenshane Pass to catch the flanking cells and see what was going on. On top I encountered a nasty hail core then wet snow then back to hail stones again which were blowing hard into the van, visibility was low and the temp dropped to 1C in that core, this was at 14.00 UT.
My instincts had been correct because that very cell I had been shooting moved further E and produced a cluster of c-g lightning over Belfast and the North Channel. This is a short video from this chase, the storm clouds were at 8x speed during the time lapse section. There may be a slight chance again on Friday so I will be on full alert.
Aerial View Of Passing Storm Clouds -
April 27th
We had a heavy shower of hail stones and small snow flakes pass over town today accompanied by strong Nly wind gusts, however once the cell cleared and the winds dropped I quickly launched the Phantom from my back garden and filmed the rear end of the dark storm clouds passing over Maghera with subtle mammatus clouds present. I was only up for a few min's before I had to rapidly land again before the arrival of stronger winds however the view was worth the effort. I hope to be getting more aerial footage of much more dramatic storm and weather scenes over the new few months so stay tuned for updates.
Drone Quarry Exploration With Phantom 3 Advanced Report -
NEW
With the arrival of high pressure and an entire week of warm and dry weather ahead I decided to get airborne and spend the entire week flying and filming with the Phantom 3 Advanced quadcopter/drone spending long hours outside filming and training from a variety of interesting locations. This report documents the filming and aerial exploration of five different quarries throughout this period which was a fascinating experience, the highlights were McCann's, Creagh and Northstone Materials quarries including the visual observation of several dust devils and the appearance of a beautiful and complex sun halo with intense upper tanget and parry arcs near Lough Fea. One page report with 17 images and 5 video clips. - REPORT.
Complex Halo Display Near Lough Fea -
UPDATE
On Saturday my Dad and I were driving along the back roads of Lough Fea in between aerial filming with the Phantom when we spotted this beautiful halo around the sun so we pulled over for a look. This was actually a fairly complex display and one of the better halos I have witnessed in a long time. This was 10mm wide angle, a sheet of high level cirrostratus had covered the sun, being rich in ice crystals of the correct shape and orientation sunlight passing through got refracted forming this optical display. You can see a 22 degree halo, a 22 degree eastern sundog too however the real show stopper here is the intense upper tangent arc on top with well developed parry arc, together they looked like a lens-shaped form on top with wings, the latter is part of a circumscribed halo, what a nice unexpected treat to witness. We did a lot of aerial filming with the drone too over more quarries, a tractor spreading lime, and even a flight around Tom Duffy's Circus tent on the Dungannon road on Sunday, check out my youtube channel to view these recent videos.
Beaghmore Stone Circles Chase Report -
NEW
Third storm chase of the 2016 season on March 29th on a day of unstable air with -35 degree C cloud tops and good visibility. Based on model data we decided to chase to the southern Sperrins in Co. Tyrone at Beaghmore Stone Circles. Roisin and I were joined by Paul Martin, Tracy Sharkey and John Fagan and together the five of us spent the day storm spotting from this infamous megalithic site. We got treated to the passage of beautiful convection and cells in full sunlight and surrounded by clear air adjacent to the stone circles themselves where we shot still imagery and time lapse video which made for a very rewarding day. Also included are images of dramatic storm clouds at sunset from Glenshane Road the following day during another chase of March 30th. 1 page report 13 with images and 1 video clip. - REPORT.
Fermanagh Storm Chase & Omagh Rd Sunset Hail Storm Report -
NEW
I went storm chasing on April 9th 2016 with my wife Roisin and photographer Paul Martin to hunt for funnels and thunderstorms in Co. Fermanagh where slack air and local convergence looked favourable during afternoon heating hours despite the low end instability. We encountered a short lived funnel cloud embedded within precip upon arrival over Lower Lough Erne then drove through the aftermath of a strong hail core in Belleek which left deposits of hail on the fields and roadsides like snow. During the evening hours we relocated to Pigeon Top mountain outside Omagh where we took drone footage of a large cell over Strabane to our N with anvil and sweeping hail curtains. The day ended during the drive home when Roisin and I met a beautiful cell with dense hail curtain lit by sunset colours as it passed over the main Omagh Road near An Creagan. One page report with 8 images and 2 video clips. - REPORT.
Killyleagh Lough G1 Aurora Display Report -
NEW
An unexpected surprise manifested after dark on April 7th 2016 when a heliospheric current sheet generated a G1 geomagnetic storm. Long time aurora observing friend Conor McDonald and I watched the event from Killyleagh Lough outside Maghera under a beautiful clear and dark moonless sky. The aurora went into three outbursts with a vivid green arc displaying pillars which were so bright they blocked out the stars and reflected upon the lake. Half a dozen or more rays punctuated the sky as the rainbow-like arc pulsated in brightness with beautiful pink and purple colours on camera which made for a stunning night under the stars. One page report with 6 images, 1 time lapse video and 1 aerial video of the lake filmed using a drone. - REPORT.
Spring Storm Chasing - Ballyronan Marina Cells Report -
NEW
March 27th brought the first true inland convection of the season across Ireland with 400-500 CAPE in an unstable SWly flow with good lapse rates and no cap which promised a fine day of storm chasing with heavy showers of hail and isolated thunderstorms. My Wife Roisin and I went chasing together then met up with John Fagan at Ballyronan Marina where we spent the entire day shooting cells crossing Lough Neagh with particularly large cells being invigorated by their passage across the lough during golden hour which made for a satisfying day of convective photography with 8 hours on location taking stills, DSLR and video time lapse and even a quadcopter flight to film a cell from the air. One page report with 8 images and 1 video clip. - REPORT.
Mullaghmore Severe Weather & Sunsets Image Report -
NEW
First storm chase of Spring on March 26th 2016 when Roisin and I chased to Mullaghmore in Co. Sligo to take advantage of afternoon unstable skies in a stormy SWly flow. We encountered sustained severe winds which rocked the van forcing us to stay inside for the duration of the shoot with rough seas, big swells and sheared wave tops. The highlights were the fast moving continuous barrage of convective showers accompanied by strong squalls and horizontal hail stones complimented with moody storm clouds and a stunning sunset over the ocean horizon. One page report with 8 images and 1 video clip. - REPORT.
Stunning G2 Aurora Over Toomebridge Report -
NEW
Mother's Day will be long remembered for the stunning aurora display which manifested in the frosty night sky after dark on March 6th 2016. NOAA had issued a G1 storm watched however thanks to a southerly Bz and CIR effects this aurora intensified into a beautiful G2 geomagnetic storm. My Wife and I, by chance, happened to catch it inland from Co. Antrim just as it was going into outburst and watched in awe as the sky turned green and red as a multitude of pillars danced across the sky beside the famous Toomebridge with rays penetrating straight through the lights and over the carriageway which made for a spectacular and unique visual scene to shoot. One page report with 7 images. - REPORT.
N. Ireland Storm Chasing Image Reports
Astronomy is not the only subject I'm interested in. One other such area is severe weather which will be playing a major role on nightskyhunter from now on in conjunction with my other astronomical pursuits. Check out my new N. Ireland Storm Chasing section and view the chase reports and images which detail not only storms but other phenomena such as a moonbows, noctilucent clouds and aurora displays.
Martin McKenna