LATEST SKY EVENTS
Updated August 19th 2016
Carrick-a-Reed & Ballintoy Church Star Trails & Moonlit Barely Shoot Report -
NEW
Brand new night shoot on the Co. Antrim coast with John Fagan using the light of the waxing gibbous moon to shoot sky and landscape imagery with star trails over Carrick-a-Reed rope bridge then climaxing with a surreal photo shoot in the middle of the night of Ballintoy church and stars from inside a vast moonlit barely field which made for a fun and atmospheric night under the stars. The report includes drone footage of Ballintoy church and the barely field during the magic light of golden hour. One page report with 9 images and 2 video clips. - REPORT.
Nightskyhunter 'Elemental Photography Article' in Maghera Times Publication -
NEWS
I have recently contributed an extensive article which has just been published in the 'Maghera Times' in association with the Maghera Historical Society. The article is called 'Elemental Photography - The Night Sky Over Maghera' which can be found on pages 20 to 28. The article features many of my night sky and weather images captured from Maghera and surrounding countryside documenting the various phenomena which can be witnessed in our skies with accompanying text explaining the subject matter and what it was like to witness at the time. Subjects covered are Moonbows, Aurora, NLCs, Thunderstorms, Funnel Clouds, Mammatus, Moonlit Snow, Star Trails, Sunsets and even a drone image. Also included is a brief history on how I got interested in Astronomy, storm chasing and photography which I hope will generate more interest in nature and the universe with the intention of encouraging others to look up and perhaps begin their own journey into the wonderful world of photography.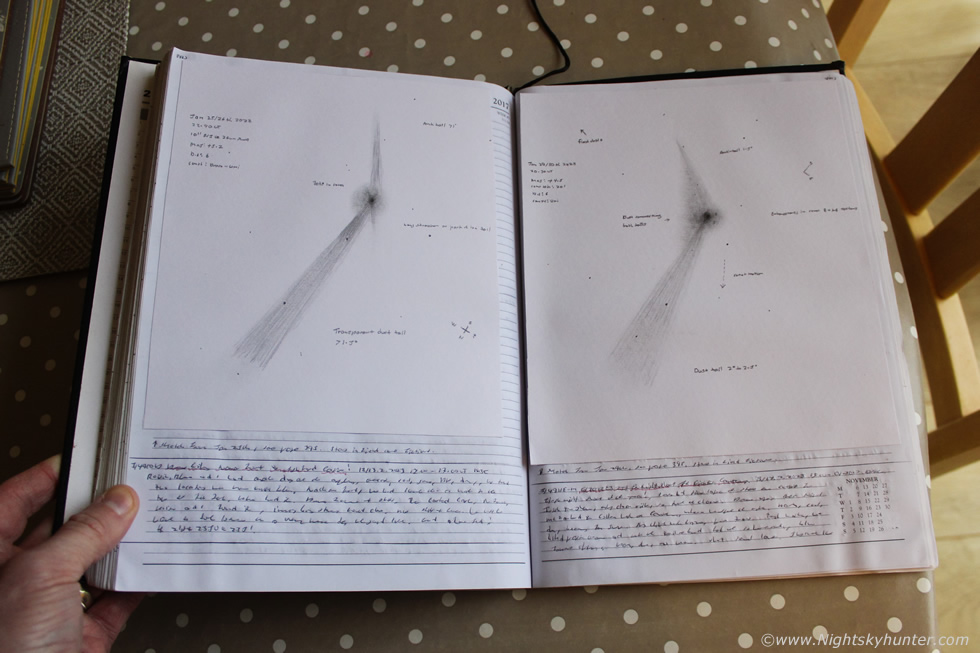 The article - in conjunction with other fascinating contributions about the history of Maghera - can be purchased from the Maghera Historical Society in town for the price of £5.00. The historical society headquarters is now located where Xtra-Vision once stood so grab a copy while you can as stock is limited.
Mullaghmore Electrified Storms In 2000 CAPE Image Report -
NEW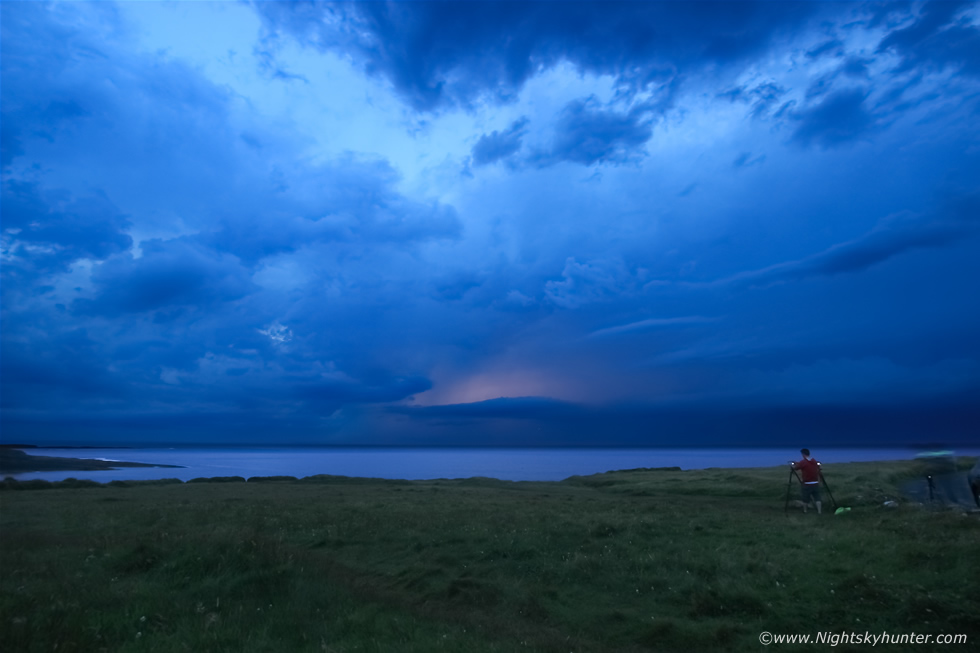 July 19th 2016 was the not only the hottest day of the year with temps peaking at 30 degrees C however it was also the best thunderstorm set-up I have ever seen in this country. An unstable SEly plume of warm and humid air advected N across the country boasting more than 2000 CAPE and a lifted index of -8 with strong wind shear generating the risk of severe thunderstorms, 3cm hail stones, supercells and even an MCS. The cap broke late in the afternoon and eight of us chased to the west coast converging on Mullaghmore in Co. Sligo where we got treated to multiple rounds of elevated storms climaxing in an epic dusk lightning display with pink flashes and in-cloud bolts lighting up a massive sheared storm in three places across 180 degrees of sky. This storm produced the most prolific lightning rates I had ever witnessed with sferic rates akin to flashing lights on a Christmas tree. One page report with 12 images and 1 video clip. - REPORT.
Glenshane Road Mean Storm Structure Report -
NEW
The atmosphere looked energetic on June 23rd 2016 with 700 CAPE, LIs of -5 with soundings indicating low cloud bases accompanied by a moist SWly flow with 30 knots of speed shear producing a risk of heavy showers and organised thunderstorms with a chance of hail to 1.5cm and funnel clouds/weak tornadoes. This turned into a very rewarding day involving three chases in my local area beginning with a high precip convective line from Maghera then getting high rewards in the form of the most dramatic storm structure I have captured in years over the Glenshane Road in the form of a huge sheared updraught base complimentd by a dramatic line of storm clouds extending for miles across the sky in the late evening light sporting rare globular cloud structures as multiple sunlit updraughts rapidly expanded in real time aloft. One page report with 18 images and 2 video clips. - REPORT.
Beautiful Rope Funnel Cloud Report Online -
NEW
After years of chasing, hundreds of miles on the road, and countless hours scanning the skies I finally captured my first decent funnel cloud in years during the late morning hours on Friday June 24th 2016 from near home in Maghera. Unstable air with 700+ CAPE with a slack flow and localised convergence zones produced a beautiful well defined rope funnel cloud from the base of a mean cell sitting over the hills outside of town. The funnel rotated in perfect view for 10 min's sporting a lovely curved profile with translucent condensation funnel composed of two vortices embedded inside. I obtained a selection of images and video clips with the DSLR and 400mm lens as the funnel performed its silent dance in the skies while I watched in complete comfort in warm sunshine in the company of beautiful storm clouds building over the vibrant fields near home which made for a perfect day. One page report with 11 images and 2 video clips. - REPORT.
Ballintra Thunderstorms & Lough Neagh Epic Lightning Display Report -
NEW
On June 6th I did a solo chase to Co. fermanagh then into Ballintra where I intercepted two lively thunderstorms with high sferics rates and rich thunder on the hills in the middle of nowhere with the second storm sporting a nice shelf cloud, I arrived back home after 10 hours on the road only to be hitting the road once again to intercept a plume-type elevated thunderstorm which originated in Wales, crossed the Irish Sea, then impacted E. N. Ireland after dark. I met Conor McDonald ad John Fagan at Ballyronan Marina and three of watched the best night time lightning display since 2005 with three hours of lightning ending in close range bolts over the water which delivered monsoon style rainfall and a freak audio phenomena through the darkness which left us all thrilled. One page report with 17 images and 2 video clips. - REPORT.
Multiple Thunderstorm Intercepts Near Home Report -
NEW
One of two reports covering three days of storm chasing during a dramatic thundery outbreak producing high CAPE and active electrical thunderstorms across N. Ireland for several days in a row. On June 7th 2016 the cap broke during the early afternoon resulting in explosive updraught development across my home area. Conor McDonald and I went chasing locally and made multiple thunderstorm intercepts across Benbradagh mountain, Maghera and Knockloughrim. The storms were slow moving and producing rich lightning strike rates with many rumbles of thunder tapping into over 1000 CAPE of energy on a warm and humid Summer's day. One page report with 11 images and 1 video clip. - REPORT.
N. Ireland Storm Chasing Image Reports
Astronomy is not the only subject I'm interested in. One other such area is severe weather which will be playing a major role on nightskyhunter from now on in conjunction with my other astronomical pursuits. Check out my new N. Ireland Storm Chasing section and view the chase reports and images which detail not only storms but other phenomena such as a moonbows, noctilucent clouds and aurora displays.
Martin McKenna