LATEST SKY EVENTS
Updated September 16th 2017
Drone Ship Chase Video Compilation -
NEW
I've been excited about making this presentation for some time. This is a compilation video featuring most of my drone ship chases at Lough Foyle and the North Antrim Coast captured during the course of a year of drone piloting. Video features various vessels, bulk carriers, cargo ships, tankers, tugs, fishing boats, pilot vessel, buoy laying Vessel and even an off shore barge. Filmed in all kinds of weather, calm days, strong winds, golden hour, blazing sunshine, overcast skies dusk in low light and even a few times under rain showers pushing the Phantom 3 Advanced and it's camera to it's limits in demanding light and weather conditions. 48 vessels are featured here, some vessels never made it into the final edit for various reasons however the ships which did make it on here were because they impressed me, either by visual structure or the flight emotions itself at the time and also because of the time and build up invested to capture a particular vessel. In all cases the drone was within visual line of sight, filmed from various locations in Donegal and often in the presence of a spotter. I hope you enjoy the video, it's quite lengthy at near 26 min's however I feel it is very much worth watching if you have an interest in shipping, the ocean, or drone flying. Soundtrack is a 'A Beautiful Lie by Hans Zimmer' extended version which I used once before but felt I wanted to again because it works well with the footage and covers the full length of the production. Thanks very much for watching, the stars of the show are....
ANASA, Arctic, Arklow Brave, Arklow Ranger, Arklow Rival, Arklow Rock, Autumn, Baltic Advance, Beaumaiden, Bro Deliverer, Bro Developer, Bro Nissum, Bro Nordby, BURHOU 1, Cora Jo, Deutschland, Dolce Vita, Echion, E-Ship 1, Federal Severn, Federal Tiber, Fehn Caledonia, Floretgracht, Foyle Leader, Foyle Venture, Frazer Mariner, Gatna Lemer, Granuaile, Hav Dolphin, HOSANGER, IRAKLIS, ISIS, IVS Swinley Forest, L. M. Constructor, LMZ Europa, Longvind, Ocean Nova, P&O Adonia, Pacific Princess, Port HAINAN, Providana, Schiem Eagle, Sea Cloud 2, Songa Emerald, Star Pride, Stav Viking.
Maghera Aurora -
Sept 8th/9th
The CME from the X-class flare hit around midnight on Sept 7th/8th and immediately generated strong aurora storming, the CME was moving at a velocity of 3 million mph and impacted the magnetosphere causing the Bz component to dip to negative -30 or more with the auroral oval turning blood red and of large size. The forecast was bad with cloud however there were clear breaks being reported, there was also much confusion and contradiction between various space craft data and oval sites, hardly any sightings were being reported at all despite amazing stats on the charts. After midnight all that changed so I headed out into the Maghera countryside for a look, I wasn't expecting clear skies or anything major aurora wise. I was amazed to have great clear breaks for two hours straight and as soon as I switched the headlights off I could see the aurora. At first it was just a naked eye glow but within half an hour it surged in brightness and formed a well defined vivid arc extending across a vast area of sky, the region to the NE looked particularly intense. I took this 10mm wide angle shot with the van in the frame for a little advertising, vertical rays began to emerge from the arc just as the aurora went into the first of two outbursts during this watch.
The moon was bright and only one day after full phase shining proudly in the E however I had actually forgotten it was there, the aurora was so bright it cut through the moonlit sky like a knife through butter, numerous fine rays extended across the arc. I even had a visit from the police who were wondering what I was doing in a field at this time of the night, once I said I was shooting aurora they were happy enough to let me get on with it.
Half an hour later there was another outburst, and this one was the show piece of the night. I ran into this soaking field through cow pats so I could get away from the road and some trees in the foreground, I wished I had some cool location to shoot from but I was really stuck and just had to use what was in front of me. A multitude of beams erupted and put on a very pleasant show, I switched to the kit lens here and zoomed in a little so I could full the frame. The rays were sharp and well defined, extending 40 degrees high into Ursa Major, with the naked eye I could see green and orange/red colours, however the camera picked up green and purple which was interesting. I watched this aurora for a good two hours but for the most part it was a band low in the sky with enhancements, however it was this outburst which made the night, a very nice aurora and a joy to catch one from home which reminded me very much of my earlier days aurora hunting from here when we used to make notes and sketch what we saw long before digital cameras became affordable.
However I did have some gripe over the hype generated by certain aurora sites. NOAA proclaimed a G4 storm while I was watching this, I can tell you rite now this was not a G4 storm, in fact, based on the visual form and my many years of aurora observing I would place this as a G1 touching on G2 for moments then switching between the two, I never saw anything of the caliber one would expect for a G3 or G4 storm and most certainly for a Bz at -30, in such set-ups many rays will approach the zenith, likely merging into a corona, auroral forms will be present in most sky sectors, including the S accompanied by rapid motion and flaming, I didn't observe any of this, in fact the aurora was small in my wide lens and beams only peaked at 40 degrees while dropping again, in my opinion this was never a severe geomagnetic storm at any point during its apparition over Ireland, at least not during this period of observation, my thoughts have since been confirmed by both UK and USA observers, that being said it was still a good show for an ordinary aurora if one looks at it in that context.
Historic Thunderstorm Flood Event & Claudy Bridge Collapse -
REPORT
On August 22nd 2017 warm moist unstable air clashed with an inbound cold front in an environment of strong vertical wind shear which generated numerous elevated thunderstorms of a back building nature which dumped monsoon style rainfall over N. Ireland during daylight and night time hours accompanied by vigorous lightning activity. Parts of Derry, Donegal, Mid-Ulster, Tyrone and Antrim experienced a months rainfall within a few hours resulting in the worst thunderstorm flooding event in living memory with untold damage. This report details a visit to two sites in Claudy the following day where a severe flood wiped out a bridge and road documented by both ground based and drone imagery. One page report with 13 images and 3 video clips. - REPORT.
Benbradagh Star Trail -
August 30th
Tuesday night was exceptionally clear so I went on a local photo shoot with an old observing mate, we ended up outside Dungiven. I spotted this isolated moody tree on the flank of Benbradagh mountain and shot a star trail, this was a stack of 150 x 30 second exposures at ISO1600 10mm F/2.8 revealing the Earth's rotation and several Iridium satellites, you can see the summit of Benbradagh in the distance.
Star Trails -
August 16th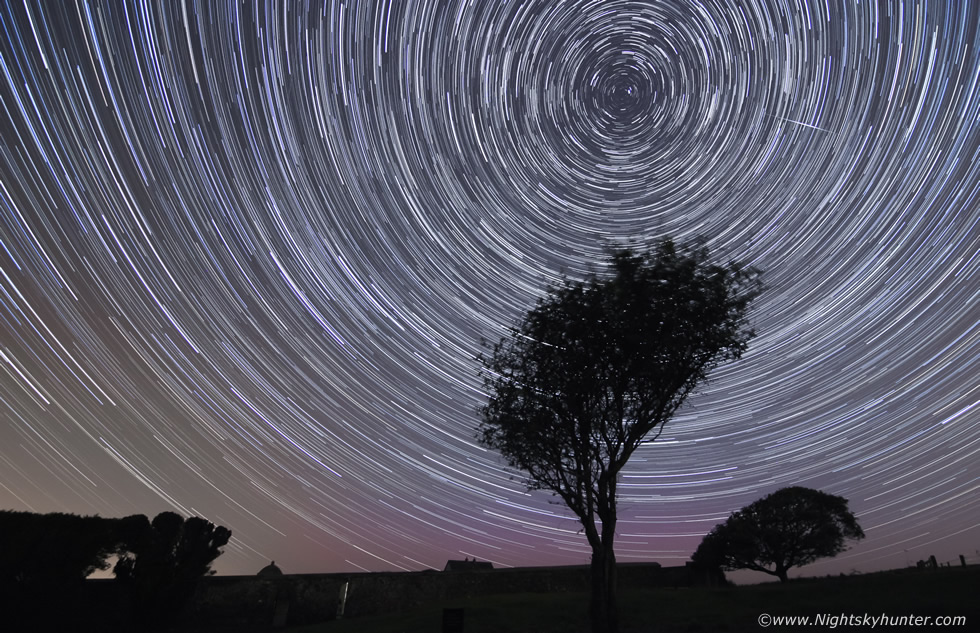 August 16th promised to be an exceptionally clear night so I planned a photo shoot at the north coast with the intention of shooting star trails or time lapse, there was also a chance of aurora activity from a solar wind stream and fold in the heliospheric sheet which made for a third reason to get shooting. I met up with photographer Nigel McFarland from Aerialvision NI and spent the night taking advantage of this exceptional clear sky. This was perhaps the best clear night I have seen in months with not a single cloud in sight complimented by exceptional transparency. Our original position was on high ground however the wind was so strong our tripods shook ruining any chance at shooting trails, so we drove to lower ground and decided to try out the car park at Downhill Estate. That area was sheltered and the wind died down to a nice gentle breeze, I ended up shooting two star trail sequences. This was the first shot during the dark period of the night composed of 130 x 30 second exposures. This isolated tree made for perfect foreground inclusion, you can also see an iridium flare to the upper right and the purple glow from a weak aurora display, this scene alone made the trip for me.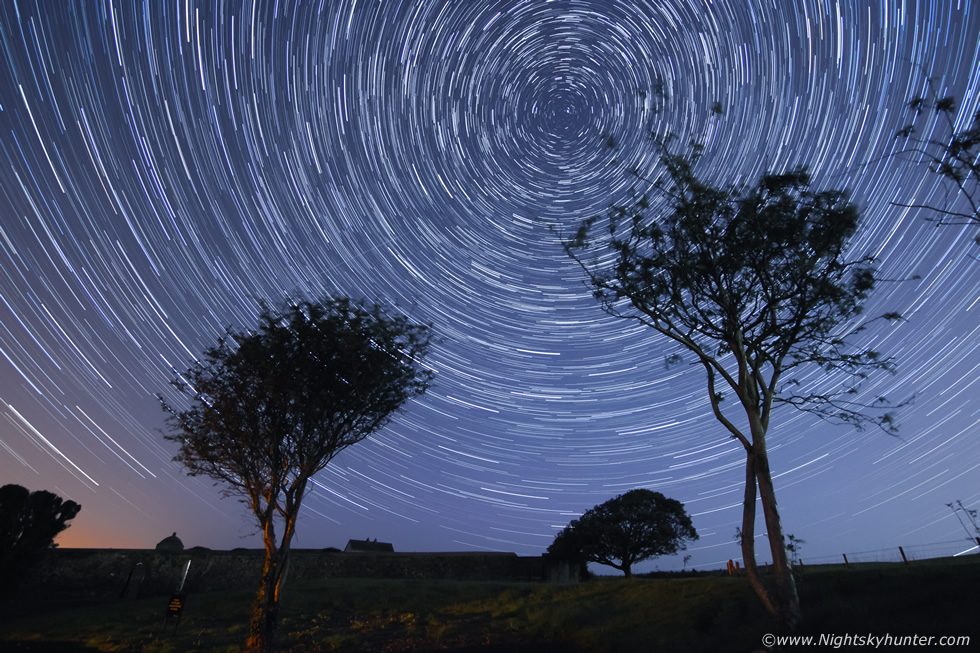 Second sequence of the night, this time captured during the transition stage between moonrise and proper lunar glare which made the colour temperature cooler, there's a faint satellite above the second tree. We observed quite a few late Perseid meteors and the sight of the waning crescent moon rising over the estate was really something with Jupiter shinning through one of the windows. Perfect night for photography including visual observing of the Milky Way, I was back home for 04.30, I hope to get a few more night shoots done soon if the weather obliges.
Beautiful Multicell Storms From Gortmore Viewing Point -

REPORT
August 1st 2017 looked like a good day for chasing with moderate CAPE overlapped by decent wind shear. Cloud killed inland convection during prime heating time so I decided on a chase to the N coast where blue skies and hot sunshine might trigger convection. During the late afternoon sea breeze convergence generated a beautiful multicell thunderstorm which built over Co. Donegal before moving out to open sea. The sheared updraughts on this storm were huge and catching full sunshine while being surrounded by blue skies. This cell sported explosive updraught development and even formed a shallow wall cloud over the sea while producing distant rumbles of thunder making for a very photogenic day. The sight of this storm from Gortmore Viewing Point against a backdrop of Lough Foyle, Donegal, Benone Beach and Magilligan Point was simply stunning. One page report with 16 images and 1 video clip. - REPORT.
Stunning Storm Structure Over Coagh - Brand New Image Report -
NEW
Detailed report documenting two chase days on July 30th and 31st 2017 with my Wife Roisin. Day 1 was a pulse storm day when we intercepted mean looking convective cells at Benone beach bringing heavy downpours and time lapse opportunities. Day 2 was the climax of the season when we got under the core of a midday storm over Glenshane Road which produced the best mammatus display I have seen in years. By late evening a new organized storm moved into Co. Tyrone with 40 knots of deep layer shear which we chased all through the back roads from Cookstown to Coagh then to the shore of Lough Neagh, this chase produced the best storm structure I have witnessed in two years with a massive solid gust front lit by the low evening sun passing over the fields and a farm house while rumbling with thunder offering us a perfect photogenic treat. One page report with 22 images and 1 video clip. - REPORT.
Beautiful Lough Beg Noctilucent Clouds & Magilligan Golden Sunset Image Report -
NEW
New report documenting two nights of NLCs on June 30th and July 2nd 2017 and a beautiful golden hour sunset across Lough Foyle from Magilligan Point. The June 30th NLC display is the main focus of this report when Paul Martin, John Fagan and I teamed up on a beautiful clear night and got treated to a stunning all-night long type 4.5 NLC display which we captured from a country road near Lough Beg then over Toomebridge. The NLCs boasted beautiful herringbone, band, and whirl structure which could be seen moving in real time with the naked eye illuminated in electric blue contrasting against the twilight sky above a bed of yellow horizon haze making this the best NLC display we have witnessed in the last two years. One page report with 11 images and 1 time lapse video. - REPORT.
N. Ireland Storm Chasing Image Reports
Astronomy is not the only subject I'm interested in. One other such area is severe weather which will be playing a major role on nightskyhunter from now on in conjunction with my other astronomical pursuits. Check out my new N. Ireland Storm Chasing section and view the chase reports and images which detail not only storms but other phenomena such as a moonbows, noctilucent clouds and aurora displays.
Martin McKenna