LATEST SKY EVENTS
Updated September 27th 2014
Fanad Head Lighthouse Photo Shoot! -
Sept 26th
Very quick update - my partner Roisin Laverty and photography mate Paul Martin had a fantastic photo shoot last night at the legendary Fanad Head Lighthouse located on the Co. Donegal coastline. We had talked for a long time about hitting this location and due to various reasons and weather conditions we had put it off however this time we made it happen on a sudden Friday afternoon impulse, it's been difficult to get a good clear night of late and since Friday looked to be the best night of the week we decided to make it happen. What a good decision we made, this was our first official night shoot at this lighthouse and my first serious photo shoot in the new van and it all worked out perfectly. I have to say we were blown away by this epic location, I have never seen such a dark sky in a long time, the stars were beautiful and the Milky Way was so bright that it looked like a glowing cloud, in fact, during the early morning hours when the transparency was at its finest the Milky Way looked like it was even glowing through a patch of cloud and the North America Nebula could be seen easily with the naked eye, I have also never seen such a prolific naked eye green air glow before either which was truly remarkable. I took many static tripod star shots of the location at 10mm, 24mm and 50mm and managed to get three star trails completed too, the above is the longest of the night and my personal favourite. Paul went to town on the location with his Canon 6D and got incredible detail in the Milky Way which was jaw dropping. We also observed a rich number of meteors and the cameras detected a faint aurora along the horizon. What a great photo shoot it was and for once the weather was kind to us with an abundance of clear skies. We were back in Maghera for 04.30 after driving 180 miles and it was after 05.30 before I got this star trail completed, however I didn't sleep well from the residual buzz from this exciting location. I will showcase more images on a report which I will get it work on next week.
Night Sky & Weather Print Sales -
NEW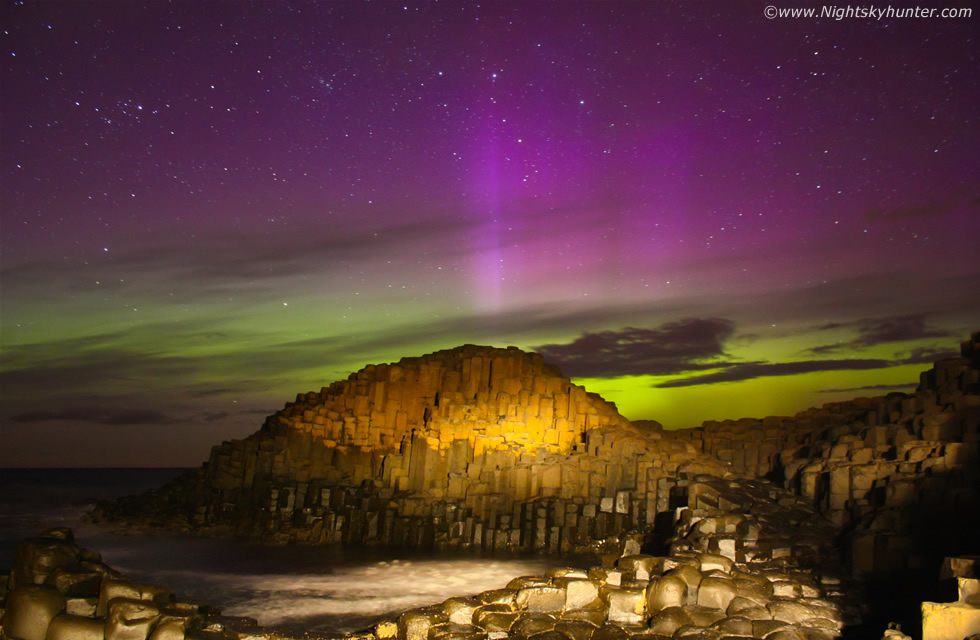 One of my personal favourite night sky images re-done with noise reduction applied. This was the April 2012 G2 geomagnetic storm captured over the legendary Giant's Causeway with Roisin Laverty on an unforgettable night of exceptional aurora activity. I recall descending slippery rocks which felt like walking on black ice with the sea lapping at my tripod legs and occasionally rising over my boots and soaking my socks and jeans however it was worth the wait to get this image just as the aurora went into its first outburst of the night. A vivid green band crossed the horizon then a proud formation of pink and purple beams shot skyward like coloured pillars of light among the stars reaching 80 degrees tall, I took this exposure with the 18mm kit lens just as Roisin swept the famous 60 million year old rocks with a golden torch beam - and this was the result. This is why I love hunting the aurora - you never know what you are going to see and the photographic results can be epic when it all comes together. A fond memory which shall never be forgotten, I'm proud of this image - not just for what it shows - but because it is the result of both my energy and Roisin's energy all together in harmony.
* This image and any of the images on the website are available to purchase as photo prints of any size (including large format) and canvas products so please email me if you are interested in ordering a copy. All my work can be viewed in the Reports Section or via the new Nightskyhunter Stock Gallery, thanks for viewing.
New Storm Chasing Van -
NEWS
My new storm chasing vehicle! - this is a black Citroen Berlingo Enterprise diesel van with 17" alloy wheels, fog lights and roof bars. This van has a fantastic reputation for reliability while offering great miles to the gallon making it a fantastic piece of equipment in its own rite for long hours on the road, this will now be my primary means for storm chasing and aurora hunting. The van is also very comfortable and quiet to drive with light steering which will aid in long distance travel with the added benefit of a large rear interior which will allow me to store my gear, clothes and various equipment, not to mention having a much needed place for shelter, cooking, and even sleeping while on location during those crazy all-night Winter photo shoots. The Berlingo is a joy to drive and I have to admit to being highly impressed by the giant windscreen which can only be appreciated from the inside, this large window is vast and with no obstructions offering large clear vistas of both the road and sky which will be excellent for shooting storms from the inside while at the same time generating the impression that one is not in a van and simply connected with nature. I plan on getting graphics for the exterior including the website for advertising purposes which will set it off completely. A few gadgets may be purchased with time in the form of a go-pro video camera on the dash for video of storm chasing trips and possibly weather-related gear to measure wind speed and temps during thunderstorm and snow storm encounters, however all that in due course.
The weather has been wonderful here with long duration high pressure and glorious sunny skies for the last few days so the Berlingo couldn't have been collected at a more perfect time to enjoy this exceptional September weather which looked and felt more like the middle of July. During one such beautiful day we found a nice field in the countryside and drove in to get a few images of the van with the fields boasting green and gold colours with blue sky aloft and bright sunshine reflecting off the body work making for perfect photography conditions, I stepped far back and took these with the 100-400mm telephoto lens. I look forward to future photo shoots and amazing scenes from nature using this wonderful means of transport!
Cargin Chapel Star Trails -
Sept 21st
First photo shoot with the new van. I was driving to the Co. Antrim coast to try out more star trail photography however while on the road high level cloud had moved it in from the NW so I turned around outside Garvagh and headed back inland towards clearer skies just as it was getting dark and the first stars of the night appeared. I decided on Cargin chapel on the Staffordstown road outside Toome since I have always wanted to try this location and because I had been in it earlier the same day for a Christening which put the location fresh in my mind. I arrived to be treated by a dark clear sky and beautiful stars so I took a test shot with the 10mm lens facing up the steps towards the main entrance.
I decided to do a star trail from here to test out the area. The chapel was dark however the streetlights in the car park behind me illuminated the foreground in the exposure, it wasn't enough to mess with the images and it did generate that warm glow which I liked contrasting against the cooler colours of the night sky. I had two cameras set up in the grass lawn in front of the chapel so I could shoot two trails at once, things were looking good and I had time to enjoy a brew in the back of the new van with back doors open at 90 degree angles so I could admire the night sky while I drank which was a nice treat - the van had passed its first test shoot with flying colours. That high level cloud which I had met earlier had now moved inland and the star trail had to be cut short however I had enough frames for a test session at this location, above is the 10mm trail with my Canon 600D.
This was the 18mm short trail using my older Canon 450D, I do prefer this angle better so I hope to return to this location again soon on a better night and get a much longer trail which I reckon will look fantastic over this beautiful chapel.
Auroras & Sunsets -
Sept 12th
My thoughts on last night's aurora hunt - Roisin and I targeted Ballintoy Harbour which turned out to be a great decision because it was one of the clearest locations in the country - and dark - however there was still significant mist/haze over 20 degrees high above the horizon, the fact that we could see stars at all got us excited which was more than we had hoped for considering this awful stagnant high pressure weather of late, on the road up it was hopeless with dense mist and cloud over the Lough and Sperrins which was so thick that the moon couldn't be observed so we were grateful to have made it to the coast into slightly cleaner air, a quick stop in a dark country road revealed the aurora visible to the naked eye as a subtle green band.
So we got to the harbour, met Paul Martin, then got the gear out and tried a few images, yip camera confirmed it with obvious green, red and subtle purple colours on show to the N, there where quite a few cars parked beside the cottage and some ignorant people walking past our cameras while we were taking exposures which destroyed the first test images, some of these people knew what they were doing and didn't care showing no obvious respect for other photographers then shining lights all over the place, they were doing it on purpose!, we got fed up and relocated to the corner on high ground when we saw the aurora band again with a hint of green then visually observed several rays (beams) while the moon rose above Sheep Island with a beautiful silver glitter path on the sea pointing straight at us and bathing us in its magical light.
We were expecting things to go crazy at any moment so we hiked around to a more isolated part of the harbour and found good foreground then waited and waited....nothing else happened. There was only a faint green band 15 degrees high above the sea for the next 4 hours which never went into outburst at all - the event was a damp squib and as the moon rose higher its light on the thickening haze made things worse so we ended the session - we got aurora yes - but not the show we had hoped for, the reason was that the magnetic field (Bz/IMF) had went far N and stayed there for a long time, it was this factor alone which had killed the show for us, had it tilted S the aurora would have easily cut through the haze and wowed all of us. Despite this disappointment we still had a good time chatting among ourselves in high spirits in the moonlight watching the moody aurora and stars from a fantastic 60 million year old location and the positive energy was awesome. A few images were taken, a few brews and snacks also and I got two star trails done so we didn't come home empty handed.
Later we stopped at Dunluce and the fog was even worse, I felt sorry for those who had brought families (and even their dogs) along and got let down for the second time this year however I admire their passion and desire to see the northern lights, it was fabulous to see such interest in this subject and all the other excited photographers too. I for one look forward to the next event in a dark sky with good clarity associated with low pressure and if people make it a third time I know that the aurora will reward us all. Incidentally the drive home was crazy due to dense fog and at times we were tempted to pull off the road! - this is aurora hunting for you, it never does what you expect and is rarely on cue to please, more often then not one has to spend many many hours on location in all weather conditions watching and waiting and feeling disappointment, this is the reality of it, however if one is truly passionate, tenacious, and has a true love for nature then the sky will notice your efforts and reward you - when it all comes together you will be astonished by the spectacle, you will get treated to insane visual scenes and get rewarded with epic images - so for those who felt let down - stick with it, be patient and NEVER EVER give up - that's when nature will invite you to the finest celestial show you will ever witness!
Above is one of the few images taken at Ballintoy Harbour when the aurora was at its absolute finest, I had just set the camera down to try a test image at this viewpoint before moving on when suddenly several beams manifested and stayed visible long enough for two exposures, this was the best of the two. 10mm wide angle with red and subtle purple rays with the rising moon over the ocean and Sheep Island in the distance all through mist and haze, this was the highlight of the night.
Here's the lunar glitter path on the Atlantic Ocean with Sheep Island and distant red lighthouse on Rathlin Island, it would have been an epic scene if the aurora had went crazy at this point.
24 hours earlier I drove to a hill in the countryside near Maghera and photographed the setting sun on the eve of the anticipated geomagnetic storm. The solar disk was in the process of setting into a high layer of dense haze over the Sperrin Mountains, I had arrived much earlier than the predicted sunset time just in case and I'm glad I did because it vanished into the haze 10 min's later and long before its true setting time. If you look carefully you can see Active Region 2158 (sunspot) on view which was the source of the recent X-class solar flare and CME.
A black towering cumulus cloud had bubbled up rapidly over the mountains and entered the frame making for a very contrasty scene before it covered the sun completely and that was the end of the day and the start of great anticipation of what the next 24 hours had in store - a very nice moment to experience.
Perigee Moon & Glenshane Star Trail -
Sept 9th
Last night's large Perigee full moon - better known as the 'Supermoon' - captured from the top of Glenshane Pass using my Canon 600D with 100-400mm USM lens at 400mm then cropped. At first it looked like a no-show due to haze blocking the appearance of the moon above the E horizon which was the very moment which I wanted to capture on camera, when the moon is low like this it will often sport the infamous 'moon illusion' effect which makes the lunar disk look larger than usual, the phenomena is strictly an eye-brian effect when our brain compares the low moon to objects of known size generating the impression that the moon is larger. However thanks to haze this moment could not be observed so I began to pack away my gear and just as I was about to get into the car to leave the moon appeared above that layer of haze. Although the moon was higher in the sky it did look rather impressive despite being unspectacular in size however this handicap was more than countered by the fact that the moon sported a vivid amber colour complete with well defined craters and mariae on view all against the backdrop of the Earth's shadow so I quickly got the gear back out and eventually got a few images when it was in this colourful transition. The eastern sky had this golden ball while below in the valleys pockets of mist could be seen forming and behind me to the W was a beautiful display of delicate pink wispy cirrus clouds contrasting beautifully against the blue dusk sky - the evening was very atmospheric indeed.
Later that same night I headed back up to the hills of Glenshane Pass and did a star trail around this old derelict house with the 10mm lens and although the shoot was eventually cut short by high level cloud and mist I managed to get enough images for this result. The old stone structure was lit entirely by the light from the supermoon which shows just out bright it was and this was using a 'slow' lens at ISO400 too. It felt great standing out under the stars at this isolated mountain location with everything around me lit by eerie moonlight.
Return Visit to Glen Chapel -
Sept 1st
Monday night September 1st did not look like it was going to clear at all so I decided to go to bed and watch a horror film on freeview called 'The Haunting In Connecticut' then at 01.20 I had an impulse to check the sky so I pulled back the curtains and starred out my bedroom window to be greeted by a stunning clear sky with stars winking and beckoning me out so I quickly changed, grabbed the camera gear and drove to Glen Chapel for a second night of star trail photography while hoping that clear sky would last long enough to allow me a decent trail. I regretted watching that horror film and because of a certain scene I didn't want to look in the rear view mirror in case there was someone or something sitting in the back seat and the prospect of going to a graveyard late in the night didn't help the matter.
However once I arrived my mental state completely changed and far from being intimidating the graveyard and chapel were beautiful and calm with a sense of peace and serenity, I wasted no time and got to work and this time I chose this composition which I had liked best during my previous photo shoot which boasted a stronger composition. This was 10mm ultra wide angle for 30 sec's at ISO800 F/3.5 for just under 1 hour then stacked using startrails.de. The trails from Polaris, Ursa Minor and Ursa Major are most prominent in the image. The only sign of human life was a late night Police patrol car cruising past on the road behind me, the blue and purple headlights of which lit up the bottom right window of the chapel for me. Mist moved in and one by one the stars began to disappear however just as I packed away my cameras a fireball blazed across the top of the chapel sporting emerald and silver colours and leaving a glowing green ion train in its wake which briefly illuminated the haze and like a celestial ember it glowed like the spirit of the meteor for several second before vanishing into the darkness, had I waited another minute I would have caught that one on camera.
Glen Chapel Star Trails -
Aug 31st
I'm in full star trail mode at the moment while patiently waiting for Autumn aurora and storm photo opportunities, this time I stayed local and decided to try one of my favourite places for peace and tranquility - Glen Chapel outside Maghera near Glenshane Pass. Clouds cleared and the stars came out as dusk twilight transitioned to full darkness so I drove to the chapel and set-up two cameras shooting simultaneously, thankfully the second cable release I ordered had arrived earlier that morning so I now have the capability two shoot star trails from two different angles at the same time, my 450D was shooting with the 18mm lens and my main gear was the 600D (above image) at 10mm ultra wide angle. I knew my window of clear sky wouldn't be long as satellite imagery indicated more cloud coming in from the W so I had to be decisive and with that said I was shooting within min's of my arrival. I was pleased to have got this amount of trailing before the cloud arrived and ended the attempt, it was difficult to shoot because of the sodium lights from streetlights behind me and from local buildings which added to the overall light pollution so I ended up with this rather strong yellow/orange cast in the long exposures, however in some ways it contrasts quite well against the cooler blue tone of the starry sky aloft. The church and stars made for a beautiful visual sight and the silence made the moment even more atmospheric. Overall it was a very pleasant photo shoot and for once I was back home at a reasonable hour after midnight.
Tyrone Lake Star Trails -
August 22nd
Had a fantastic photo shoot and observing session on Friday night with Paul Martin at a beautiful lake in Co. Tyrone outside Omagh and for once the sky was perfectly clear for hours on end. I spent the night doing star trails with the 10mm lens using 30 sec exposures at ISO800 and conditions couldn't have been better with a cool but gentle breeze blowing across the lake which prevented any dew forming on the lens so the camera could do its thing unchecked. I got three star trails completed during the shoot, this above was 1 hour in duration with a total of 120 exposures stacked together.
This one was taken towards the end of the session and is the shortest of all three trails however I rather liked the scene. The breeze vanished and the atmosphere turned still however the dew didn't take long to form and soon the lens was covered so I had to cut this star short, I thought the scene had a Halloween quality to it. We observed some rather decent meteor activity, two mag +1 meteors shot across the N sky behind that tree both sporting long orange coloured tails, however the climax of the night was the mag -6 fireball which dropped into the SW and lit up the top of the trees and hence becoming a shadow caster!, believe it or not I caught this fireball on the far L of the frame, however the short exposure, wide angle lens and dew on the glass stopped it registering on camera in the manner in which it should have done, however I wasn't complaining. Paul was testing out his brand new full frame Canon 6D and wide angle fast lens, we had a great time testing the camera's amazing potential while shooting comets and the Milky Way. A fun night under the stars and I can tell you we really appreciated that clear sky!
N. Ireland Storm Chasing Image Reports
Astronomy is not the only subject I'm interested in. One other such area is severe weather which will be playing a major role on nightskyhunter from now on in conjunction with my other astronomical pursuits. Check out my new N. Ireland Storm Chasing section and view the chase reports and images which detail not only storms but other phenomena such as a moonbows, noctilucent clouds and aurora displays.
Martin McKenna