LATEST SKY EVENTS
Updated August 26th 2014
Aurora Alert -
August 26th-29th
Aurora alert valid for the period between August 26th and 29th due to the impact of several slow moving CMEs in conjunction with solar wind stream activity. Aurora activity is anticipated to be active and perhaps reaching minor storm levels of at least G1 rating at both northern and mid northern latitudes and particularly so if the Bz/IMf tilts south which could invigorate activity. The timing is perfect with a dark sky and no significant moon phase to hinder observations, however getting that all important clear sky will be the difficult part!, one of the early forecasts can be seen below, I will update with further information if needed, I wish you clear skies and happy hunting...
Geophysical Activity Forecast: The geomagnetic field is expected to be at quiet to active levels on days one and three (26 Aug, 28 Aug) and quiet to minor storm levels on day two (27 Aug). Protons have a slight chance of crossing threshold on days one, two, and three (26 Aug, 27 Aug, 28 Aug).
http://www.spacew.com/plots.html - Bz/IMF tilt & solar wind speed etc
http://www.swpc.noaa.gov/ - NOAA activity charts
http://www.swpc.noaa.gov/ovation/ - aurora oval location
Tyrone Lake Star Trails -
August 22nd
Had a fantastic photo shoot and observing session on Friday night with Paul Martin at a beautiful lake in Co. Tyrone outside Omagh and for once the sky was perfectly clear for hours on end. I spent the night doing star trails with the 10mm lens using 30 sec exposures at ISO800 and conditions couldn't have been better with a cool but gentle breeze blowing across the lake which prevented any dew forming on the lens so the camera could do its thing unchecked. I got three star trails completed during the shoot, this above was 1 hour in duration with a total of 120 exposures stacked together.
This one was taken towards the end of the session and is the shortest of all three trails however I rather liked the scene. The breeze vanished and the atmosphere turned still however the dew didn't take long to form and soon the lens was covered so I had to cut this star short, I thought the scene had a Halloween quality to it. We observed some rather decent meteor activity, two mag +1 meteors shot across the N sky behind that tree both sporting long orange coloured tails, however the climax of the night was the mag -6 fireball which dropped into the SW and lit up the top of the trees and hence becoming a shadow caster!, believe it or not I caught this fireball on the far L of the frame, however the short exposure, wide angle lens and dew on the glass stopped it registering on camera in the manner in which it should have done, however I wasn't complaining. Paul was testing out his brand new full frame Canon 6D and wide angle fast lens, we had a great time testing the camera's amazing potential while shooting comets and the Milky Way. A fun night under the stars and I can tell you we really appreciated that clear sky!
Dunluce Castle Purple Aurora -
August 19th
A weak CME from a filament eruption on the sun impacted Earth's magnetic field a glancing blow during the afternoon of August 19th however due to its weak nature NOAA forecasters didn't expect much to happen - and it didn't during the time of impact - however several hours later in the wake of the CME the magnetic field was disturbed enough to generate decent aurora potential which was much greater than predicted, at first a G1 storm was anticipated however the aurora ended up getting upgraded to a G2 event which shocked everyone. The oval was bright and well down over Scotland and brushing the top of N. Ireland with a south tilting Bz so all the ingredients were in place for the first aurora of the new season. I was excited about the potential all day and had already planned to shoot the storm from the Co. Antrim coast, everything seemed perfect and the forecast was for clear skies too - or so it seemed - and that's when nature decided to play up.
At sunset Sat24 showed a complex of shower clouds moving down from the N over the ocean heading straight for the N. Ireland coastline and it was obvious that getting any clear skies at all was going to take more than luck, during dusk I was in a semi panic trying to choose a location taking into consideration the cloud situation, my brain said inland however my heart said the Antrim coast, the best bet for clear skies was inland to the S however there was a lack of cool foreground for photography and the stronger light pollution would reduce the impact of the aurora on camera, on the other hand if I went to the coast there was a much stronger chance of being clouded out however if I got a couple of gaps then the photographic results would be more fruitful, so I decided to take the risk and follow my heart and as darkness fell I went straight to Dunluce Castle.
Just as I arrived into the empty car park I saw a large clear gap in the clouds to the N and NE so I immediately made my way down to the barrier in front of the castle, set up my camera with 18mm lens, and began taking exposures as the clouds grew closer, I didn't have long. This was the result, the blue-purple glow covering the sky was the upper region of the aurora, the green band typical of any aurora display was hidden above the horizon by cumulus clouds however the purple canopy was picked up on camera, I switched off my LCD screen and once my eyes adjusted to the darkness I could see this same feature with the naked eye as a colourless diffuse glow 20 degrees above the horizon, I had just enough time to take a few exposures however I was in full battle with the elements, this is August isn't it?, well standing on that high ground near the castle felt more like a November night with a cold Nly wind blowing off the sea which was strong enough to shake my tripod and mess several of my images, luckily I took a few and I got one or two during the brief moments when the wind relaxed its meteorological muscles.
I quickly switched to the 10mm ultra wide angle lens for a final shot before the clouds rolled in for good for the rest of the night. I waited anyway just in case the clouds broke and during the wait I bumped into photographers Alistair Hamill and John, we ended up standing under the clouds and showers for hours having a great chat about photography, storms, and auroras which I greatly enjoyed, there's nothing better than being on location and using cloudy periods to chat with like-minded people who share the same passion for the sky and photography. A few breaks appeared later in the night so all three of us went back to the castle to take more images however the aurora activity had greatly waned and was not evident on our images, we did see a star-rich clearance in the E with a rising crescent moon with earthshine to end the night. I was back home for 03.00 with some imagery of the first aurora of the new season. I expect a busy season ahead with more significant displays however I hope the clouds will be more kind to us next time.
* All images on the site are available for sale as photo prints, canvas, and digital image and video files for licensing, simply email me and I can sort you out no problem, thanks very much for reading.
Ballintoy Harbour Star Trails -
August 14th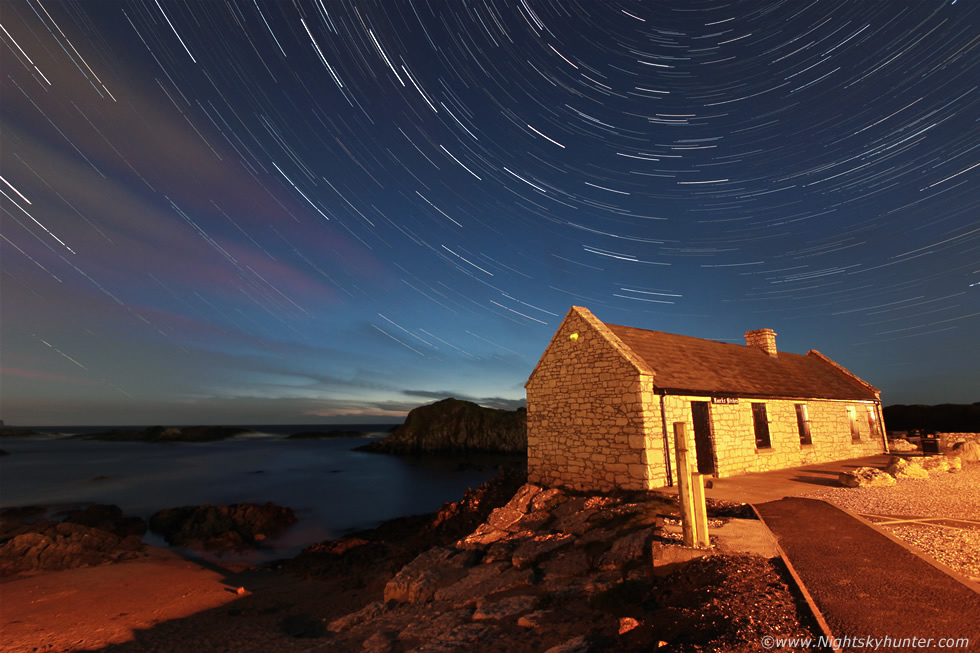 I had a nice night on August 14th shooting star trails at the Co. Antrim coast, there where some cloud issues however Sat24 revealed a clear corridor over the ocean between Scotland and central/ E N. Ireland coastal areas, I choose Ballintoy Harbour which was perfectly located in the clear sector then got to work making star trails over the dramatic Roark's cottage, these where 30 sec exposures at ISO1800 and stopped down a little taken on continuous shooting mode for 40 min's then stacked using startrails.de - the result covers twilight through to astronomical darkness combined with the glow from the rising moon which was a nice combination, the cottage was illuminated by the harbour lights. Observed four Perseid meteors and several iridium flare satellites, the beauty about shooting star trails is that - given ideal conditions - one can let the camera go to work while the photographer gets the rare chance to stand back and take in the stars at his or her leisure without distraction.
Short video of the frames used in time lapse sequence along with footage at the end of the cottage with real time audio of the ocean at Ballintoy with the intention of capturing some of that magical atmosphere.
Moneymore Flooding & Ballyronan Storm Rotation Report -
NEW
Detailed report documenting 9 hours of storm chasing, first in Omagh then a second evening chase intercepting the strongest thunderstorm of the year in N. Ireland in a well sheared environment with 1300 CAPE & LIs of -6. This organised storm with supercell traits made an impression over Co. Tyrone where I intercepted it's high precipitation core in Moneymore where it produced flash flooding which affected traffic and property. I chased the storm, punched the core & encountered incredible rotation & wrapping under the updraught base in Ballyronan then ended this 4 hour storm hunt near Toome watching lightning as dusk arrived. One page report with 12 images & 1 video clip. - REPORT.
Desertmartin Thunderstorm Image Report -
NEW
An early afternoon intercept of a high precipitation organised thunderstorm in a sheared environment over the Sperrins featuring dramatic cloud structure captured from a freshly cut hay field outside Desertmartin on a warm and humid August 3rd 2014 . My girlfriend and I chased the storm then punched the core between Tobermore and Maghera where it produced monsoon-like rainfall with flooded roads and lightning. A very successful, fun and highly photogenic local storm chase. One page report with 7 images and 1 video clip. - REPORT.
Lough Neagh Thunderstorm Chase Report -
NEW
June 10th 2014 was the final of four days in a row storm chasing with 1300 CAPE and LIs of -4. Storms fired early in the day and we watched several rumble away over Glenshane Pass then during the afternoon we intercepted an intense and beautiful surface based thunderstorm crossing Lough Neagh at Antrim Marina. The storm boasted rock solid cloud structure and large scale rotation before coming onshore and hitting Antrim town were it made an impression on many with its frequent lightning and hail stones. One page report with 11 images & 2 video clips including time lapse footage. - REPORT.
Mullaghmore Thunderstorms & Funnel Cloud Image Report -
NEW
June 7th 2014 was the first of four days in a row of thunderstorms across parts of Ireland and N. Ireland. This was a very successful storm chase day with 12 & 1/2 hours on the road in a very unstable environment loaded with 1300-1500 CAPE and LIs between -4 and -5 which produced intense thunderstorms which we intercepted at the Mullaghmore coastline in Co. Sligo. We got treated to beautiful thunderstorms over the ocean in full sunshine with close range lightning followed by a high based funnel cloud. I also caught my first ever daytime lightning bolt on camera making this a thrilling day to remember. One page report with 13 images & time lapse video footage. - REPORT.
Stunning Dungiven Thunderstorm & Funnel Cloud Report -
NEW
Best chase of the 2014 season to date when my girlfriend and I documented a spectacular convergence zone thunderstorm from Brenbradagh Mountain outside Dungiven on May 26th. We experienced the entire life cycle of this strong thunderstorm for over two hours without having to move position once while staying completely dry in sunshine as the storm grew and evolved rite before our eyes producing a funnel cloud, close c-g lightning, and the best shelf cloud and storm structure I have seen for years. Also included is a funnel cloud over Donegal Bay captured by my Dad from Rossnowlagh on the very same day. Report with 21 images & 2 video clips. - REPORT.
N. Ireland Storm Chasing Image Reports
Astronomy is not the only subject I am interested in. One other such area is severe weather which will be playing a major role on nightskyhunter from now on in conjunction with my other astronomical pursuits. Check out my new N. Ireland Storm Chasing section and view the chase reports and images which detail not only storms but other phenomena such as a moonbows, noctilucent clouds and aurora displays.
Martin McKenna