LATEST SKY EVENTS
Updated August 5th 2015
Convective Outlook UK & Ireland -
Wed August 5th
VALID 06:00 UTC Wed 05 Aug 2015 - 05:59 UTC Thu 06 Aug 2015
ISSUED 18:09 UTC Tue 04 Aug 2015
ISSUED BY: Dan
A filling Atlantic low will run NEwards across Ireland to northern Scotland during Thursday, associated with a rather messy frontal setup containing a plume of high ThetaW air. Naturally, models will be a little unreliable with exact local scale detail in precipitation type, extent, intensity, timing etc and so confidence for any specifics is rather low. However, two broad themes are highlighted for some convective potential...
Across Ireland, with a shallow moist zone (SMZ) regime likely between the initial cold front and the back-bent occlusion, the surface airmass will be very moist and subject to destabilisation given some insolation and forcing along the rear occlusion in particular. Hence some scattered showers and perhaps thunderstorms are forecast, particular for central parts of Ireland running eastwards, during the afternoon and early evening hours. NWP guidance currently varies with positioning and timing between models, but with C/E areas of the ISOL most favoured - perhaps borderline SLGT if confidence improves. Given low cloud bases and some low-level shear, there is scope for perhaps a funnel or brief tornado to occur. Slow storm motion and saturated vertical profiles (thence high PWAT) suggests the risk for locally large rainfall accumulations.
Across southern Britain, there exists some potential for largely elevated convection as a shortwave overruns this high ThetaW airmass. This is most likely along the leading edge of the ThetaE plume, and so parts of Cornwall/Devon during the early half afternoon, running NE into S Wales/SW Midlands through the second half of the afternoon and into early evening, albeit if there is any lightning this will probably weaken as convection moves NEwards. As the ThetaE plume continues to advect northeastwards, potential then shifts to perhaps some elevated convection developing over the English Channel/southern coastal counties of England by the end of the afternoon, this then migrating NEwards through the evening while expanding in coverage, reaching parts of East Anglia by 8-10pm local. Instability is rather meagre, and so lightning activity may be rather sporadic/isolated in nature, but there is certainly some scope for elevated convective showers at the very least. Given low lightning potential, we remain with an ISOL. Source: Convective Weather
Aurora Watch -
August 5th & 6th
NOAA forecasters estimate a 40% chance of polar geomagnetic storms on Aug. 6th when a co-rotating interaction region (CIR) is expected to hit Earth's magnetic field. CIRs are transition zones between fast- and slow-moving solar wind streams. Solar wind plasma piles up in these regions, producing density gradients and shock waves that do a good job of sparking auroras. Source: Spaceweather.com
http://services.swpc.noaa.gov/images/animations/ovation-north/latest.png - Aurora Oval
http://www.spacew.com/ - solar wind speed and Bz tilt
Glen Chapel Cloud Time Lapse -
NEW
4K time lapse video of Glen Chapel located outside Maghera on August 3rd filmed with Go Pro Hero 4 Silver on time lapse mode with a frame captured every one second. It was a rare beautiful day with clear blue skies and passing sunlit cumulus clouds which provided great depth and contrast so I just had to film the scene. The soundtrack is 'God Is In The House' by Nick Cave & The Bad Seeds. Best watched at full HD.
Noctilucent Cloud Gallery Update -
NEW
The Nightskyhunter Noctilucent Cloud Gallery is now updated. This gallery features a selection of my favourite NLC images from 2005 to 2015 captured using old point and shoot cameras, bridge cameras, and modern DSLRs, this is a very small selection of the vast number of NLC images I have in my collection however the imagery in the above gallery showcases my favourite encounters and the more photogenic displays I have witnessed during this 10 year period. Two new images can be seen on the gallery taken with my bridge camera in 2007, these were taken before dawn in the Maghera countryside with the delicate honeycomb NLC whirls glowing over a field covered in mist and fog before the nocturnal NLCs were washed from the sky by the advancing dawn, this morning was a treasured memory, NLCs and warm summer nights the way they should be.
* The current NLC season has been dreadful thanks to many cloudy nights and poor NLC frequency and caliber and although the season is winding down - ending late July or early August - one can still get a nice display after sunset and before dawn and perhaps even an impressive display too so keep watching the skies just in case.
Enniskillen Low Topped Supercell & Tornado Attempt Report -
NEW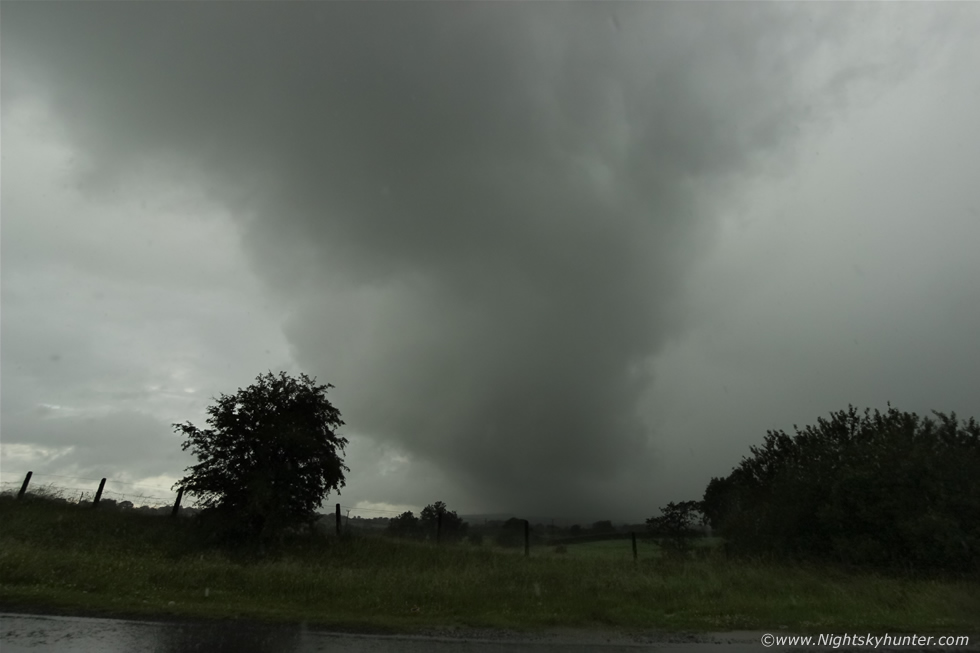 July 6th 2015 turned out to be the most thrilling chase day of the season to date when a warm sector low-CAPE high-shear set-up generated a risk of tornadoes across Ireland and even low topped supercells. I took my Mother chasing and between 17.30 and 17.45 UT we encountered a low topped supercell with incredible large scale rotation with a tornado in the form of a rotating wedge trying to plant on the edge of Enniskillen, as we watched in awe a hook echo formed on radar as cloud and precip with a possible wet RFD swept across our field of view. The chase then took us to Omagh where we encountered a dramatic rotating updraught base and punched a core of intense rainfall with weak ground circulation embedded within. Over 8 hours chasing this day and the closest I have ever come to a strong tornado forming in this country, a day I will never forget. Mostly video grabs used to document this chase. One page report with 25 images & 2 video clips. - REPORT.
Monea Castle Time Lapse -
Update
The sky has been extremely quiet lately hence the lack of updates thanks to a lack of storms and a lack of clear nights, however in the meantime check out the above time lapse video I made last week when Roisin and I visited Monea castle during a day trip to Co. Fermanagh (we actually visited three castles this day). The timing was good because for once we had a day of lovely weather and perfect light so I set-up the Go Pro Hero 4 Silver and did several wide angle time lapse segments at 4K. The sunshine, blue skies and white fair weather clouds really made for a beautiful scene.
Radio Interview On The Shaun Doherty Show -
NEW
I did a live interview on Wednesday afternoon on the Shaun Doherty show for Highland Radio in Donegal. We had a chat about storm chasing, the recent lightning footage I captured and funnel clouds. I uploaded the audio onto youtube so if you wish to check it out here's the clip.
Benbradagh & Garvagh Thunderstorms & Close Lightning Report -
NEW
A fun storm chase with Roisin on July 5th 2015 watching two thunderstorms from the top of Benbradagh near Dungiven. The second storm was observed from birth as it built cloud by cloud into a cell with a large textured updraught base which then began rumbling and producing lightning. We chased the storm N and punched through its strong precip core of rain and hail then encountered twin close range rapid fire lightning bolts striking the ground outside Garvagh, the cell then went on to cause flooding and damage to a bridge in Ballycastle. A 7 & 1/2 hour storm hunt which finally broke the long thunder drought. One page report with 12 images and 2 video clips with time lapse footage. - REPORT.
Extremely Rare Summer Twilight Aurora Report -
NEW
On June 22nd/23rd 2015 multiple CMEs impacted the Earth's magnetosphere generating a freak G5 geomagnetic storm peaking at KP9 with a Bz tilt of almost minus 40. Despite the severe challenge of seeing anything at all through the intense Summer twilight sky this close to the Solstice I was astonished to witness several naked eye aurora beams over 40 degrees tall slowly meandering through the twilight arch in ghostly fashion from a hill in the Maghera countryside. This was an extremely rare event which I haven't witnessed in over 18 years of aurora watching and to also get it on camera made this an unforgettable memory and the highlight of the Summer night sky this season to date. Also included is a wall-cloud type lowering under the base of a storm cell over the fields adjacent to Maghera on June 24th exhibiting keen inflow motion. One page report with 4 images and 1 time lapse video. - REPORT.
N. Ireland Storm Chasing Image Reports
Astronomy is not the only subject I'm interested in. One other such area is severe weather which will be playing a major role on nightskyhunter from now on in conjunction with my other astronomical pursuits. Check out my new N. Ireland Storm Chasing section and view the chase reports and images which detail not only storms but other phenomena such as a moonbows, noctilucent clouds and aurora displays.
Martin McKenna