LATEST SKY EVENTS
Updated January 18th 2017
Glenshane Pass & Benbradagh Drone Footage -
NEW
Update following on from the previous post featuring snow imagery from last week. Overall the snow event was disappointing with nowhere near the levels predicted by the models and severe weather warnings, however snow still fell and mountain areas fared the best for distribution. I spent two days on Glenshane Pass and Benbradagh Mountain and obtained aerial footage, maximum depth was 2cm so not a large amount however coverage was good and the view looked amazing from above. This is Glenshane Pass, as you can see the main road was fine but the hills had a covering which looked beautiful. When I landed my hands and fingers were completely red from the cold, I suffered pain and discomfort for 20 min's after the flight thanks to holding the cold controller, but it was worth it.
Benbradagh, January 12th, even with a few cm this mountain looked stunning and the drone really did justice to the scene. Some of this footage, and the Glenshane footage, was featured on the main UTV news on Friday evening.
Benbradagh, January 13th, golden hour, too windy all day however after 15.00 the wind eased so my Mother and I made a dash for the mountain once more and got lucky. The wind was dead calm and the cloud parted at golden hour producing warm colours to compliment the freshly fallen snow, the combination of low sun angle, snow, and mountain cloud made for a stunning scene. Hope you enjoy the footage, thanks for watching.
Snow Chasing & Benbradagh Moonlit Snow Scenes -
Jan 12th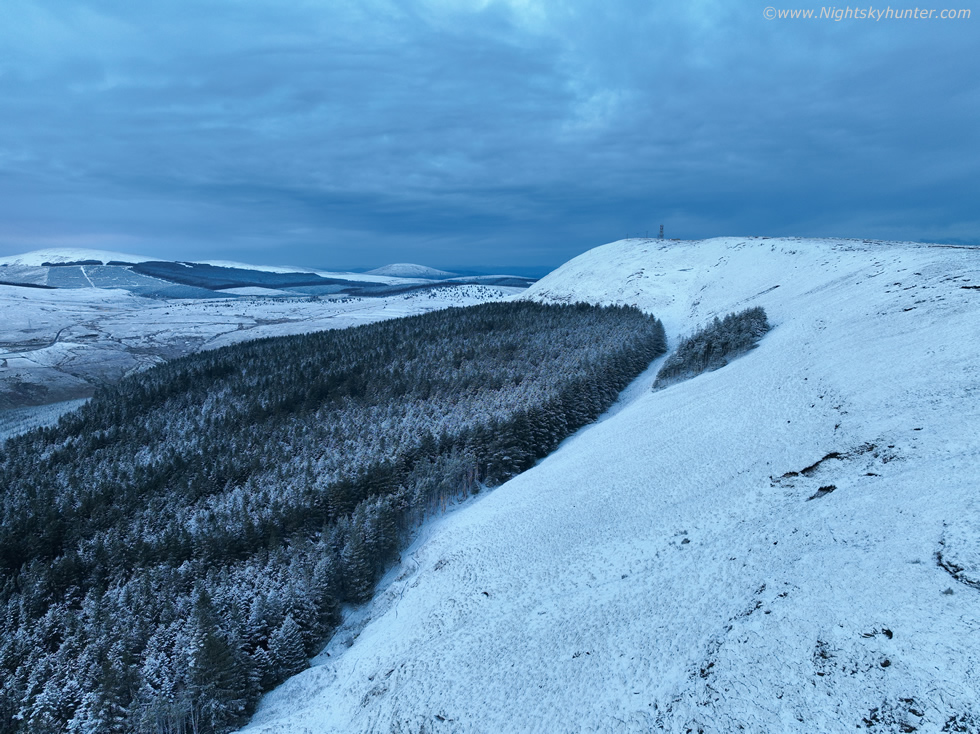 First Winter storm chase of 2017, there was a lot of hype with it for decent snow falls, blizzards, ice, thundersnow and more with plenty of warnings in place due to freezing Canadian air, I couldn't wait to get out in the action. I woke up to falling snow on Thursday morning, it was snowing heavily in Maghera and I mean heavy, full on snow with big flakes with bad intent, I knew that if this caliber of snow was to continue through the day, and it was forecast to do so, then there would be trouble later at rush hour. I had breakfast, defrosted the van and scrapped off snow and ice from the windscreen and lights then hit the road, in Maghera at 10am the temp was ready -4C. I arrived on top of Glenshane Pass where I would spent much of the day, I was disappointed to see a good dusting, I was expecting much more, however I suspected that would come later. Snow is snow, I was delighted to see any at all after such a quiet Winter, it was beautiful, it felt great to be out in the action. Facing E from Glenshane Pass, that's my tyre tracks where the van slid before coming to a stop.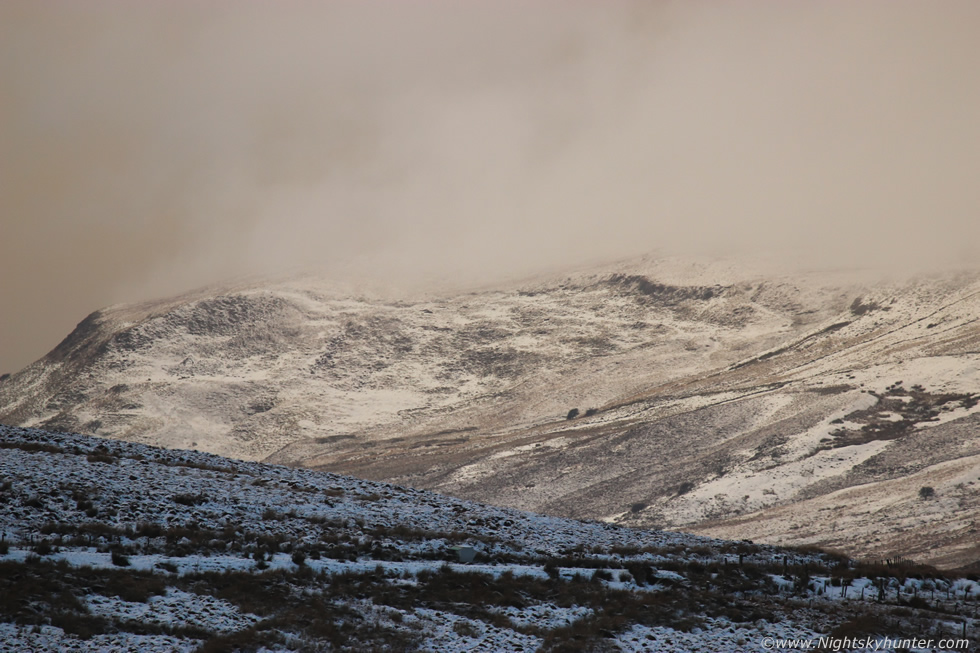 Late morning brought a few more heavy snow showers, I have a thing for capturing traffic driving through snow, especially trucks. Leaning out the window here with the 50mm F/1.8 lens taking stills and video footage.
The forecast was for strong winds and blowing snow so I never expected to get flying at all, however much to my delight I got treated to relatively calm conditions, at least at ground level, so I was able to fly the drone. Freezing cold though, had to warm the battery up to 15C before filming, simple climb straight up to look down on Glenshane Pass. My PC screen might need calibrated, I see the highlights blown out here on the right, however on my tablet and on the lap top it looks completely fine, what a view though, I recorded video of the same scene which I will post later. I went back home, got some warm soup and tea and left over Christmas cake then hit the road once more, I took my Mum with me to show her the snow. This time we drove to Benbradagh mountain outside Dungiven, the scenes were beautiful there, this mountain never lets me down. We had a walk and I did another drone flight so that's another drone snow video I need to edit. The sun came out and the light was beautiful, pristine snow, blue polar skies, perfect scenes. There was only 2cm of snow here but at least it was laying, met a guy skiing down the mountain, he would later appear on BBC Newsline, I got a quick video of him with his permission. Helped a driver out who got snagged on a wire fence due to sliding on the road then scouted the area for a photo shoot later in the night.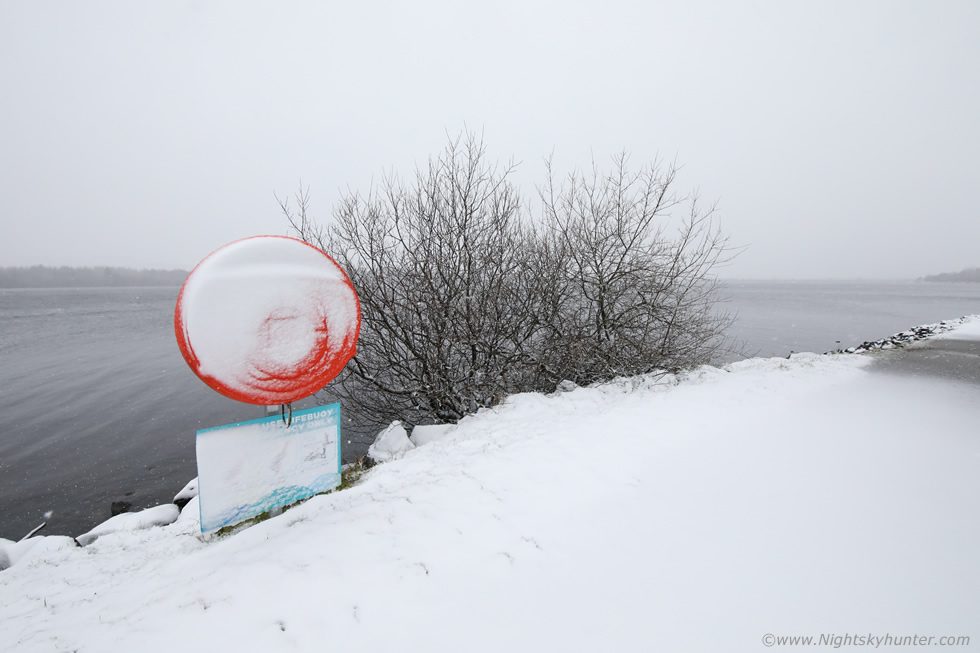 After dark I teamed up with John Fagan for a moonlit photo shoot. Radar showed a lot of snow showers coming in and with a full moon the scenes had epic potential. We met on Glenshane however we were under nonstop cloud cover, furthermore there seemed to be a thaw on, temps of +1C on this mountain, that wasn't good, we suspected the cloud cover was suppressing the cold temps. Snow was falling in small flakes yet we got pounded by intense hail showers. We decided to get to a higher elevation to get the best snow so we drove to Benbradagh Mountain again, parked and waited. Suddenly small gaps appeared in the cloud and the moon waxed and waned in brightness through the clouds, John and I grabbed the gear and hiked across the snow covered landscape to get our images while the light was improving. The trees and mountain made for a great combination.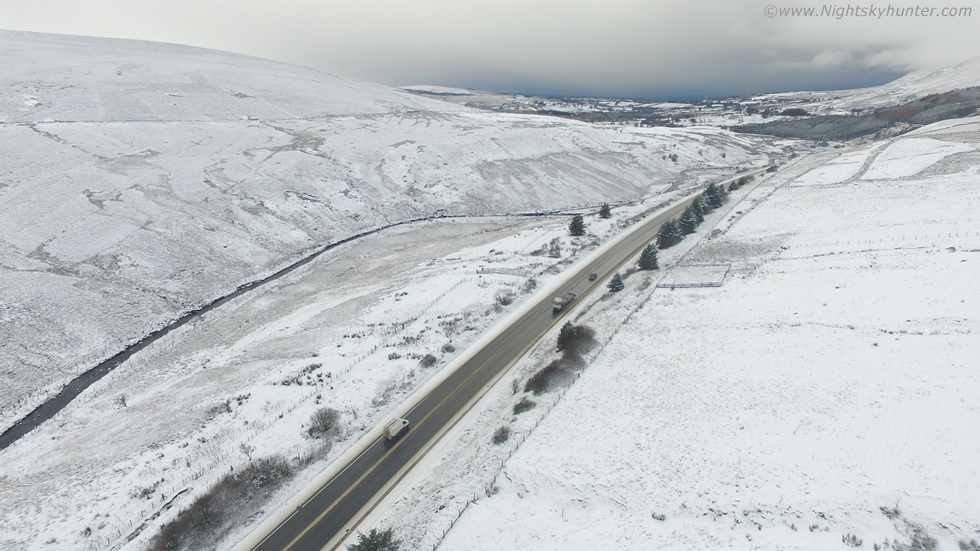 These first three were at 10mm wide angle, stopped down a little. The moon came out with twinkling stars just as we where in position and all went well, I love the trees here.
That's the peak lit by moonlight, John and I were in our element here, such a joy to be out in snow with the stars and landscape lit by our own satellite.
These last two are my favourites, taken with the 18-55mm kit lens, Benbradagh, moonlit snow, trees and circumpolar stars, I was loving every minute of this, kneeling in the snow in the zone framing the Winter landscape, I was so engrossed I didn't even feel the bitter wind blowing across the mountain.
Although the forecast didn't live up to my expectations I was still happy to have got out chasing and experience the snow first hand and make use of what I had. Two drone flights over snow was a pleasure, I loved driving in the snow, then the sublime beauty of the moonlit snow scenes, I'm content enough until the next adventure. Thanks for viewing.
Downhill Beach Organized Thunderstorm With Stacked Shelf Cloud Report -
NEW
The 2016 storm season ended in spectacular fashion on Aug 25th when John Fagan and I chased a huge organized multicell thunderstorm in a highly sheared set up which allowed for explosive thunderstorm development after a late afternoon cap break. We intercepted the storm at Downhill Beach where we had the luxury of watching the storm build from the west while crawling towards us forming a spectacular stacked shelf cloud with pink lightning flashing away. This storm became our fourth night time thunderstorm of the season with a bombardment of c-g and in-cloud bolts lighting up the sky over the sea from the beach. This storm would become famous for sporting the best shelf cloud ever seen from N. Ireland. One page report with 15 images and 1 video clip. - REPORT.
2016 N. Ireland Storm & Weather Video Presentation -
NEW
Convective Adventures - 2016 video presentation featuring footage of storms, weather and night sky phenomena captured from Ireland/N. Ireland throughout the year using my Canon 600D DSLR, Go Pro Hero 4 Silver and Phantom 3 Advanced drone. This presentation is almost 27 min's in duration and edited with a relaxed slow pace in mind as the video takes you through many of my adventures, photo shoots and storm chases which made for a fantastic year, in fact, this was the best year for storms I have witnessed since 2009 with 2016 surpassing even that active season which included an abundance of day time thunderstorms and four night time lightning events. These events are complimented by footage of sunsets, funnel clouds, aerial rainbows, snow aerials, snow devils (a first for me) and even extremely rare PSCs or Polar Stratospheric Clouds better known as Nacreous or Mother Of Pearl. If you keep watch on the lower left corner you can read the location where any particular clip was filmed. Make yourself comfortable, turn down the lights, grab a brew and watch at 1080P full screen. I hope you like it, thanks very much for watching.
N. Ireland Storm Chasing Image Reports
Astronomy is not the only subject I'm interested in. One other such area is severe weather which will be playing a major role on nightskyhunter from now on in conjunction with my other astronomical pursuits. Check out my new N. Ireland Storm Chasing section and view the chase reports and images which detail not only storms but other phenomena such as a moonbows, noctilucent clouds and aurora displays.
Martin McKenna