LATEST SKY EVENTS
Updated August 19th 2017
Star Trails -
August 16th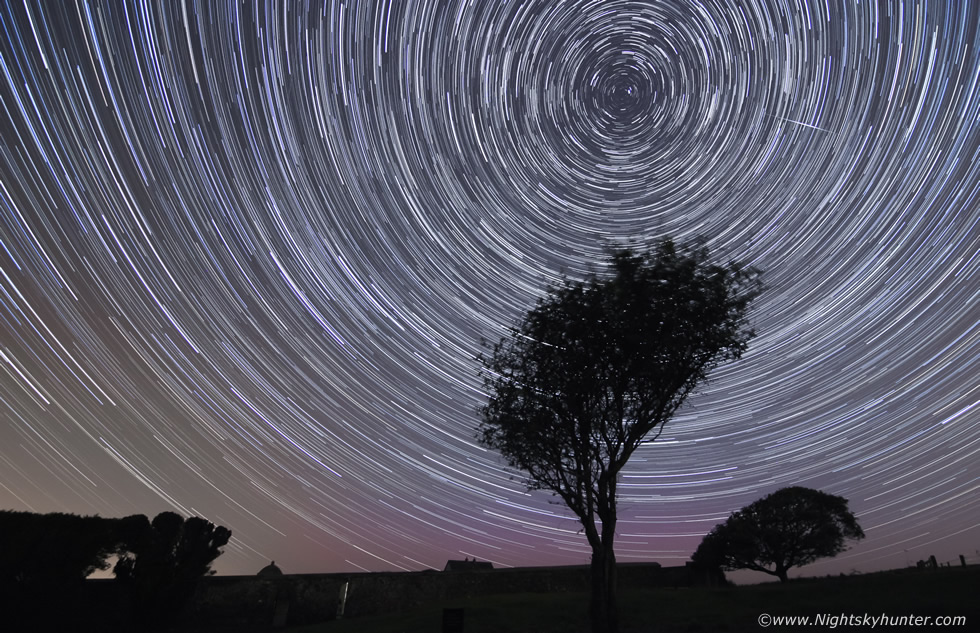 August 16th promised to be an exceptionally clear night so I planned a photo shoot at the north coast with the intention of shooting star trails or time lapse, there was also a chance of aurora activity from a solar wind stream and fold in the heliospheric sheet which made for a third reason to get shooting. I met up with photographer Nigel McFarland from Aerialvision NI and spent the night taking advantage of this exceptional clear sky. This was perhaps the best clear night I have seen in months with not a single cloud in sight complimented by exceptional transparency. Our original position was on high ground however the wind was so strong our tripods shook ruining any chance at shooting trails, so we drove to lower ground and decided to try out the car park at Downhill Estate. That area was sheltered and the wind died down to a nice gentle breeze, I ended up shooting two star trail sequences. This was the first shot during the dark period of the night composed of 130 x 30 second exposures. This isolated tree made for perfect foreground inclusion, you can also see an iridium flare to the upper right and the purple glow from a weak aurora display, this scene alone made the trip for me.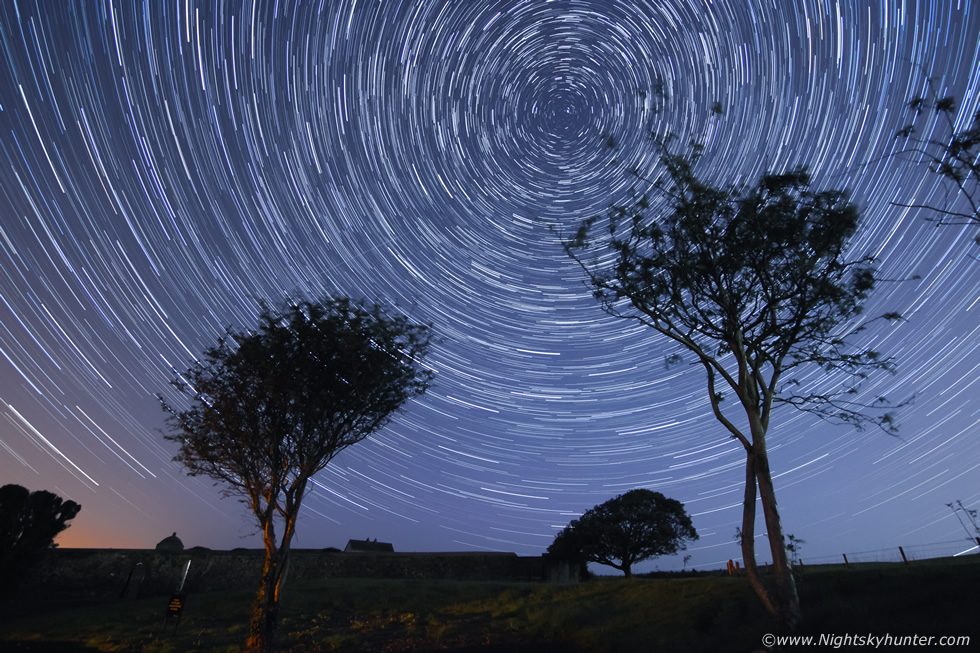 Second sequence of the night, this time captured during the transition stage between moonrise and proper lunar glare which made the colour temperature cooler, there's a faint satellite above the second tree. We observed quite a few late Perseid meteors and the sight of the waning crescent moon rising over the estate was really something with Jupiter shinning through one of the windows. Perfect night for photography including visual observing of the Milky Way, I was back home for 04.30, I hope to get a few more night shoots done soon if the weather obliges.
Beautiful Multicell Storms From Gortmore Viewing Point -

REPORT
August 1st 2017 looked like a good day for chasing with moderate CAPE overlapped by decent wind shear. Cloud killed inland convection during prime heating time so I decided on a chase to the N coast where blue skies and hot sunshine might trigger convection. During the late afternoon sea breeze convergence generated a beautiful multicell thunderstorm which built over Co. Donegal before moving out to open sea. The sheared updraughts on this storm were huge and catching full sunshine while being surrounded by blue skies. This cell sported explosive updraught development and even formed a shallow wall cloud over the sea while producing distant rumbles of thunder making for a very photogenic day. The sight of this storm from Gortmore Viewing Point against a backdrop of Lough Foyle, Donegal, Benone Beach and Magilligan Point was simply stunning. One page report with 16 images and 1 video clip. - REPORT.
Storm Clouds & Lough Foyle Ferry -
August 15th
Quick update, I was doing weather photography at the north coast on August 15th and ended up at Lough Foyle to watch the convective showers which where passing through the area. Big downpours and black skies were turning Summer to Autumn in seconds, the cells were back building sheared multicells and looked mean as they passed through with torrentrial rainfall and squalls hitting 20 knots. During a break in the rain I spotted this massive cell moving R to L across Lough Foyle so I got my drone in the air for a better perspecive, this was 70 altitude hovering in 17 knot sustained winds, the Lough Foyle ferry Frazer Mariner was just leaving Magilligan Point which served as excellent subject matter and presented a nice sense of scale. I also have some short video footage which I will edit soon.
Perseid Meteor Shower Results -
UPDATE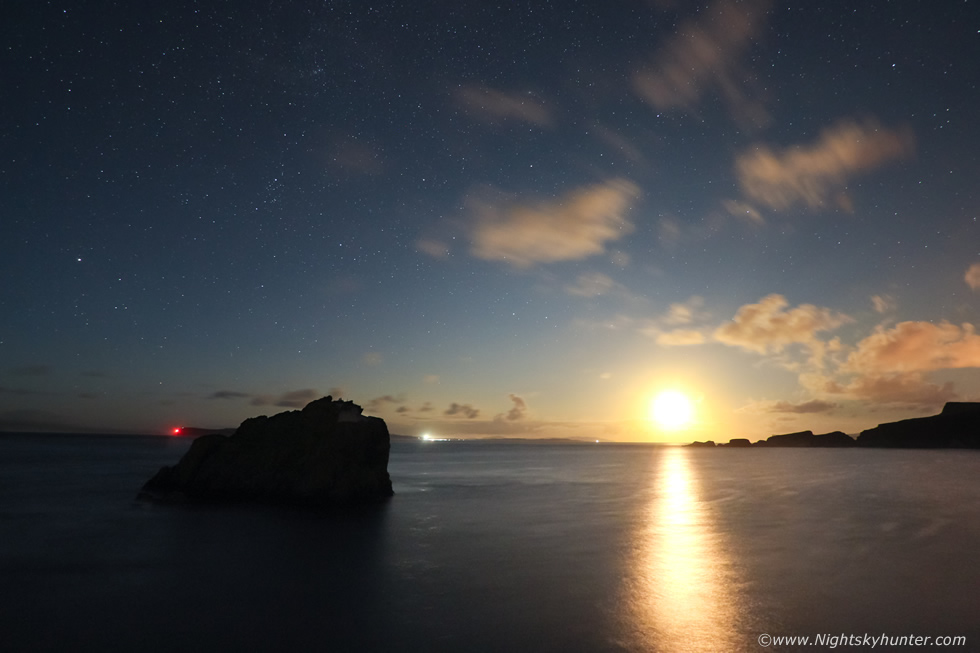 It's not often that clear skies and the peak of a meteor shower coincide on the same night however that was the case for the 2017 Perseid meteor shower. My Wife Roisin and I teamed up with Paul Martin and Tracy Sharkey to watch the event, we all left early during daylight and had just enough time to get a meal then a drone flight in before sunset then relocate to a location at the north coast away from the crowds where we would spent much of the night. With the exception of a few cumulus clouds the sky was completely clear and transparent all night long. The first two hours were quite fruitful however after moonrise the rates dropped somewhat despite the radiant climbing higher in the NE, we believe the declining rates were not so much the moonlight but the actual activity itself waning based on our visual observations. Nonetheless we had a great time observing, all four of us were relentless as we scanned the skies and kept an accurate verbal update of the count and made accuracy our prime objective. Moonrise was stunning, out of nowhere a large orange distorted sphere appeared on the horizon then slowly climbed in height, this was the moon's glitter path lighting up the Atlantic Ocean and pointing straight at us which was a magical sight.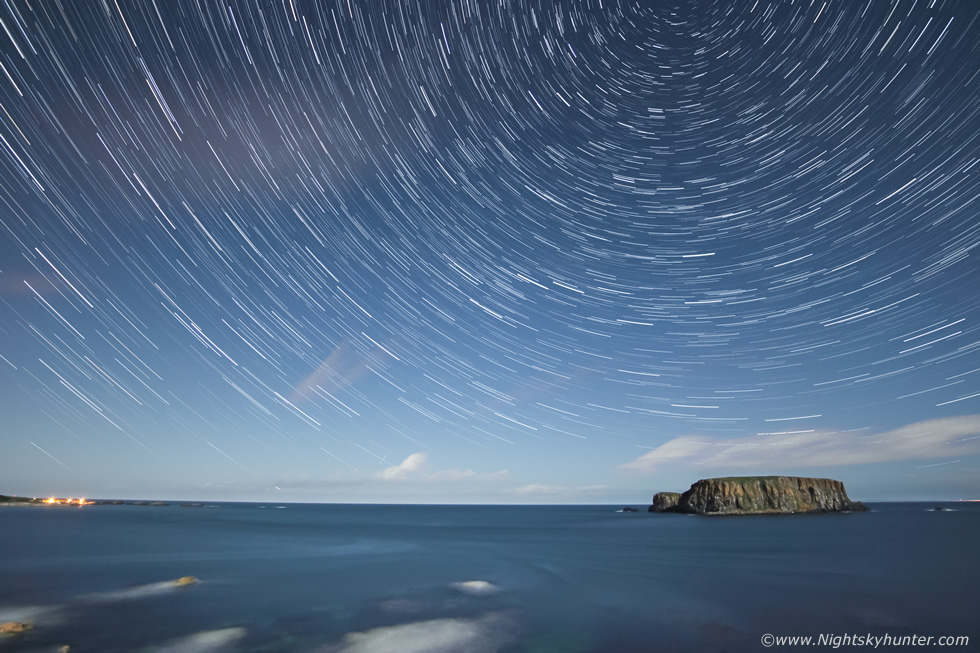 I took approximately 600 patrol exposures, I wasn't shooting for time lapse or for star trails - although in hindsight I wished I had shot for the latter - catching Perseids on camera was extremely difficult, I decided to cast my net wide and shoot with my 10mm fast lens, however it would take a very bright Perseid to show up well on camera, you can see one above the horizon to the left of centre here, and this was bright enough visually. I used some of the patrol images to make star trail segments to reveal the beautiful seacapes we had.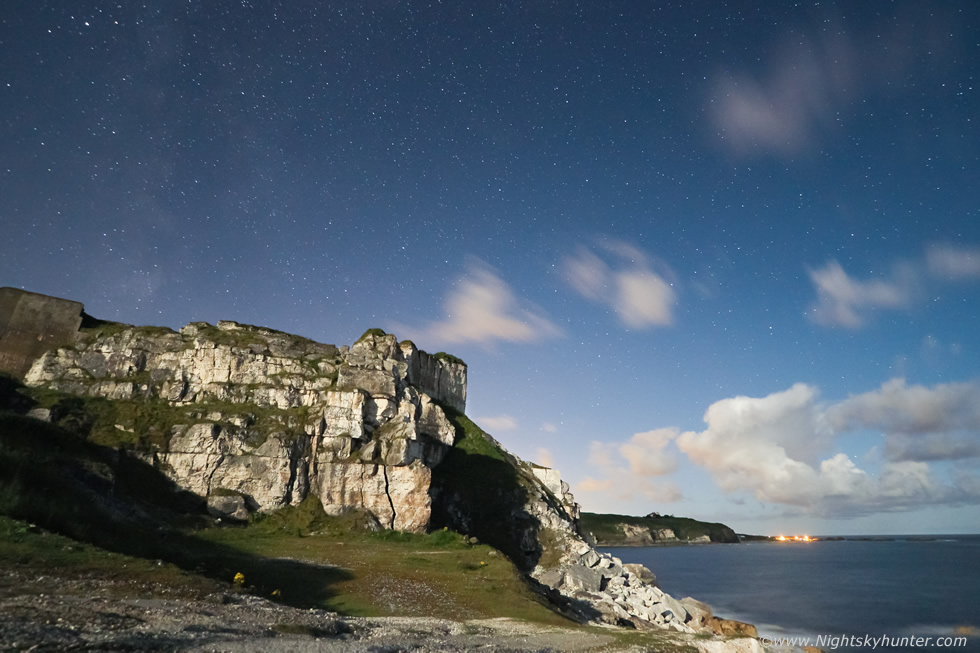 Moonlight can hamper aurora displays and meteor showers however it's an amazing asset when shooting nightscapes, the moon is nature's light painter, it often looks like daylight in long exposures and reveals colours the human eye wouldn't see otherwise on a moonless night. Great landscape here, we saw many Perseids over this formation and to the right, however I never got any on camera here, they really needed to be brighter, but it was exciting shooting this sky sector watching and waiting and hoping for the big one which would surely appear at any moment.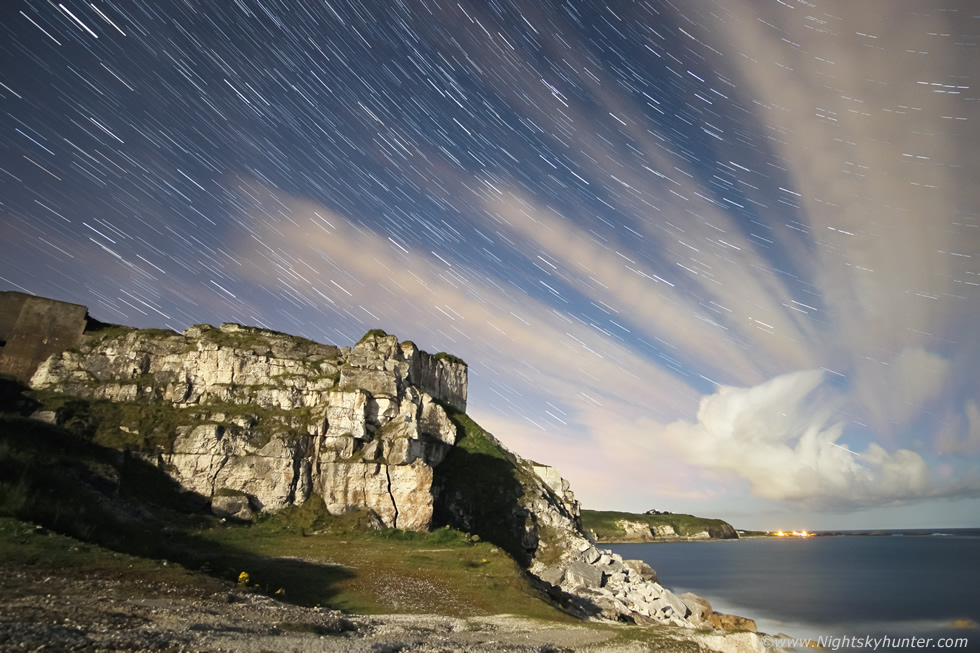 Star trail made from a combination of patrol images. We observed from 22.30 to 03.00 BST and observed 236 Perseids, however we never once saw a fireball which I thought was most unusual for a respectable annual meteor shower. Despite this we got an excellent count and enjoyed the challenge while benefiting from the peace and fresh air at the coast. There will be more fireball prone meteors to come in the months ahead, the Taurids, Leonids and Geminids will be the star attractions this year so lets see what happens closer to the time.
Drone Footage Of Wind Turbines In Transit Via Mar-Train Haulage -
NEW
Drone Flight 518. August 10th 2017, two different flights edited together from several locations along this stretch of road. Three trucks carrying wind turbine components via Mar-Train Haulage crossing the narrow country roads on the hills outside Garvagh, they made for a striking sight on this beautiful countryside in wonderful light. Drone within visual line of sight, spotter assisted flight, max altitude 120m, max range 508m, minimum distance to turbines approx 63m, thanks for watching.
Stunning Storm Structure Over Coagh - Brand New Image Report -
NEW
Detailed report documenting two chase days on July 30th and 31st 2017 with my Wife Roisin. Day 1 was a pulse storm day when we intercepted mean looking convective cells at Benone beach bringing heavy downpours and time lapse opportunities. Day 2 was the climax of the season when we got under the core of a midday storm over Glenshane Road which produced the best mammatus display I have seen in years. By late evening a new organized storm moved into Co. Tyrone with 40 knots of deep layer shear which we chased all through the back roads from Cookstown to Coagh then to the shore of Lough Neagh, this chase produced the best storm structure I have witnessed in two years with a massive solid gust front lit by the low evening sun passing over the fields and a farm house while rumbling with thunder offering us a perfect photogenic treat. One page report with 22 images and 1 video clip. - REPORT.
Beautiful Lough Beg Noctilucent Clouds & Magilligan Golden Sunset Image Report -
NEW
New report documenting two nights of NLCs on June 30th and July 2nd 2017 and a beautiful golden hour sunset across Lough Foyle from Magilligan Point. The June 30th NLC display is the main focus of this report when Paul Martin, John Fagan and I teamed up on a beautiful clear night and got treated to a stunning all-night long type 4.5 NLC display which we captured from a country road near Lough Beg then over Toomebridge. The NLCs boasted beautiful herringbone, band, and whirl structure which could be seen moving in real time with the naked eye illuminated in electric blue contrasting against the twilight sky above a bed of yellow horizon haze making this the best NLC display we have witnessed in the last two years. One page report with 11 images and 1 time lapse video. - REPORT.
N. Ireland Storm Chasing Image Reports
Astronomy is not the only subject I'm interested in. One other such area is severe weather which will be playing a major role on nightskyhunter from now on in conjunction with my other astronomical pursuits. Check out my new N. Ireland Storm Chasing section and view the chase reports and images which detail not only storms but other phenomena such as a moonbows, noctilucent clouds and aurora displays.
Martin McKenna