LATEST SKY EVENTS
Updated May 20th 2017
Convective Outlook UK & Ireland -
Saturday May 20th
VALID 06:00 UTC Sat 20 May 2017 - 05:59 UTC Sun 21 May 2017
ISSUED 18:01 UTC Fri 19 May 2017
ISSUED BY: Chris
Upper trough axis will spread eastwards out of Britain during the morning, although an unstable airmass will remain across many areas into the afternoon. This in combination with an eastward progressing occluded front could help to trigger widespread scattered showers and a few thunderstorms. The timing of the trough axis clearing before max heating will reduce the risk of lightning into the afternoon across central and eastern Britain, despite there being some sharper convection. Pinpointing which showers may produce a few lightning strikes will be difficult, thus such a large low end risk. An update will be issued if model trends are able to highlight more detail Saturday morning. Source: Convective Weather
Bust Chase But Distant Funnel Cloud -
May 18th
Thursday's chase turned into a bust for me until late in the day. I hit the road during the early afternoon with the intention of targeting NW, N then NE regions. Showers broke out to the west with red cores and looked good on radar despite their non-sheared nature. I intercepted a strong hail shower outside Coleraine, I was impressed by how long it lasted due to the cell's slow motion, it really hammered the area and saturated the roads. I then relocated to town centre and got wifi in a cafe which showed similar cells to the west of Lough Neagh and Ballymoney with red radar signatures, most of the cells seemed to be heading NE to that general direction. So I chased to Ballymoney, got on those cells and watched from the back roads, I was very disappointed, the cloud bases were extremely high, bases were dark and mushy with scud sinking, the cloud tops were low and mushy too, the convection seemed to have no life at all and even worse it was extremely unphotogenic, I had spent hours out already and was considering this day a bust, I drove back along Banagher road, into Kilrea then back to Maghera. Once I got online at home I was frustrated to see storms with c-gs all over Lough Foyle - an area I had been watching from earlier in the chase. I had given up at this point until late evening when I saw cells on radar along Glenshane Pass/Dungiven area so I gave chase once more. Once near Dungiven I spotted this very nice cell, the back end was white with decent towers slowly bubbling in the evening sunshine.
Spotted this nice rainbow base to the NE
I was monitoring cloud bases to the far west two hours before sunset when I immediately saw a funnel cloud emerge from a high base under a towering cumulus. I switched to the 100-400mm and got half a dozen images before it vanished, these are all crops. It was extremely easy to see with the naked eye and well defined under that base.
I watched it change shape through the viewfinder, it was slender at this point
Then broadened into a slender curve as I watched, it was fairly smooth too, classic funnel cloud induced by the slack flow and likely local wind convergence or even orographically induced.
Deep crop. Well that was a nice surprise, ok it was small, it was distant, however it was still a funnel cloud and my first catch of the 2017 season so I was well pleased to see it. Now I'm waiting on its big Brother to appear!
Glenshane Storm Chase -
May 17th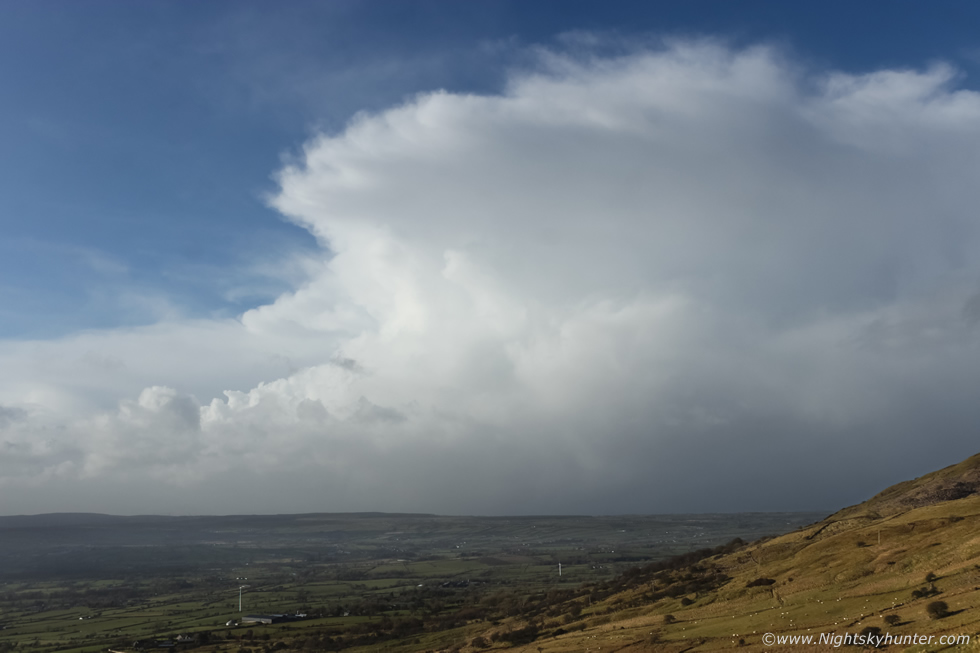 First storm chase in what has been a quiet season to date however the current change in weather pattern might provide me with several more days chasing this week. This day was almost not going to happen, CAPE was very low end, LIs were positive, charts were showing CIN/Capping so in theory unless there was a strong source of lift it seemed extremely unlikely there would be storms, there was however good deep layer wind shear present so if something could get going then it could be organized with rotation and funnel chances, however I never expected this day to even get that far. Showers broke out during the early afternoon however they looked messy with high bases and low cloud heights, then something changed by mid afternoon. A cell formed over Fermanagh, moved into Tyrone where surface heating was strong and suddenly this cell came to life, it had a classic sheared shape on radar not dissimilar to supercells in the States. It developed a red and white core over Omagh with precip vented for miles downwind, it slowly moved NE heading for my area, however while doing so it broke the cap and produced thunder/lightning over the southern Sperrins, it remained organised for approximately 2.5 hours!
I drove to Glenshane Pass and spotted it miles away to the SW closing in slowly, I spent a long time observing the base through the long lens and 25x70mm binos, the base was close to the ground and I could see new towers back building behind the main tower, the soft anvil was blowing for miles to the NW, it was quite cool to see. Once it approached Glenshane I observed vigorous inflow motion with scud rising and churning under the base for a long time at close range, it looked like it was trying to produce a funnel but couldn't quite get there, it was clear the area was an obvious convergence zone also. The above image is of the sheared Omagh cell, moving L to R, that's the low base close to the ground.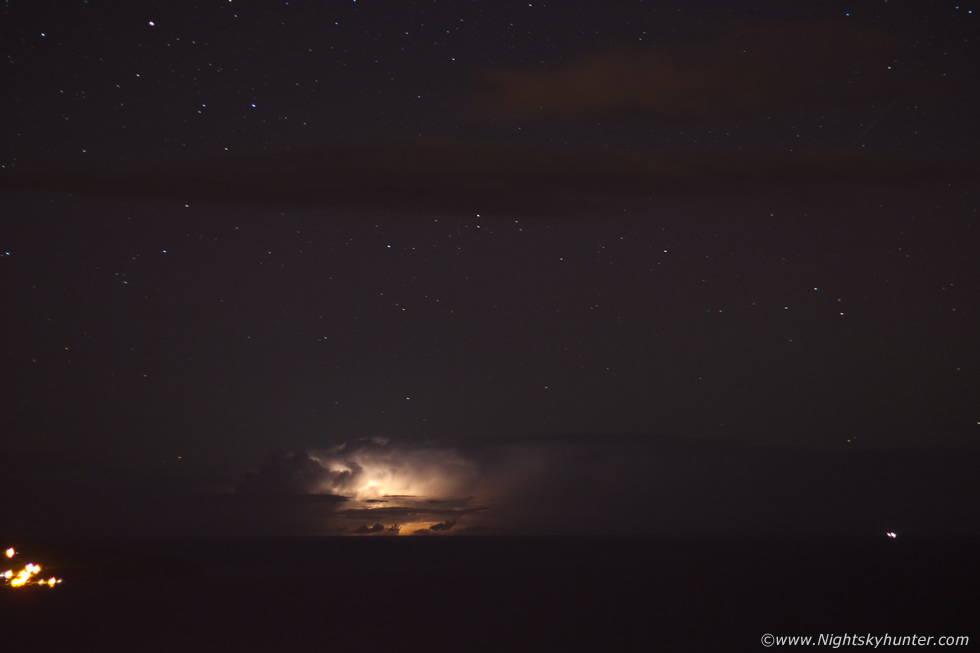 More cells formed in the Glenshane area so I spent the afternoon observing and shooting them. This was facing N at the back end of another new cell which rapidly formed, you can see the menacing looking updraught base over the fields. Hail was falling in streaks from it's core and from the rear I watched the base for funnels.
Photogenic catch of the day, a new single cell pulse storm shot up over the fields not far from Maghera, I shot this from Glenshane Road, moving L to R, the cloud tops actually were very high, I got a Go Pro time lapse done of this which I must work on tonight. A fun local chase today, maybe Thursday will produce something else photogenic and with luck the unsettled pattern will produce more storms in the near future.
Beautiful Sea Fog Inversion On Binevenagh Mountain Image Report -
NEW
On May 7th 2017 My Wife, Mother and I decided to head to the north coast for what looked to be yet another stunning sunny day with clear skies. Upon arrival on the NW coast we were shocked to find ourselves in a world of low fog, dark skies, poor visibility and cold temps with no ocean in sight. A NEly breeze had formed a sea fog temperature inversion which blew inland covering local coastal regions. We decided to drive to the top of Binevenagh mountain where we emerged on top in a clearance and had a spectacular experience looking down on the white fog blanket covering the valleys and Lough Foyle. The view was beautiful and almost heavenly. One page report with 11 images & 1 video clip. - REPORT.
Dramatic Foyle Sunset & Massive Coal Carrying Ship -
May 16th
I had made several trips to Donegal last week around the shore of Lough Foyle taking in the sights. On my way back I got treated to a dramatic sunset event on the south side of the lough outside Ballkelly. Every day we had been treated to clear blue skies and sunshine however this day was seeing a change taking place in the form of an elevated showery trough moving from SW to NE (L to R on image), the cloud shield ahead of the rain was pushed well ahead of the precip and once it reached Lough Foyle the setting sun illuminated the cloud from below creating this fantastic scene, this was 10mm wide angle, you would be forgiven for thinking this was a sunset anvil on a big storm on the great plains. This same night a huge coal carrying bulk carrier arrived at Lough Foyle all the way from South Africa called IVS Swinley Forest at 200m long with a dead weight of more than 60 million tonnes, despite the low light and the fact it was dusk I did some aerial filming in this atmospheric light, then returned the following day to capture the same vessel in daylight, check out the videos below. Later this week I could be undertaking several storm chases so stay tuned for updates.
Drone Flight 450. May 11th 2017, this is the IVS Swinley Forest, the largest bulk carrier to enter Lough Foyle in 2017 to date at 200m long carrying coal from South Africa, she is a brand new vessel only built this year and I had been tracking her progress for a week or more with the intention of filming her arrival. She was due in on May 11th, the day looked nice and sunny and warm however the wind would be a 10-15 knots SEly blowing from land to sea which meant I would be fighting a strong head wind back to shore and would likely loose my drone. My game plan was to drive through Derry/Londonderry then get to the other side of the Foyle in Co. Donegal where the wind would be face on then wait for her to come in, high tide would be 21.50 UT. I spent the entire day in Donegal under blazing sunshine and blue skies, the weather was fantastic, I even went on up to the high ground at Stroove and saw her anchored miles off shore, but she didn't look like she was moving anytime soon. I waited all day until sunset then decided I was beat, it was time to go home, so I drove back through the city then on a chance impulse decided to take the long way back and head to my usual side of the Foyle and check out the beach. This was approx 22.00 UT, the sun had set and the landscape was dark, it was dusk, then just as I rounded the corner there she was already coming in past the point, I couldn't believe it, I raced out of the car and got the P3A set up as quick as possible, I never thought I would make it in time. I did my checks then flew out across the water. It was almost night time, it was dark all around however in the west the twilight glow combined with the afterglow of sunset reflected on the Foyle illuminating the vessel, the light was wonderful and atmospheric, ship details...
Name: IVS Swinley Forest
IMO: 9736080
Flag: Singapore
Gross Tonnage: 34157
Dead Weight: 60492
Size: 199.99m x 32m
Built: 2017
The light was extremely low, the drone was struggling to focus on the ship in such conditions, the camera was at maximum ISO and slowest shutter speed so I was asking a lot from it, however there was little I could do about it so I just got on with the flight enjoying every second of it. The lough was smooth and the wind has fallen dead with barely a breeze so I was very lucky, I tracked her out and let her sail pass the phantom then returned to shore making this a magical flight and one of my top five favourite ship intercepts, had I stopped at a shop to get petrol or a snack I would have missed her so it felt extremely satisfying to catch her after spending 11.5 hours on the road/location waiting for her to move. Drone within visual line of sight, extremely easy to see due to arm lights and range was short with the ship moving very slow which saved the day. The pilots ended up anchoring her at Moville Bay where they would begin off loading her coal into smaller ships this very night, thanks for watching
Drone Flight 451. May 12th 2017, this is the massive 200m coal carrier IVS Swinely Forest which had just arrived the previous night (see footage). This is a follow up to my previous video. Because of her 11.5m draught she couldn't make it into Foyle Port so she was brought to Moville Bay instead where they began off loading her cargo into two cargo ships (Arklow Forest & Cora Jo). I drove around to Donegal and flew out to the vessel to get more footage of her in daylight.
Name: IVS Swinley Forest
IMO: 9736080
Flag: Singapore
Gross Tonnage: 34157
Dead Weight: 60492
Size: 199.99m x 32m
Built: 2017
Overcast but very calm with occasional gentle 4 knot NEly onshore gentle breeze. One flight, stopped video on occasion to take still images also. Great signal, ship at close range off shore, drone within visual line of sight, proximity to ship greater than IAA 30m proximity rule, range 517m. Thanks very much for watching.
High Pressure & Sunny Weather -
May 5th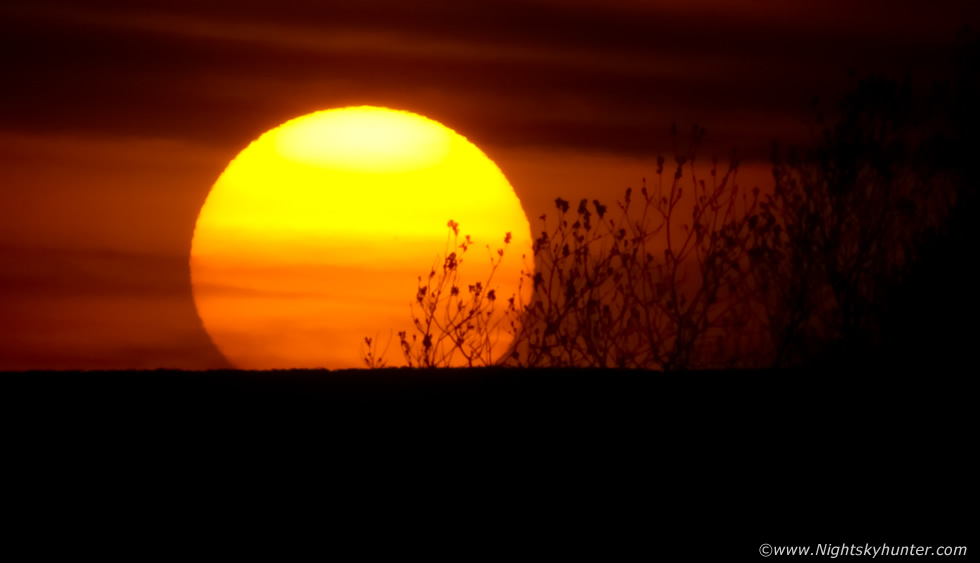 After what seemed like an eternity N. Ireland has finally been treated to a fantastic period of sunny weather. Prolonged high pressure introduced a week of settled weather, every day this week thus far has been sunny, warm with temps peaking at 20 degrees C complimented by completely blue skies with barely a cloud in sight. This HP pattern is set to continue for the rest of this week and over the weekend and perhaps even early next week until an unsettled pattern returns brining rain once more, however for the meantime it looks to remain dry with no rain in the forecast of significance in the north until next Wednesday (subject to model change). So make the most of it, get that much needed vitamin D and perhaps enjoy a BBQ and a walk in the fresh air out in nature. High pressure can also be a good time to look for good sunsets, especially so if there is any haze present on the horizon. This was Tuesday night at Lough Fea in Co. Tyrone, a good sunset event happened with glitter path reflecting on the water, however when the sun's disk came into view I immediately took interest, this was with the Canon 100-400mm lens and cropped in, the black line is actually the top of the Sperrins.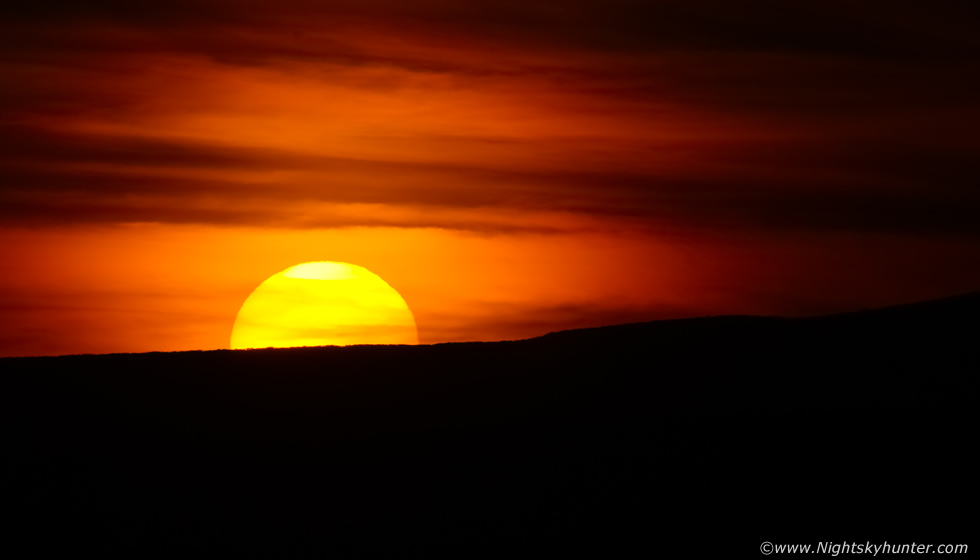 Solar disk setting behind the Sperrins in a bed of orange haze made for the perfect end to a beautiful day. Although I'm a big fan of stormy weather, particularly thunderstorms, I also greatly appreciate a good period of high pressure which generates clear skies, it's good for the soul, observing and also ideal for drone filming which is something I have been doing much of lately during daylight hours.
Wednesday evening, one hour before sunset at Downhill beach, this is a 22 degree sun halo, I managed to capture its reflection on the beach, this walker entered the frame making for a nice sense of scale. Preceding it was a stunning 22 degree W sundog (not on camera) which was the brightest mock sun I have seen in years.
Arctic Winds & Sand Blizzard At Benone Beach Image Report -

NEW
On April 24th 2017 an unstable Arctic air mass advected over N. Ireland bringing with it a nocturnal threat of hail and snow showers with a risk of thunderstorms along coastal areas. I teamed up with John Fagan and Nigel McFarland on Benone beach where we spent hours watching the skies. The convection refused to spark however the real action was happening all around us. 50mph Nly winds with convective gusts produced an impressive sustained display of blowing sand which looked like a desert dust storm which was extremely dramatic to watch. The report documents this aspect of the chase with video footage and stills to compliment the written account. Quite an exciting night of wind driven weather lasting until 02.30. One page report with 9 images and 2 video clips. - REPORT.
Nocturnal Storm Chasing, Causeway & Ballintoy Aurora Report -
NEW
New report detailing two days and nights on the north coast storm chasing and aurora hunting on March 20th and 21st 2017 with John Fagan and Glen Miles. The first shoot documented daytime hail showers from Portstewart followed by an after dark storm watch on Downhill beach in the midst of clouds, wind, sleet and snow showers, the highlight was an nocturnal back sheared anvil with mammatus followed by a severe snow squall which produced blizzard conditions on the beach. Night two was a glorious clear moonless night when a 600km/sec solar wind stream and CIR region generated a beautiful aurora display with several outbursts captured from the Giant's Causeway and Ballintoy Church making this the best aurora in almost a year of sky watching. One page report with 12 images & 1 time lapse video. - REPORT.
N. Ireland Storm Chasing Image Reports
Astronomy is not the only subject I'm interested in. One other such area is severe weather which will be playing a major role on nightskyhunter from now on in conjunction with my other astronomical pursuits. Check out my new N. Ireland Storm Chasing section and view the chase reports and images which detail not only storms but other phenomena such as a moonbows, noctilucent clouds and aurora displays.
Martin McKenna