LATEST SKY EVENTS
Updated February 27th 2015
Aurora Watch -
Feb 27th & 28th
A co-rotating interaction region/coronal hole induced solar wind stream is due to impact the Earth's magnetosphere sometime between February 27th and 28th which could generate aurora activity at northern latitudes and perhaps mid northern latitudes also if the interplanetary magnetic field tilts south so aurora photographers be on alert for sub storms, it's worth noting that some NOAA sites speculate that activity close to G1 rating might be possible too. The moon is now quite bright (waxing gibbous) which is something to keep in mind, not bright enough to wash the aurora out but with just enough light to help illuminate foreground in long exposure images. Check out the following links to gauge any activity...
http://services.swpc.noaa.gov/images/animations/ovation-north/latest.png - aurora oval location
http://www.spacew.com/plots.html - IMF/Bz and solar wind speed charts
Mullaghmore Night Storms -
Feb 23rd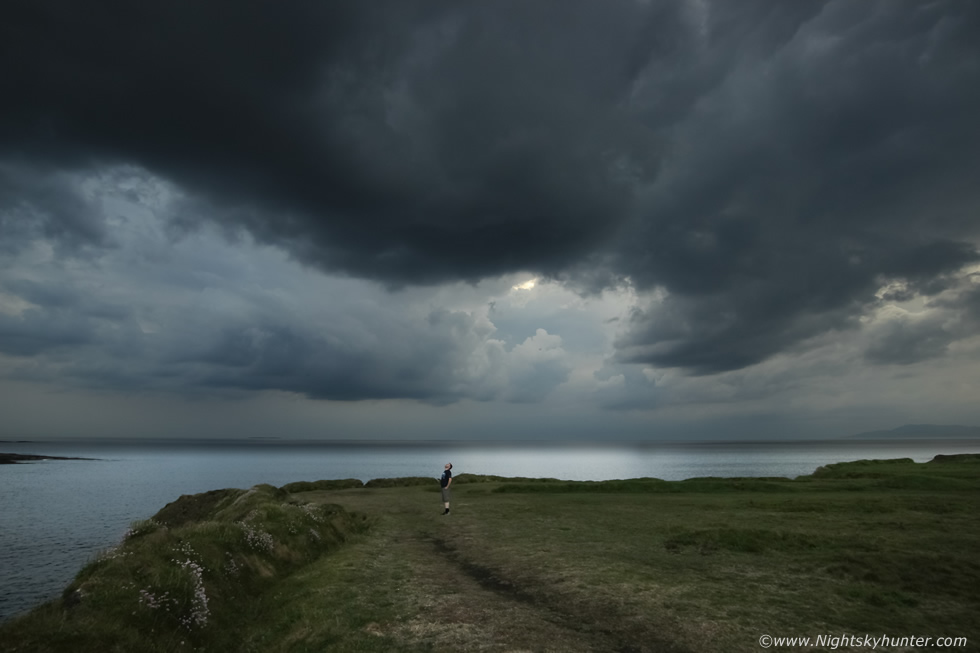 What a wild night this was!, ESTOFEX had a level 2 alert issued for N and NW Ireland - in all my years interested in storms I had never seen a level 2 - until now. This level was for convectively enhanced wind gusts and for cells/thunderstorms over the ocean and inland coastal areas capable of rotating updraughts (Mesocyclones) and tornadoes, a forecast like this couldn't be ignored so I skipped dinner after being out in the snow earlier then made a quick flask of tea and sandwiches, then I met up with dedicated photographer and storm chaser Paul Martin from Omagh who was also interested in chasing these night storms and like myself Paul had to go without any proper dinner if we wanted to get there at a reasonable time. The W and NW looked best with several hundred CAPE and -30 degree air aloft with a large trough moving in with sporadic sferics. It took me an hour to get to Omagh where I parked the van, then Paul took us the rest of the way in his 4x4 and after another hour we made it to the west coast of Ireland overlooking the ocean at a placed called Mullaghmore near Sligo.
We were rewarded as soon as our wheels stopped for on view to the W was a huge cell seen against a black sky with stars and an updraught back-lit by the waxing crescent moon. The tower was growing by the second and forming an anvil rapidly against the background rumbling of the sea. We both raced out and got our cameras set-up to shoot the scene - what a wild environment for photography this was - strong winds were blowing off the sea into us trying to knock our gear flat so we had to hold the tripods down with both hands in an attempt to keep them steady as the wind lashed at the cameras shaking our exposures while sea spray blew sideways into our lenses, the cold wind chill attacked all exposed skin however it was our hands which suffered the most, it really was difficult to be out in this and my new Samyang 10mm F/2.8 got attacked, it was without question Christened this night, it's amazing we got any images at all in these conditions. We observed a handful of distant lightning flashes near Galway and later got back out into the wind to shoot more cells on the approach. I was crouching down low near the camera and got blown off balance and onto my back three times and in the process lost my lens cap so we ended up driving back to search for it - we found it. There was an aurora outburst too however we never seen it properly because of thick cloud low in the N but we did observe a bright colourless enhancement marking the upper fringes of the display. Once the trough passed we headed back home, later while outside Magherafelt I saw another large flash of lightning light up the sky, I was back for 03.00. It was a challenging night with little in the way of photo rewards however it was still a great adventure and felt thrilling to get our first long distance storm chase in so early in the convective season.
This was earlier that same day when Roisin and I watched this mean cell with anvil approach across Dungiven heading for Benbradagh, it had a very dark core of snow and gusty winds when it hit, 10mm again and shooting directly into the sun.
I'm now also the proud owner of the Go Pro Hero 4 Silver video camera thanks to my Dad as a birthday present. I have always wanted one of these cameras for storm chasing and now I have it. This camera has opened up an entire new world of ultra wide angle high resolution video with time lapse and slow motion capabilities and I can't wait to apply to storms this Spring and Summer. I have been taking test footage, the above was taken on Feb 24th between Swatragh and Garvagh as I drove through a heavy hail shower which in places was turning the road white, the Go Pro was mounted on the windscreen and excelled in performance, filmed in 1080p at 60 frames/sec, best watched in HD for best detail.
Samyang 10mm Night Lens Test -
Feb 19th
Finally I got a clear night so I met a mate and drove to a rural location and spent several hours doing photography and testing out the new Samyang 10mm F/2.8 lens. We had to battle with passing clouds however there were enough clear gaps to get a few test exposures done, here are two sample images from that basic test. The above image is wide open at F/2.8, 10mm, ISO1600 for 26 sec's. I have to say I was rather blown away by the image quality of a prime wide angle lens, even at a first glance the image looked very sharp and contrasty, these are jpegs and were taken in the same format, I simply resized them and applied just a little noise reduction. The result is impressive, the image looks bright, punchy and more importantly the stars are perfectly in focus, in fact, the stars are pristine points of light and tack sharp. At image centre they are perfect and a deep crop to the upper right corner revealed astonishingly sharp stars to the edge of field, the stars here were better than on any other wide angle I have used for a crop sensor camera. When zoomed in close there's some gentle blue colour fringing to the left edge of the stars, however this is only seen when cropped in and is not noticeably at wide angle, the fringing is much better controlled than the other wide angles I have tested and can easily be removed.
A more clear interval, this was 10mm F/2.8, ISO1600 for 25 sec's, again being wide open which is really good, look how sharp and point-like those stars are within the Milky Way!!, this time I applied -29 with the blue colour slider in the lens section of lightroom which virtually removed all blue fringing from the stars at 100% crop, however if I hadn't of done this you would never have noticed it anyway at 10mm. I know I have made the correct decision getting this lens and believe it will be perfect for my astronomical and weather subjects. I haven't noticed any bad vignetting yet however I need to do more daylight shooting to check that and if there's any mustache barrel distortion, I will keep you informed if you are interested in getting this lens yourself.
Samyang 10mm F/2.8 Wide Angle -
New Lens
I'm now the proud owner of a Samyang 10mm F/2.8mm wide angle lens. Anyone who has been following me on facebook will know the story behind this however for those who don't I will provide a brief run down here. I currently use the Canon 10-22mm F/3.5 wide angle lens for most of my storm and night sky photography, however I have found that despite being a great piece of kit to have it was not a great performer in low light and at F/3.5 it was on the 'slow' side for astronomical subjects. I love this lens and have taken many images with it which I consider to be some of my personal favourites, however I found that for aurora I needed to use a longer exposure at ISO1600 often in the 35-40 sec range, this has a tendency to blur fast moving aurora forms like rays which need to be 'frozen' in the exposure in order to capture their structure, this requires a short exposure and the answer to that is either a higher ISO (I wouldn't go over 1600 with my Canon 600D) or get a 'faster' lens. So I decided it was about time I upgraded to a faster lens, I also needed a lens to compliment with hand held low light storm scenes too, the lens needed to be wide angle and at a decent price.
The answer came in the form of the Tokina 11-16mm F/2.8 lens, my mate had this lens and I saw what it could do first hand and was highly impressed and with a speed of F/2.8 it was perfect for what I needed and soon it purchased online with the intention of being my main Christmas present. It arrived and I opened the packaging with great excitement on Christmas morning, the lens looked nice however cloudy weather prevented me from using it for a few days. Once the weather cleared I hiked up a snow-covered mountain in daytime and got to take my very first images with my new lens, however when I did I was instantly disappointed. The lens was extremely soft and the auto focus was awful so I switched to manual focus and tried to focus on the mountain peak and it simply wouldn't focus at all, I thought I was doing something wrong so I waited until night fall with growing nerves and this time I mounted it on a tripod and using live view I manually focused on the stars, my fears were confirmed, this lens would not focus on the stars at all, the focus ring needed to move more to the right however it couldn't do so because of the lens housing, the stars were blobs of light with terrible blue colour fringing/chromatic aberration. I had to send it back, it took two weeks to get my return accepted on ebay then I had to pay the postage and packaging to Hong Kong then I had to pay export fees and wait another 2 weeks before the money was returned.
When I got the money back I ordered another Tokina 11-16mm F/2.8 lens from ebay, this time it was the mark II version with the gold writing on the lens. The lens arrived and at a moments glance it looked and felt better, the auto focus was still poor but I would be using manual anyway. That night I had a clear sky and tested it out while watching comet Lovejoy, this was definitely better than the first lens however once I tried to focus my heart sank, the stars would not become points of light in live view in manual focus, they were blobs once again, I tried everything I could think of and it was the same result, I was so disappointed and frustrated so once again I had to post it back (UK dealer this time) and they covered the postage fee which was good of them. Two weeks later my money was returned and I was left with a dilemma, should I buy the Tokina a third time?, my instincts told me no so I posted on facebook hoping to get a little help with my decision. Photographer Alistair Hamil adviced me about the Samyang 10mm F/2.8 lens, I had never heard of it before and thought all the Samyangs were for full frame cameras however I was in for a surprise. The Samyang was a brand new lens released in 2014 and once I did my research I really felt drawn to it, it was 10mm wide angle at F/2.8 - everything I needed, it was wide and fast with a 109 degree FOV and perfect for all my needs, it was also a prime lens which are always better optically than their zoom counterparts. I bought it within 24 hours of posting on an instinct and it arrived within one day (24hrs before my birthday) complete with a 3 year warranty and at the same price as the Tokina.
I was immediately impressed with it, the lens looked good, it has a nice weight and the focus and aperture were all manual, the lens hood is a permanent feature that can't be removed however that didn't bother me. I took a few sample images in the house and the results looked good and sharp, I did some brief manual focusing tests on different chimney tops and all was good. I haven't had a clear night yet however I should have very shortly so I will take a few test exposures and let you know how the lens performs under pressure, the focus of the stars, corner sharpness, vignetting and barrel distortion will all be examined. So far I'm very happy with the purchase and cant wait to put it through its paces and see what I can do with it, my Christmas and birthday have blended into one through the Samyang. I should note that the Tokina is an excellent lens!, I have seen its results first hand and have been blown away by it, however Canon users take note of the focus issues and double check where you are buying it from and all should work out fine, the Samyang and Tokina are the two fastest wide angles available for crop sensor DSLRs. More to come.
Stags In Snow Telephoto Images & Winter Lightning Report -
NEW
On January 29th 2015 I woke to a beautiful snow fall then spent the day chasing over the hills of Co. Tyrone driving over snow-covered mountain roads and drifts before encountering a field of stunning Stags and Sika Deer in deep snow for the second time this Winter. The Stags with their majestic antlers against a backdrop of pristine snow in perfect light looked like a scene straight from Canada. Following this we got hit by chunks of falling ice from the tree tops impacting the van roof during a forest drive to Lissan House in Cookstown. After sunset I relocated to the north coast and spent the first part of the night hunting lightning over the ocean in wild weather conditions with squalls, sleet and hail stones accompanied by horizontal sand and foam making for a thrilling day and night of non stop weather action and photography. One page report with 20 images and 1 video clip. - REPORT
* All images available for purchase on beautiful glacier print paper or hand made stretched canvas, simply email me if interested, thanks.
Spectacular Partial Solar Eclipse for Ireland & UK -
March 20th
A quick heads up for what could be a stunning astronomical event visible from Ireland and UK and all of northern Europe. On Friday morning March 20th 2015 a spectacular partial solar eclipse will unfold when the Moon passes directly between the Sun and the Earth creating the last and finest partial eclipse event from the UK within our life time. In the above map all locations in red will experience toality while those in orange will see a 90% or greater partial eclipse.
http://www.timeanddate.com/eclipse/in/uk/belfast
I urge you to check out the above link at timeanddate.com and view the animated gif showing various stages of the eclipse. I have set it for Belfast however you can choose your own location to see how deep the partial stages will be from your own location. The calculator shows a partial phase over N. Ireland of over 90% meaning that over 90% of the Sun's disk will be covered by the moon, in fact, during maximum the Sun should sport a slender crescent phase much like a crescent moon. I have observed a number of partial solar eclipses from N. Ireland over the years however the March 20th eclipse will be without question the most spectacular of all and a must see event, a partial eclipse of this magnitude will not happen again for a very long time so now would be a good time to invest in solar filters and eclipse glasses for safe viewing. Anyone who can make it on a cruise to the north Atlantic above Scotland will be perfectly placed to view a total solar eclipse. The eclipse begins at 08.26 with maximum eclipse at 09.31 with the event ending at 10.39. Let's hope we all get lucky with a wonderful clear morning.
Ballybriest Snow Squalls & Severe Wind Chill Report -
NEW
A nice Winter memory and local snow chase with my Fiance on the mountain roads between Draperstown and Moneymore on January 31st 2015 when we experienced a selection of beautiful and severe weather on a day of Polar air and strong Nly flow which produced a wind chill of -15C. A walk in the area lead to the discovery of Ballybriest stone tomb and a thrilling venture across snow covered fields like the Arctic, the snow blanket itself was covered with millions of frozen hail stones. The landscape was lit by a bright sun with a deep blue sky aloft with periodic bombardment from cells producing squalls of hail and snow into local blizzard-like conditions. One page report with images 7 and 1 video clip. - REPORT.
Epic Winter View From Benbradagh Summit Report -
NEW
A wonderful Winter memory on February 2nd 2015 when my Fiance and I hiked up Benbradagh mountain outside Dungiven in the snow and reached the 1500ft summit to be treated to an epic view across pristine snow fields with drifts and rime ice lit into surreal brilliance by a blazing Winter sun surrounded by an orange corona and all contrasting against a deep blue sky in the freezing Polar air. One page report with 9 images and 1 video clip. - REPORT.
Early Winter, Snow BBQ, Sunset & Snow Deer Report -
NEW
Final image report of 2014 documenting early Winter snow adventures and photography across the Sperrins on December 27th and 28th. Highlights include a freezing mountain BBQ in the snow half way up Slieve Gallion at night, a hike to the summit of Benbradagh where we witnessed a stunning sunset and paraglider jump then climaxing with a wonderful scene on the back of the Sperrins outside Cookstown when we encountered a field full of Deer and Stags grazing in the snow in perfect light on the coldest day of the year. One page report with 17 images and 1 video clip. - REPORT.
Christmas Eve Aurora Engagement Report -
NEW
December 23rd/24th 2014 was the best Christmas Eve of my life when I proposed to my partner Roisin Laverty at the 60 million year old Giant's Causeway in the company of the stars and Milky Way while a bright aurora display bathed us in it's surreal light. After a year of planning and against all odds an aurora appeared which was not forecast sporting green, red and pink colours on the very night I had planned my proposal, this all took place during the early morning hours of Christmas Eve exactly when Roisin wanted to get engaged which made for a truly magical night which we will never forget. One page report with 5 images. - REPORT.
N. Ireland Storm Chasing Image Reports
Astronomy is not the only subject I'm interested in. One other such area is severe weather which will be playing a major role on nightskyhunter from now on in conjunction with my other astronomical pursuits. Check out my new N. Ireland Storm Chasing section and view the chase reports and images which detail not only storms but other phenomena such as a moonbows, noctilucent clouds and aurora displays.
Martin McKenna